Welcome to the Wild
Rover Park isn't just a location; it's a 4X4 enthusiast's dream with a side of dirt bike heaven, 35 kilometres east of Tenterfield on the Great Dividing Range. With a whopping 250 kilometres of tracks split between two-wheelers and four-wheel drives, it's where the mud is not just for show – it's a battle scar.
Starting Off with a Bang: Chaos Way
Pat's first pick was something called 'Chaos Way', and it was exactly as advertised. Imagine a rocky staircase with a drop-off that's just begging for trouble. The perfect start to get our engines revving and our pulses pounding.
First Climb: A Steep Learning Curve
Watching Bill take the lead with Matt, Pat remembered the thrill that comes with being a newbie to the challenges of serious 4X4ing. Rover Park was their classroom, and nature was the strict teacher. As they tackled the climb, the inside of their 4WD was silent – a silence that screamed, "This is steep!"
My Turn: No Lockers, No Problem
When Pat took his shot at the same hill, he decided to go au naturel – no diff lock engaged. Just man, machine, and the hill. It was a dance with gravity, one where Pat was determined to lead. With a bit of slip and slide, the hill was conquered, and the locker remained untouched. Proof that sometimes, you've got to trust in your vehicle's innate prowess.
Riverside Respite and Wombat Holes
Our campsite was a slice of paradise by the Cataract River, accessible only by 4X4 – secluded and serene. But rest was fleeting; the crew were soon testing out the traction control on a set of wombat holes, where the Everest showed off by managing to climb without the lockers. It's tech at its finest, proving its worth in real-world conditions.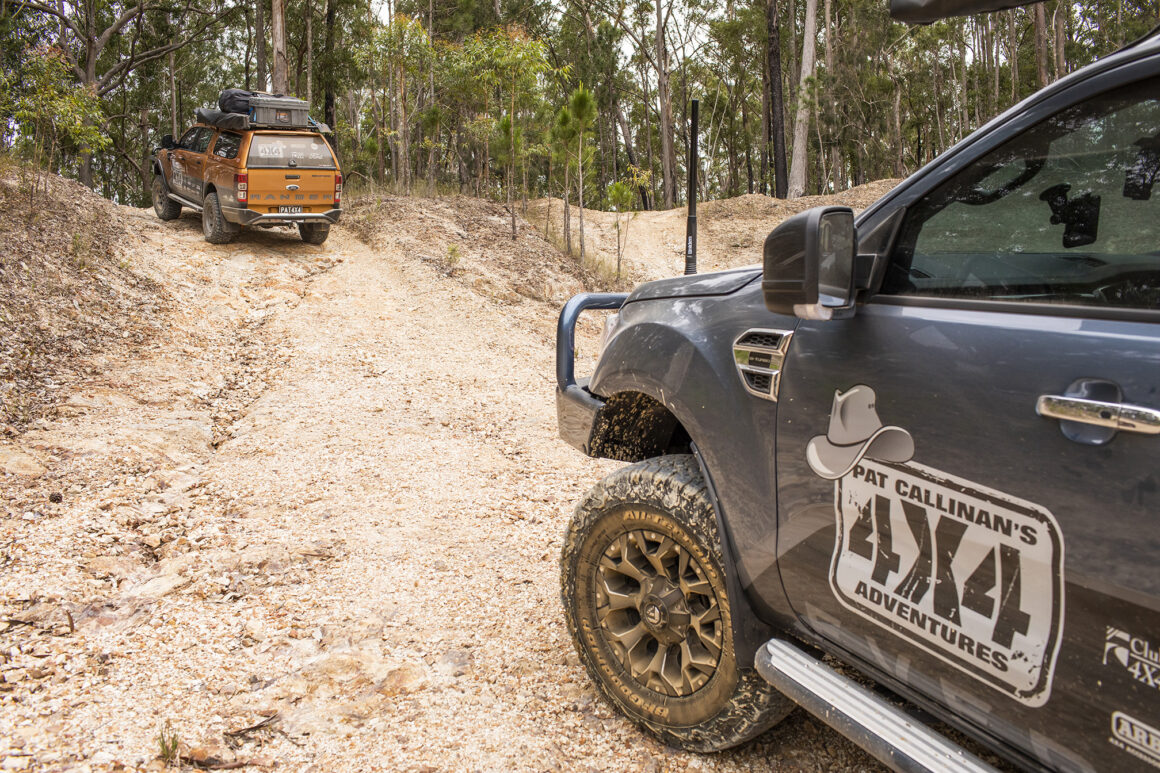 Conquering 'Kiosk': The Extreme Track
'Kiosk' was where the play turned serious. Rated as 'extreme', this track demanded all the traction the rigs could muster. Reluctantly, Pat engaged the locker as he faced a daunting step. It was a tough climb, but the satisfaction of reaching the top was like the first sip of a cold one after a long, hot day.
Close Calls and Recovery Operations
The day took a dicey turn when Bill and Matt slid towards an unforgiving ravine. The recovery was as tense as a high-stakes poker game, with the winch being the ace up our sleeve. In the end, they were safe, and we all let out a collective sigh that probably stirred up more dust.
Wash Off the Day: Rover Park Style
After a day of pushing limits and getting down and dirty with the terrain, we cleaned up as only true off-roaders do: with more mud, laughter, and stories that'll last a lifetime.
Wrapping Up the Rover Park Experience
All said and done, Rover Park is the off-road fun park where every track is a new memory to be made, every challenge is an experience to be had, and every visit leaves you craving for more.
---