Picture this: You're cruising down the Landsborough Highway, the quintessential outback road stretching across the rugged Queensland heartland. Your caravan's hitched up, and you're ready to soak in the vast Australian landscape. But there's a snag in this idyllic scene – despite everything going seemingly exactly to plan, your caravan, camper, or RV is dangerously overweight leading you open to insurance denial, and more likely for an incident to occur.
In a startling reveal, a recent Queensland Police operation found that a whopping 90% of the caravans they pulled over were overweight. A similar operation in NSW found similar numbers with 75% tipping the scales the wrong way. And here's the kicker – the majority of drivers had no clue that their setups were tipping the scales dangerously high.
The police's weigh-in blitz on the remote Landsborough Highway, a massive stretch from Morven to Cloncurry, was a wake-up call. Instead of slapping fines on these well-meaning travellers, the officers chose to educate. It's a commendable move, sure, but it also underlines a big issue: there's a massive gap in driver awareness about towing weights.
This crackdown has cranked up the conversation about towing safety. Road safety advocates are now banging the drum for better education and are even calling for a special licence classification to deal with this weighty issue. After all, the stakes are high – we're not just talking about risking a hefty fine across Australian states, but more importantly, risking safety.
Now, let's shift gears and delve into the meat of the matter: RV weights and your role in keeping that dial in the green zone.
Tare Weight: Starting Off Light
Tare Weight is your RV's weight right out of the showroom – engine fluids topped up, a bit of fuel in the tank, but none of your gear. It's the starting line of your packing marathon.
Gross Vehicle Mass (GVM): Know Your Limit
The GVM is like the bouncer at the club, setting the limit on what your vehicle can handle. Pack beyond this, and you're asking for trouble.
Gross Combination Mass (GCM): The Collective Ceiling
Combining your vehicle and caravan creates a new weight category – the GCM. It's the maximum allowed weight for both when they're rolling down the highway together.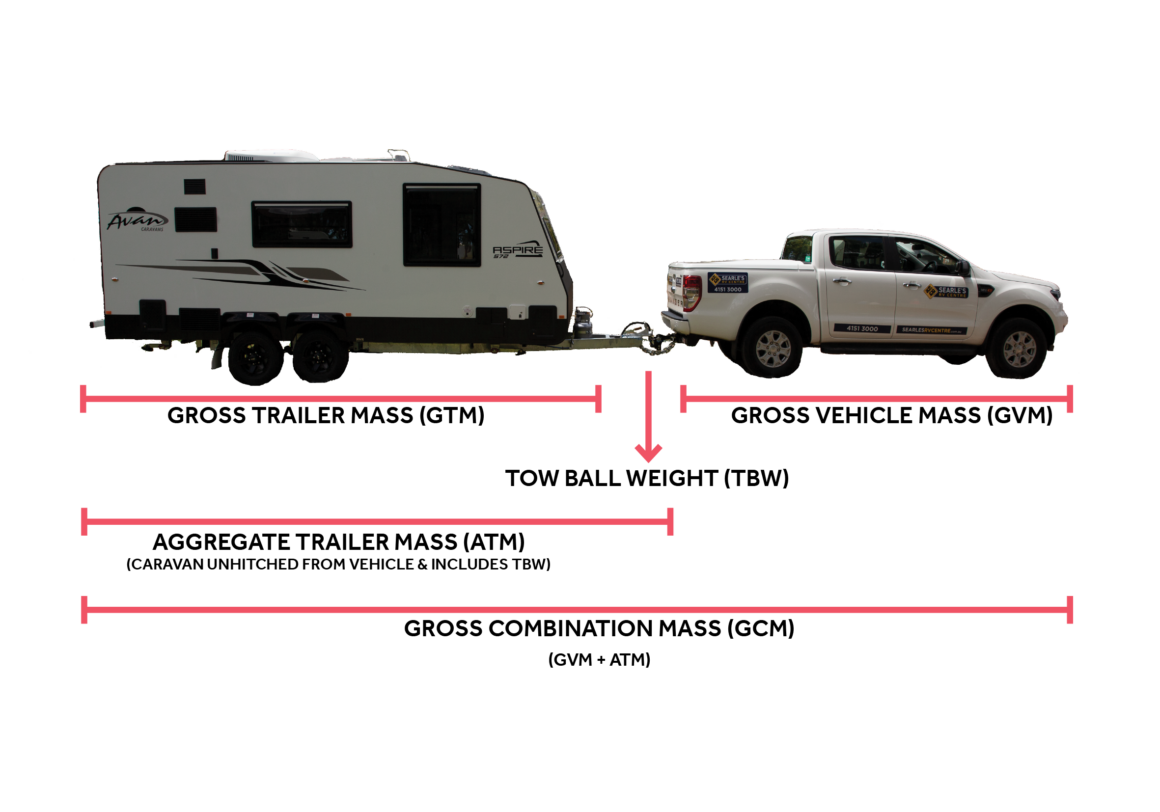 Aggregate Trailer Mass (ATM): The Caravan's Capacity
ATM spells out the max your caravan can weigh when fully loaded. It's like a caravan's version of "That's all I can take, mate!"
Payload: The Add-On Factor
Payload is the sum total of all the extras you can safely load into your RV – think water, gear, and those crucial snacks for the road.
Tow Ball Weight: Keeping the Balance
The tow ball weight is how much your caravan pushes down on your vehicle's tow ball. It's a key player in keeping your rig stable.
Alright, now that we've got our weight glossary sorted, let's dig into the specifics for different types of RVs.
Understanding Campervan and Motorhome Weight
With campervans and motorhomes, you're looking at three weighty figures: Tare Weight, GVM, and Payload. You'll find these on your vehicle's compliance plate, but don't take them as gospel – load up and get a precise weigh-in to be sure.
Understanding Caravan and Camper Trailer Weight
Balancing your caravan or camper trailer is more than just legal – it's about control and stability. And since the recent police operation has shone a light on this, it's evident that assumptions are not enough. Weighing in is the only way to be certain you're roadworthy.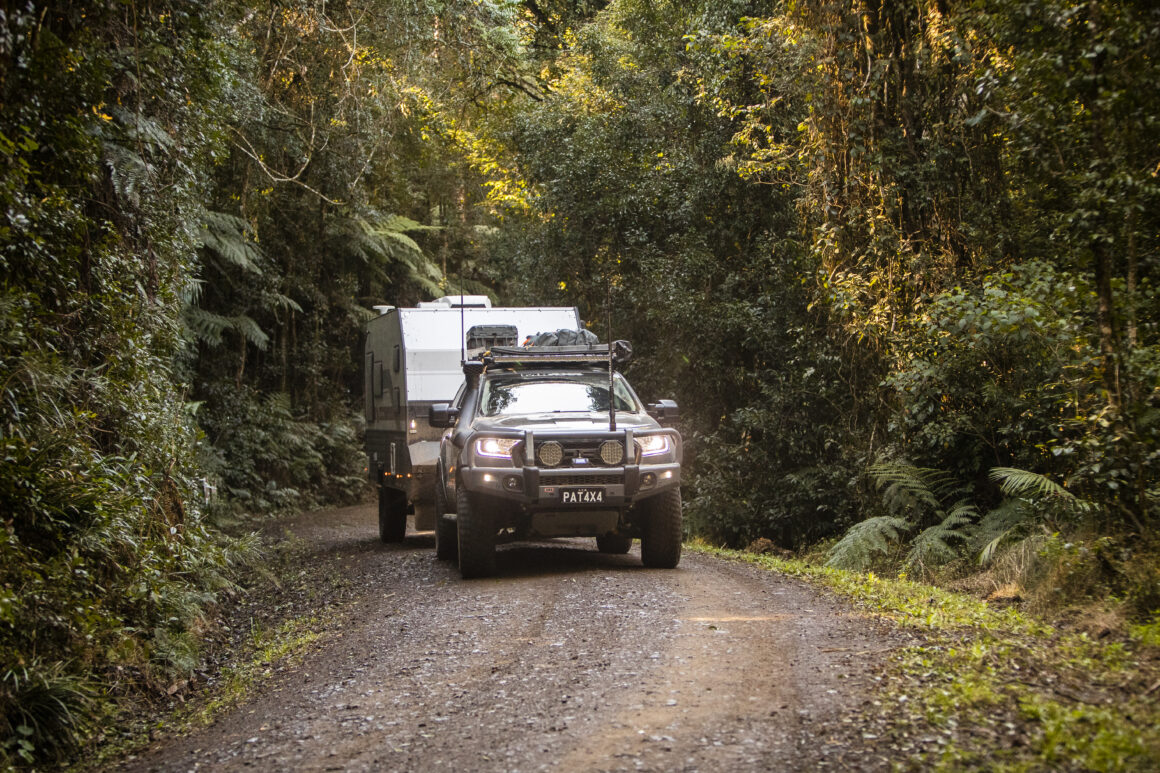 Understanding Fifth-Wheeler Weight
Fifth-wheelers play by the same rules, but with the twist of expecting your tow vehicle to shoulder a significant part of the weight. It's a delicate dance between the GVM and GCM, so make sure you don't step on any toes with your calculations.
Understanding Slide-on Weights
If slide-ons are your thing, then payload's your game. Every addition to your vehicle, from the bull bar to the fishing gear, needs to be counted. Overstep your payload, and you'll be grinding your trip to a halt at the nearest weigh bridge.
Test your towing knowledge with the rvSafe quiz here
The Road Ahead
The Queensland Police's operation was a cautionary tale, a nudge for RVers to wise up on the rules of towing weight. The push for better education, maybe even a dedicated towing license, is gaining traction. And it makes sense, because knowing your RV's weight isn't just about dodging fines or demerit points – it's about ensuring that the journey is as memorable as the destination, without the unexpected plot twists.
So before you head out to chase the horizon, do your homework. Check your weights, understand the limits, and make sure your vehicle and RV are up to the task. It's not just about compliance; it's about confidence that you, your passengers, and your rig are safe.
And remember, with initiatives like rvSafe and the backing of the Campervan & Motorhome Club of Australia (CMCA), you've got resources at your fingertips to hit the road informed and in compliance. So load up, weigh in, and travel smart. After all, there's no greater peace of mind than knowing you're riding within the lines – both of the road and the law.