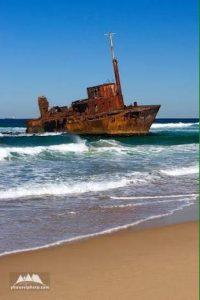 Since 1974 one of the best photo opportunities on Newcastle's Stockton Beach has been pulling up on the sand, your fourby standing proud with the wreck of the mighty Sygna in the background. The Norwegian bulk carrier attracted international attention 42 years ago when the hull was breached 10km north of Stockton during a storm. It was towed back and beached and has since become a local landmark and tourist attraction in the decades since.
However the storms on the east coast of NSW over the weekend finally saw swells big enough to finally claim the rusted hulk, which many had said had been on its last legs for years now. Only a small part of the hull remains, the rest has gone to Davy Jones' locker. The wreck has been steadily receding from view as the sea took its toll but there was still a fair chunk of the ship still visible before the weekend.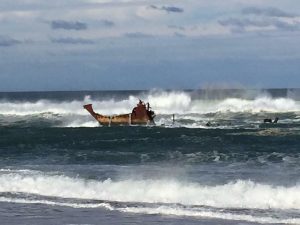 The huge swells and storm surges, with swells reportedly as high as 11m, have caused all sorts of damage right along the coast. But it wasn't until amateur photographer Justin Martin made his way down to Stockton beach this morning and suddenly asked his brother "where's the Sygna?"
The fact that Mr Martin could be the first person in 42 years to look out to sea from that stretch of the beach with an unimpeded view is a pretty sad thought.
RIP Sygna, you will be missed.