This once-popular 4X4 wagon is set to be discontinued in 2021 so we thought we'd better get behind the wheel of the last Mitsubishi Pajero for one last drive before it's too late.
This is the last Mitsubishi Pajero, as production is coming to an end in 2021, but if you're keen to grab a slice of history, the last Pajero model is still on sale in Australia. We thought we'd better get behind the wheel of what was once one of Australia's favourite 4X4 wagons but is soon to be discontinued, so here it is: the last-of-the-line Mitsubishi NX Pajero GLS auto.
What is it?
The Pajero dates back to the original NA model that debuted in 1982 in Japan, and landed in Australia in 1983. Although it featured a traditional separate chassis and a live-axle rear-end, from the start the Pajero was different to many other 4X4 wagons on the market due to its independent front suspension with torsion bar springs. This set-up made it feel more car-like on the road than many of its competitors although front wheel travel wasn't great for off-roading. Nevertheless, the Pajero proved itself in Dakar competition, winning the event on its third attempt in 1985. In 25 years of factory-backed competition, the Pajero won the Dakar 12 times.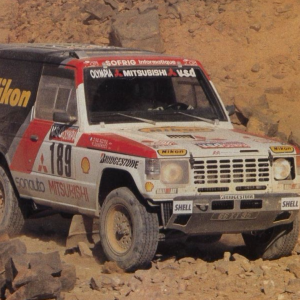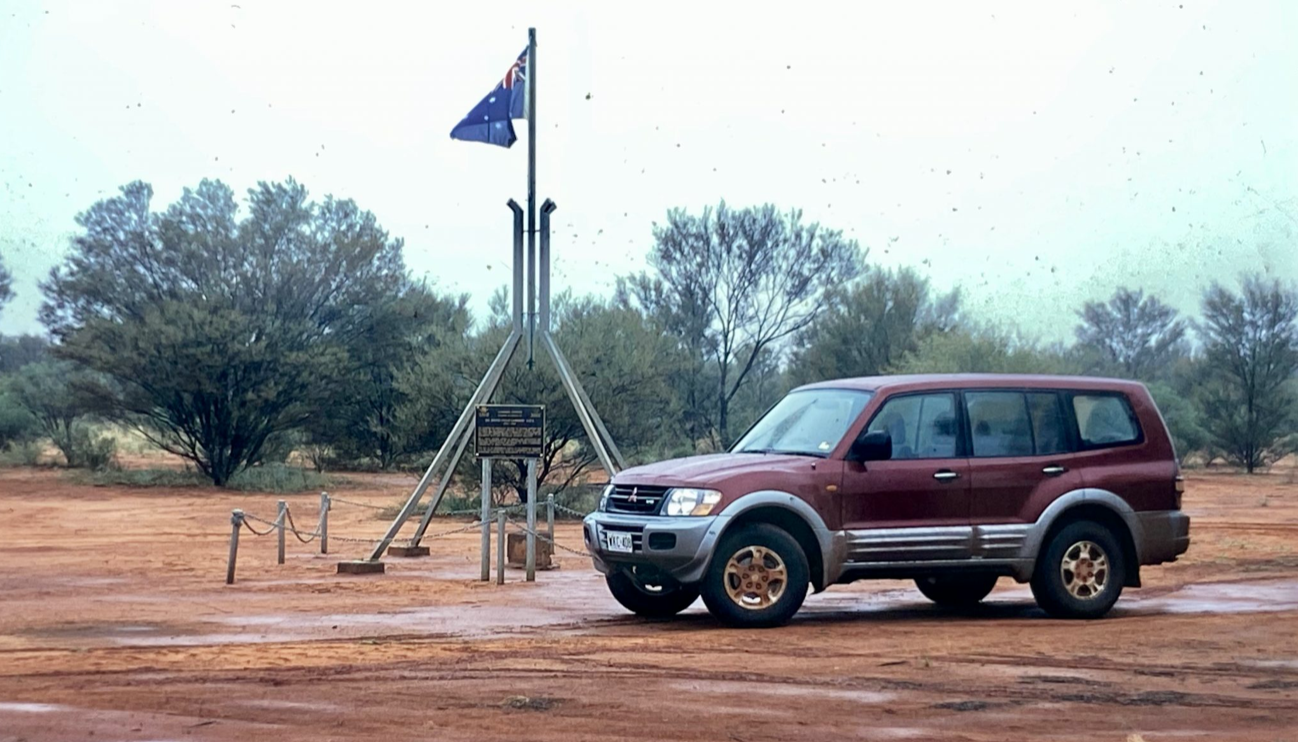 In 2000, Mitsubishi went one step further with the launch of the NM Pajero, which featured a car-like monocoque construction (no separate chassis) and fully independent suspension. This current NX Pajero can trace its lineage directly to the NM Pajero, although there was a significant update in 2006 with the introduction of the NS variant.
What models are there?
Today, the last Pajero, the NX model, is available in GLX ($51,490 driveaway), GLS ($58,490 driveaway) and Exceed ($61,990 driveaway) model grades. The 'last Pajero' tested here is the GLS grade. All models are powered by a 3.2L turbo-diesel engine that makes a reasonable 141kW at 3800rpm and 441Nm at 2000rpm, but it's certainly not the smoothest diesel engine around. The Pajero comes with a five-speed auto and a two-speed on-demand full-time 4X4 system.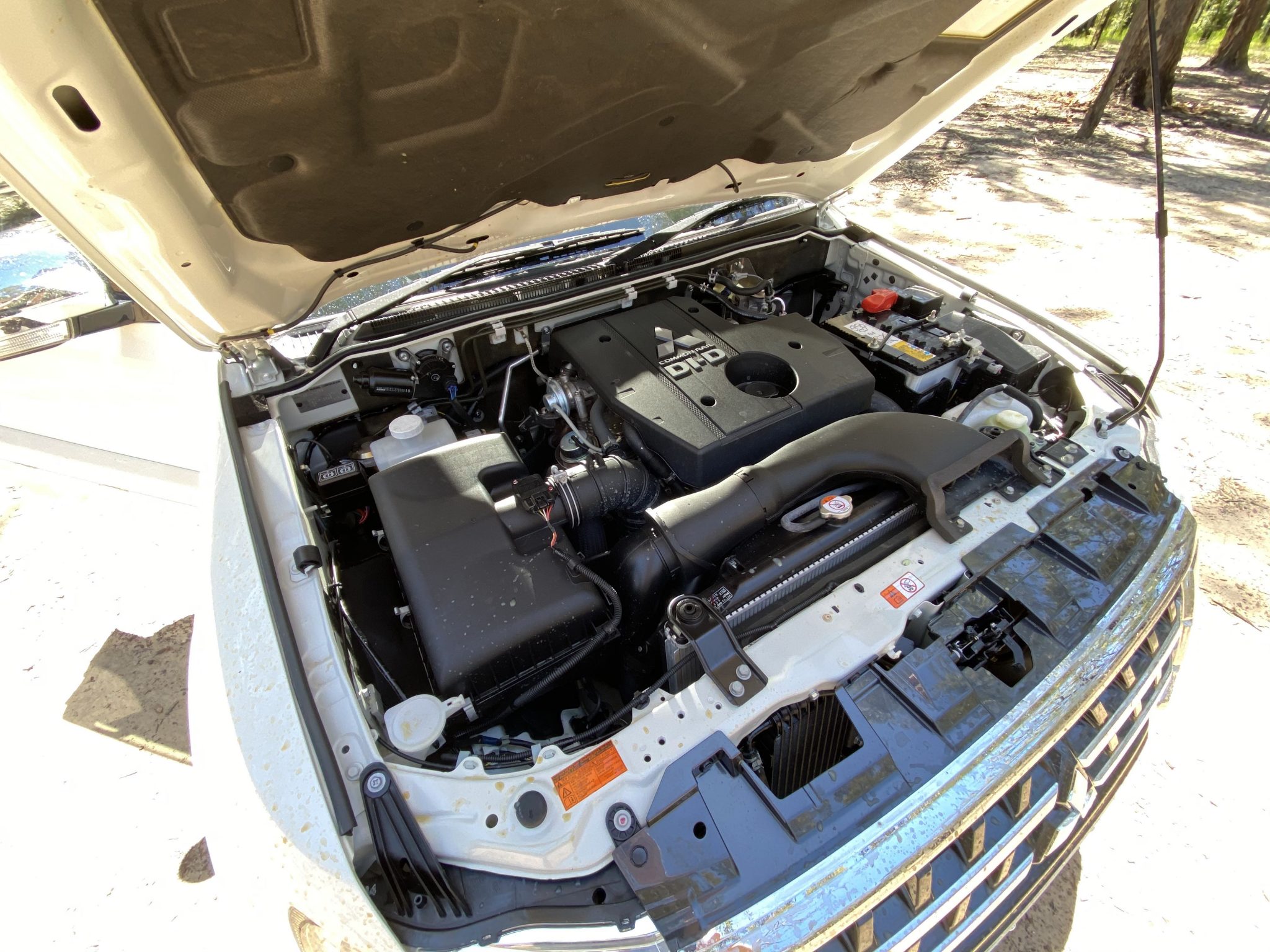 Standard equipment on the Pajero GLS includes: auto high beam and dusk-sensing headlights; rain-sensing wipers; emergency brake assist; stability control; traction control; front and side airbags and curtain airbags; 7-inch touchscreen with CarPlay/Auto; Rockford sound system with DAB and sub; single-zone climate control; rear air conditioner; seven seats; LED DRLs; HID headlights; halogen (remember that?) high beam and fog lights; and heated front seats with power adjustment.
Notably absent by today's standards are technologies like lane-change assist, lane-departure warning, rear-cross-traffic alert, radar cruise control and the like.
Cabin comfort
It's pretty easy to get comfortable in the Pajero and outward visibility is fantastic thanks to the deep window line and short bonnet. The plastics are a bit hard and old-school and the dash design certainly looks dated, albeit functional. Most controls are sensibly placed and easy to use, although the instrument cluster is hard to read when wearing sunnies and there's no digital speedo. In fact, there's only limited info on the instrument cluster such as odo, trips, and 4X4 status; the trip computer/economy info is situated above the touchscreen on the dash.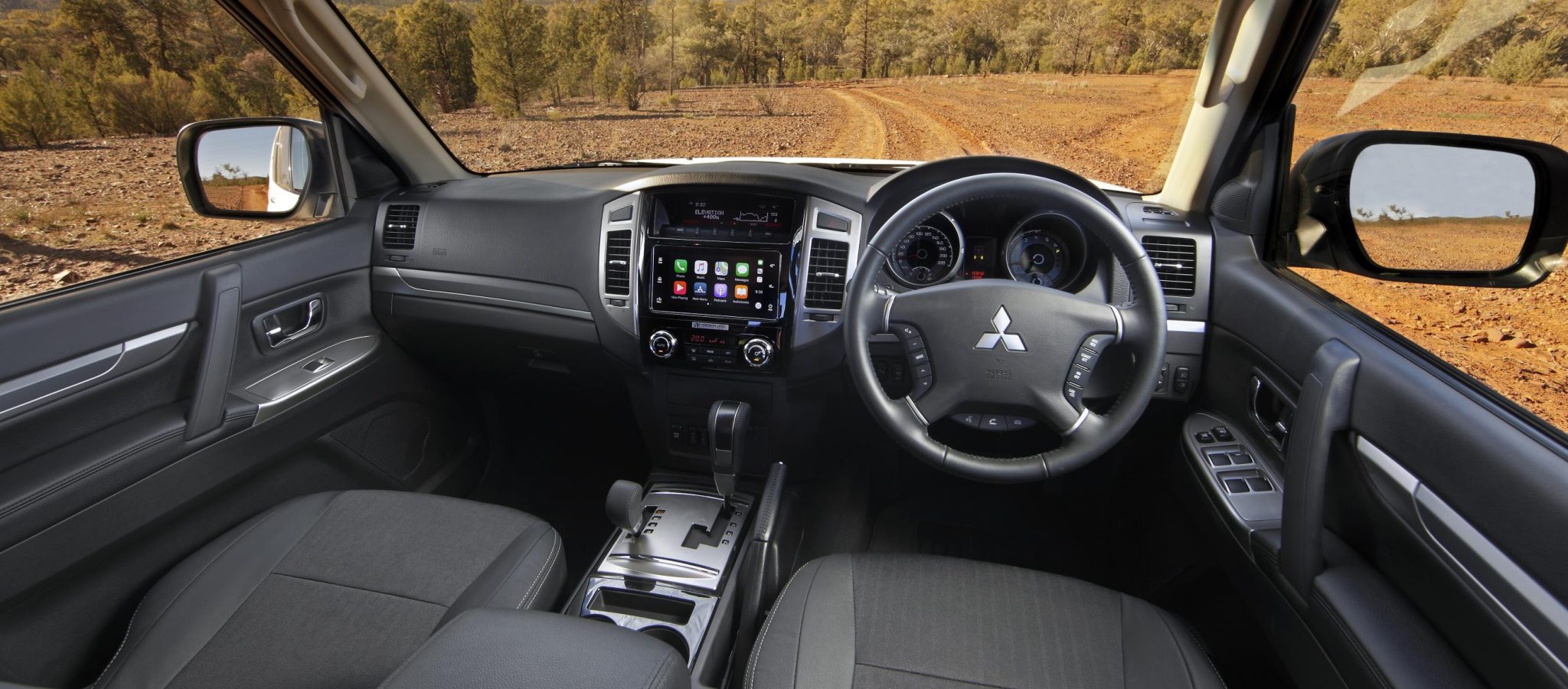 The seats have a semi-leather/cloth trim and are heated up front. Second-row passengers get loads of space with plenty of leg room and width. The seat has a 60:40 split fold and tumble design and there's a fold-down centre arm rest and rear air conditioning controls with roof vents.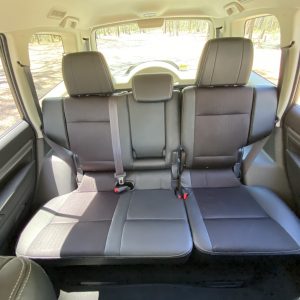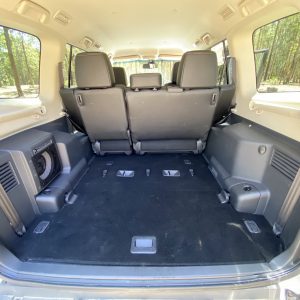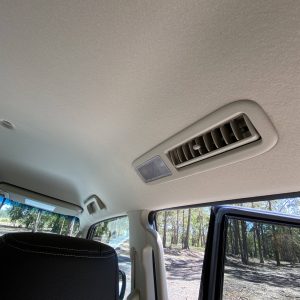 The third-row seat is for little kids only, but it folds away neatly under the cargo floor when not in use. The cargo area itself is cavernous.
On the road
On-road performance is reasonable although the 3.2L DI-D engine is noisy and rough when pushed. The fact the Pajero's auto only has five ratios doesn't help it in the performance stakes, but it is at least a smooth-shifting and intuitive transmission.
The driver selectable full-time 4X4 system is great for sketchy on-road conditions; slip it into full-time 4X4 and it provides extra grip if it's wet or you are transitioning between sealed and unsealed roads on a regular basis.
The Pajero once felt like one of the most dynamic 4X4 wagons on the market, but these days the hydraulically assisted power steering feels lethargic, heavily weighted and slowish to respond to inputs. The fact the steering doesn't feel as good as some new 4X4 utes I've driven lately just goes to show how electric power assistance has upped the game these days.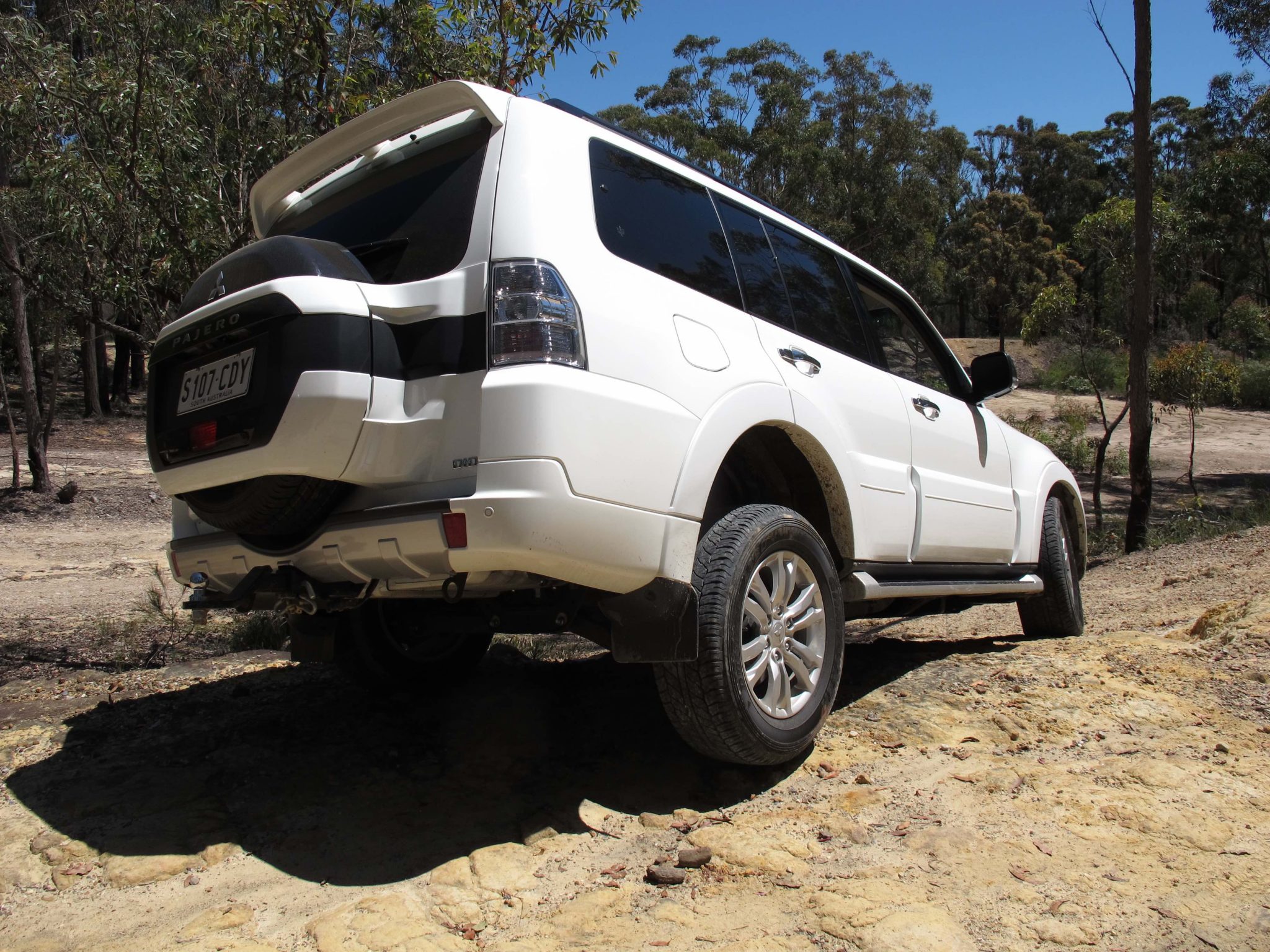 Still, the Pajero handles well on the road and on gravel, offering loads of grip and exhibiting minimal body roll when cornering, but the suspension feels a bit harsh over bigger bumps and there's a fair bit of booming through the big monocoque structure when driving along rough and corrugated dirt roads.
Average fuel economy on test was an indicated 10.5L/100km
Off-road
The Pajero's off-road performance has always been hindered by its lack of wheel travel in undulating terrain, where it readily lifts wheels off the deck, but the electronic traction control does a decent job of arresting wheel-spin to maintain forward progress. There's a standard rear diff lock, too, but engaging this disengages the front axle TC, limiting its effectiveness in certain terrain.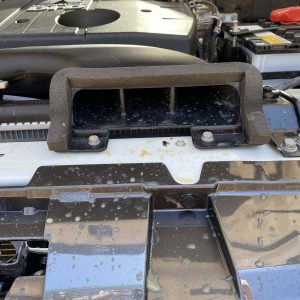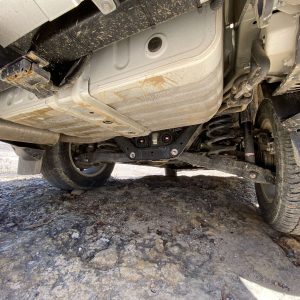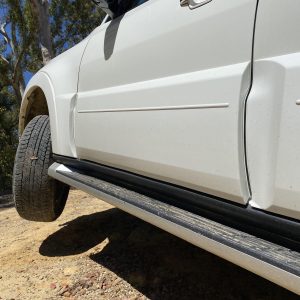 Ground clearance is reasonable at 225mm and all underbody components are tucked up and out of the way. Mitsubishi claims a 700mm wading depth but it should be noted the engine air intake faces forwards just below the lip of the bonnet, so a snorkel should be high on your shopping list if you intend to drive your Pajero off-road. There's plenty of space under the bonnet for those who wish to fit a dual-battery system.
The 265/60R18 tyres are a popular size these days although you'd soon want to replace these too (with a set of tougher Light Truck tyres) if heading off-road.
Should you buy one?
If you're an automotive history buff and you have a thing for Mitsubishis, then sure, go ahead and buy the last Pajero. But if you're primarily after a family 4X4 touring wagon, there are plenty of better options on the market these days, including Mitsubishi's own Triton-ute-based Pajero Sport wagon, which is not only more modern and better equipped, but a few grand cheaper across the range.
SPECIFICATIONS – Mitsubishi Pajero GLS auto 
Driveline
Engine: 3.2-litre four-cylinder turbo-diesel, 141kW at 3800rpm, 441Nm at 2000rpm
Transmission: 5-speed automatic gearbox, two-speed transfer case, selectable full-time 4X4 with TC and locking rear differential
Weights:
Kerb: 2330kg
GVM: 3030kg
Payload: 700kg
Maximum braked towing: 3000kg
GCM: 6030kg
Dimensions:
Length: 4900mm
Width: 1875mm
Height: 1900mm
Wheelbase: 2780mm
Ground clearance: 225mm
Wading depth: 700mm
Approach angle: 36.6°
Departure angle: 25°
Ramp-over angle: 22.5°
Price: $58,490 driveaway