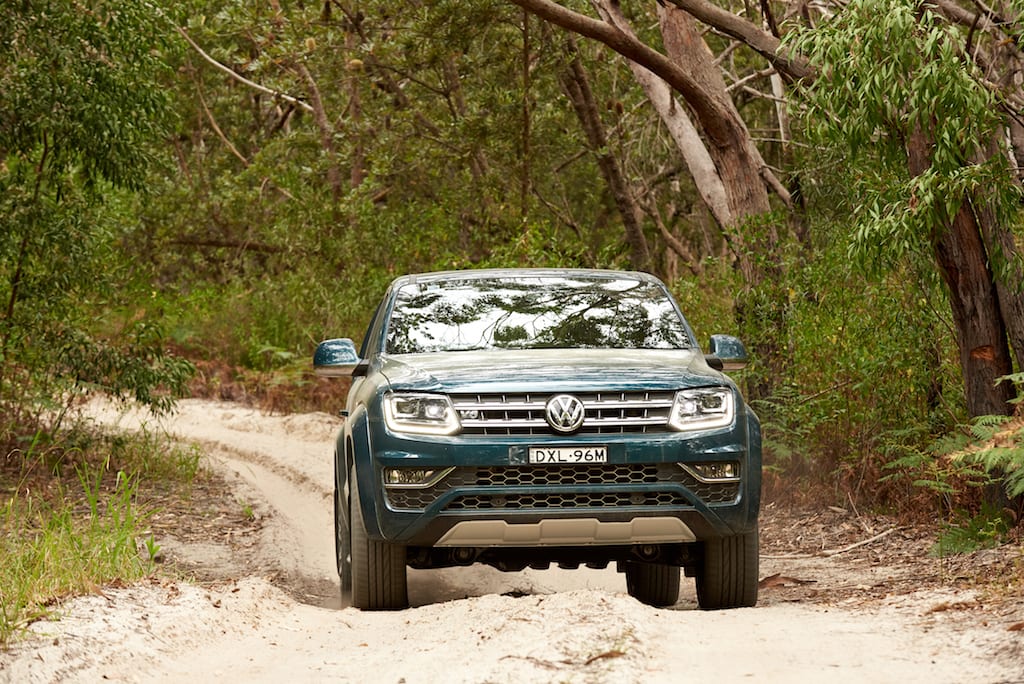 Introducing the most powerful mid-size ute currently available in Australia.
Gone are the days of 4WD utes driving like, well, utes. In the past few years we've seen manufacturers try to outdo themselves in terms of who has the highest tow capacity. It seems like that threshold has been reached, and now we're in the middle of a power war – one we're certainly not sad about. Currently, the VW Amarok 580 Ultimate is leading the pack when it comes to outright power output, so we did the only logical thing, packed up our swags and headed to the beach in a very green (in colour, not experience) 580 Ultimate. We lived out of the vehicle for a week, to gain solid appreciation of how the vehicle works. It was not a bad few days in the office that's for sure, as we headed north and explored the Myall Lakes region in the most powerful mid-sized ute on the market.
ON-ROAD HANDLING
The first thing you will notice in the 580 is the mid-range acceleration … it's phenomenal. Acceleration off the line is wild, but it's the surge of power felt when already moving that's nothing short of pure insanity! Then you remember you are driving a ute, not a performance vehicle. This is perfect for overtaking on highways, and would be ideal when towing decent-size loads. Ride is best described as car-like, firm, tight, sporty … very much not a ute with leaf springs, basically. This is to the detriment of the off-road ride however, especially the low-profile tyres, which are certainly more suited to highway and road use than a day at the beach. Brakes are disc front-and-rear, which stop on a dime. This isn't just a monster engine in a commercial vehicle, this is the complete package deal basically.
In terms of overall dynamics, I have to say I personally prefer the VW Amarok to, say, the new V6 Mercedes X-Class (the logical competitor to the Amarok) on-road in nearly every way. The brakes are better, the engine is far more linear in it's power delivery and the steering is more nicely weighted. There are lots of hard plastics in the dash area, which is normally not a great thing when you talk to other motoring journalists, however it all looks to be high quality, and let's be honest, easy to clean … a good thing in a 4WD ute.
OFF-ROAD PERFORMANCE
As mentioned previously, the 20-inch tyre and wheel combination are probably the biggest let-down to the Amarok off-road. There just isn't enough meat in the tyres to bag down sufficiently off-road. Front-end clearance is also an issue, with the front bash plate acting as a skid on sand and over undulations. Our trusty tape measure indicated that there is just 200mm of clearance under the front end. The factory-fitted sidesteps are also a hindrance off-road, as they sit down well below the sills with only 270mm of clearance.
This is one vehicle I'd be lifting slightly (don't want to ruin those lovely on-road dynamics) and fitting taller tyres onto the smallest rim you could physically fit over the brake callipers. Getting all that power down to the ground was another issue with the factory-fitted rubber, something the V6 Mercedes X-Class we also had along on the day didn't struggle with.
We all know by now that the automatic Amarok does not have a low-range option, however it does have off-road mode and a rear differential lock, which certainly helps off-road. What it does have is an eight-speed gearbox (retained from the 550 V6 Amarok) that provides enough gearing options in off-road situations. It's not a deal-breaker not having low-range, basically.
With that much power on tap though, and with a set of more suitable wheels and tyres, the V6 Amarok would be at home on the beach. Getting one bogged would be damn near impossible, and we certainly couldn't find any dunes that it couldn't climb. But deep sandy beaches did make the stock Amarok work hard.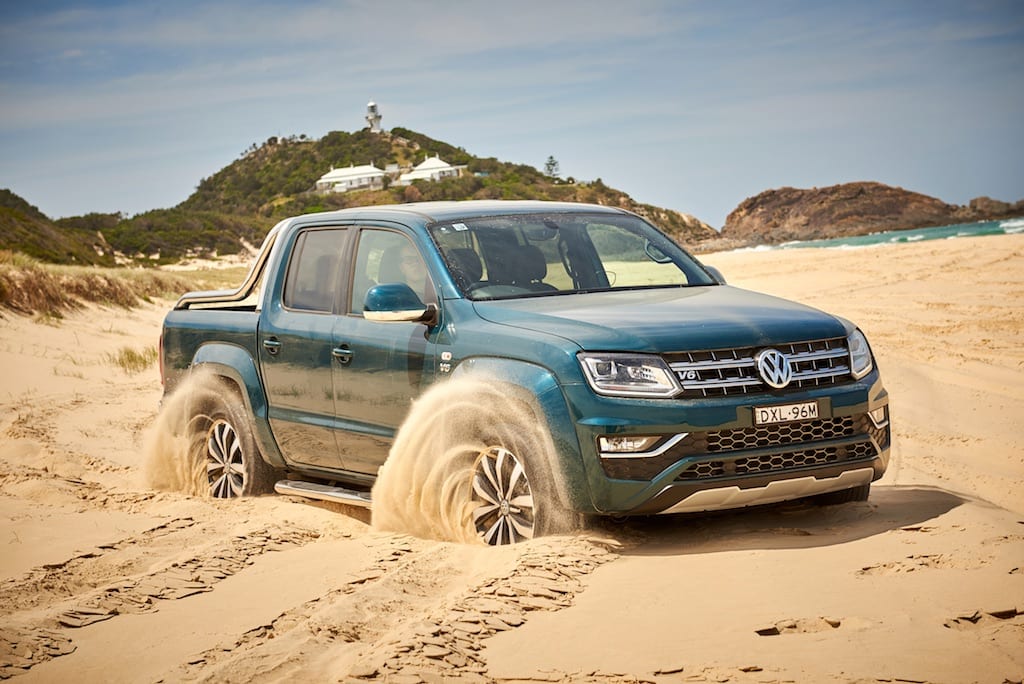 THAT ENGINE
It's safe to say the main talking point of the 580 Amarok, is the engine. With manufacturers trying to outgun each other for tow capacities and now power output, VW is in the lead when it comes to the current crop of mid-sized utes. The Ultimate 580 has been tuned by VW to deliver 190kW (up to 200kW on Overboost) and, as the name suggests, 580Nm of torque.
While the three dirtiest words in the turbo-diesel four-wheel drive game these days is DPF (Diesel Particulate Filter), it was good to see that the DPF fitted to the V6 is mounted nice and high in the engine bay, essentially bolted directly to the turbo. This should assist the DPF in regenerating as effectively as possible, while also keeping it away from Terra Firma and potential fire hazards.
This might seem like a very minor point, but no gas struts in the engine bay? Really? This is not a cheap machine by any stretch of the imagination, so it was something I was personally expecting to see; but hey, if that's all there is to complain about …
TOURING LIFE
Thanks to having such a large and functional tray, the Amarok offers a wonderful advantage for off-road tourers straight off the dealership lot. Once you add a canopy, the world is your oyster in terms of what you can achieve. We had the tape measure out, and 1545mm from side to side, and 1510mm of length and 1220mm between the wheel arches. There are four fixed tie-down points in the tray as well, which isn't as practical as some more adjustable options from other manufacturers, but it's certainly a solid way to secure objects.
Something I'm never a fan of for touring vehicles, is low-mounted alternators, and sadly the alternator in the 580 Ultimate is mounted really low in the engine bay. This makes it prone to mud and water damage while off-roading, not that we have heard reports of alternator issues as of yet. Another suggestion for anyone thinking of touring in a 580 Amarok, is to fit a snorkel if you are going to use it off-road. While the airbox is quite large (a very good thing) it breathes from the headlight area, making is susceptible to water ingress during deeper crossings. It will also cop a battering in dusty convoy situations. Fitting a snorkel will solve all of these issues.
Space for a second battery in the engine bay is also incredibly limited. A better solution may be a portable battery pack or to mount the battery in the tray of the vehicle; there are kits and options readily available if you decide to go this way.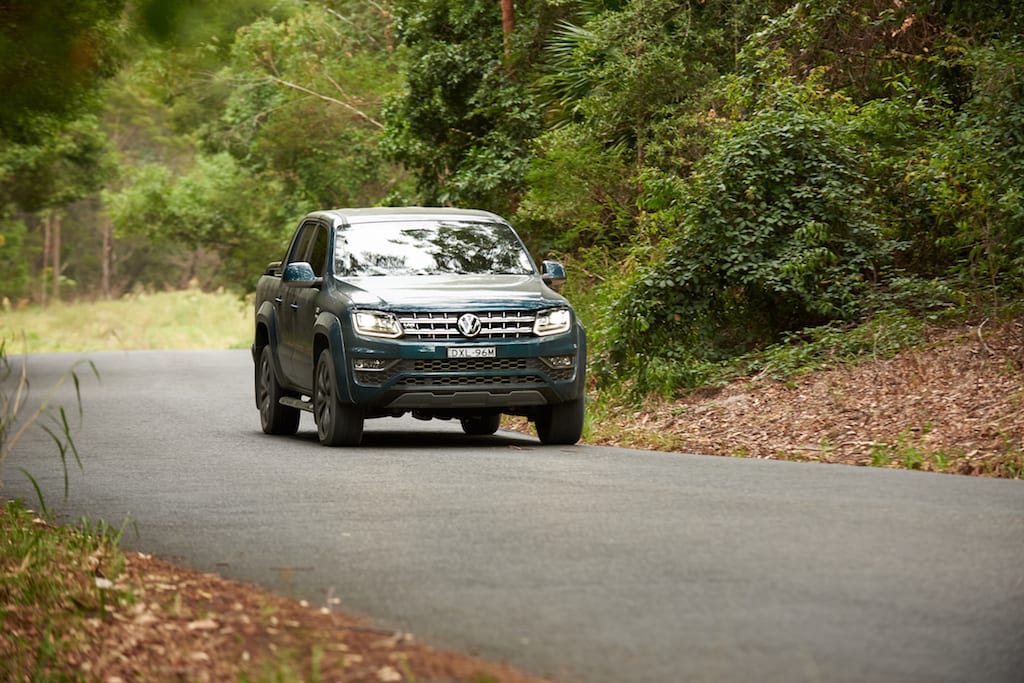 SPECS
Engine: 2,967cc V6 turbo-diesel
Diesel fuel tank capacity: 80 litres
Maximum torque: 580Nm
Maximum power: 190kW
Front brakes: Disc – ventilated
Rear brakes: Disc – ventilated
Tyre size: 255×50 R20
Gross trailer weight (braked): 3,500kg
Front suspension: Double wishbone, coil spring, hydraulic double-acting shock absorber, anti-roll bar.
Rear suspension: Leaf spring, hydraulic double-acting shock absorber, anti-roll bar.
Priced from: $78,566 (drive away as quoted in 2774 NSW)
Click here for more information.