Drifta DOT 6 Walk Up Hard Top camper trailer review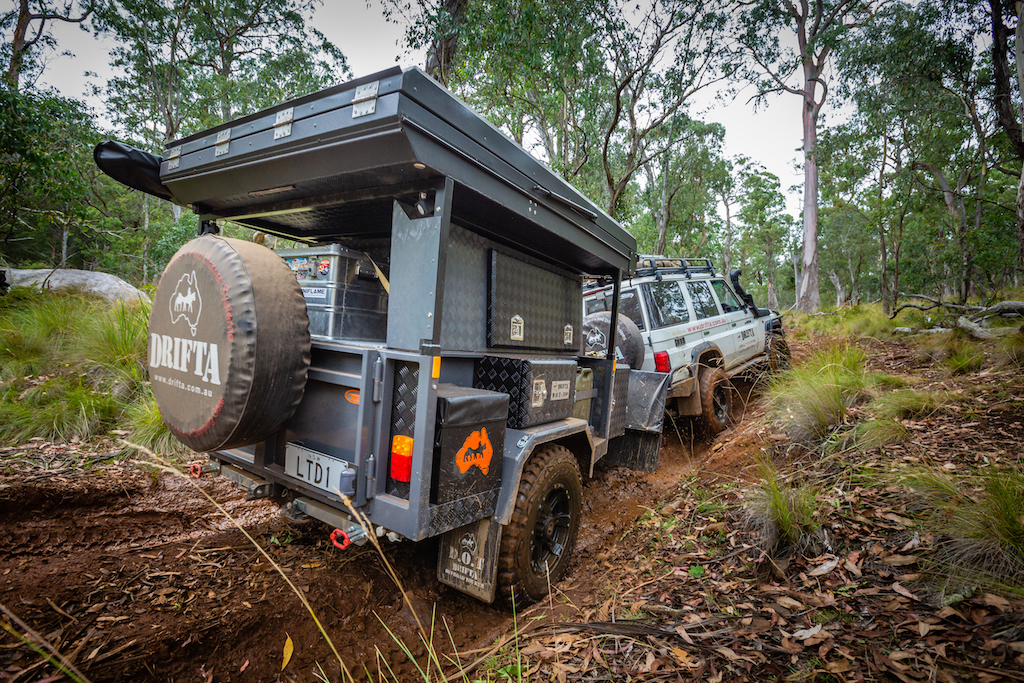 Drifta's DOT (Drifta Off-Road Trailer) range has been around for many years now and has seen plenty of development over that time. DOTs are 100 percent Aussie-built at the Drifta factory in Gloucester, NSW, and they have gained an almost cult-like admiration from owners.
The latest version is the DOT 6 WUHT, or Walk Up Hard Top, and it is a step away from the traditional canvas top. Constant innovation and evolution combined with a quality mantra and value on practicality mean it is one smart and capable trailer.
OFF-ROAD PERFORMANCE
From a quick glance, you can see this is a trailer built to tackle tough terrain. The Cruisemaster XT Outback independent suspension system underpins a sturdy Supagal chassis. And it works well too; we took the trailer for a three-day off-road adventure, and it held its composure well.
Tight twisty tracks and steep slippery climbs presented no problems, mainly thanks to its low kerb weight, good entry and departure angles, and it was easy to forget we had a camper in convoy. That was until we rocked up at camp, where within 10 minutes, we had ourselves plenty of shelter, amenities and a kitchen.
AT CAMP
The 270° awning is fantastic, made even more so by the fact that is easily height adjustable (handy to suit your terrain). The rear quickly transforms into a fully featured kitchen, the unique Drifta pull-out of course, along with drawers with everything including power close at hand. Unloading additional camp gear is easy, thanks to the large storage area which is easily accessed on both sides below the hard-top tent.
Everything has been well thought-out. Twin 80-litre water tanks are protected underneath, with well-placed outlets, fillers and hot water system. There is also a long mud flap located forward which prevents potential stone damage to the underbody. The front storage box is spacious and well laid-out; a nice touch is a single-latch opening system, which means you can open the box without walking around the drawbar to open another latch. This is also home to the Joolca hot water system, above which is the swing-out shower recess. The recess is a cracker of a design and easy to operate. Just behind the shower panel is the air-suspension control panel which allows you to adjust for the load you are carrying – it also doubles as a trailer levelling system.
The sides of the trailer feature additional storage boxes, jerry and gas bottle holders as well as a timber (or coal) storage box. Up front are brackets for mounting the traction boards and interestingly, the 'steps' and raiseable handrail to the massive rooftop tent. A 190mm thick queen-size foam mattress is the crowning jewel atop this trailer; it is luxurious. Lights, charging ports, storage pockets, a fan and plenty of pelmet-protected ventilation round out what is the most comfortable (and certainly spacious) roof-topper around.
ELECTRICAL SET-UP
The comprehensive electrical system is controlled by a Redarc Redvision TVMS (Total Vehicle Management System). It includes 300 watts of rooftop solar panels, Redarc BMS, 120Ah lithium battery, external and internal lighting, multiple charging ports and sockets and a Fusion Bluetooth speaker.
While on paper, the DOT 6 merely seems to tick the spec boxes, it does that and more. Things like the PVC rubbish bag on the drawbar really set this apart as a legitimate turnkey solution. The real difference is in the little things and the unique design. The devil is in the detail, and Drifta has nailed down those little details well.
THE VERDICT
The overall quality and practical usability is what makes this trailer shine, that and the massive WUHT! Take the adjustable tie-down rails at the rear, for example – it a classic example of finding the best product for the solution, one that will last forever. And that philosophy can be clearly seen in the finished product. The Drifta DOT 6 WUHT is a solid off-road touring trailer.
TARE: 1,150kg
GTM: 1,700kg
RRP: $45,850
Click here for more information.