The doggedly inquisitive enthusiast base JL Wrangler forum have picked up on some more solid details on the upcoming 2018 JL Wrangler, including engine, driveline and spec details of Jeep's iconic 4X4.
None of these details have been 100% verified yet, but looking at the source, they do look fairly authentic. It's also important to note this is USA-specific, so Australia might or might not get the same Wrangler. Let's look at all of the pertinent details:
ENGINES:
There's going to be three options; one diesel and two petrol. The Wrangler will be stealing the 3.0-litre V6 diesel from the Grand Cherokee, which is a great performing engine. Whether it will keep the 184kW and 570Nm will remain to be seen, however. The two petrol options is an updated version of the Pentastar V6 and a new 2.0-litre turbo 4.
These engines are going to run through a six-speed manual or eight-speed automatic gearbox, and of course with a low-range transfer case. Looking at these options, a turbo 4 will a manual gearbox will be the cheapest option, running up to the V6 diesel and 8-speed automatic gearbox, which is probably also borrowed from the Grand Cherokee, will make up the most expensive driveline.
Another note here on the driveline is that 'Selec Trac' full-time 4WD will be an option on the JL Wrangler, which will work in a similar way to Mitsubishi's Super Select 4WD system, which allows you to choose between 2WD and 4WD on bitumen, which has benefits on dirt, in the rain and many other reduced-traction situations. Then for more serious off-roading, you can lock the centre differential for a proper 4WD setup.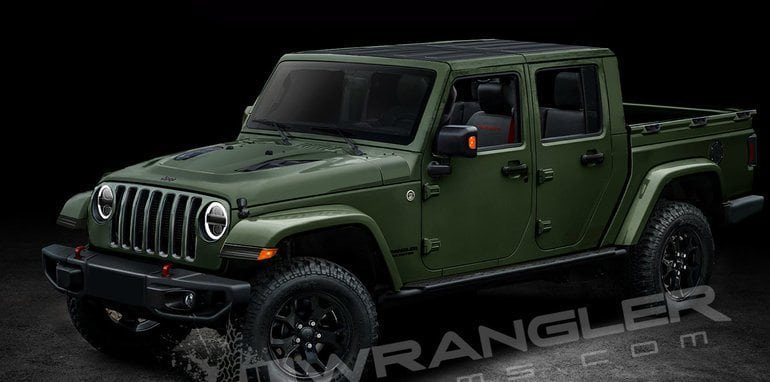 SPEC LEVELS
There's going to be three spec levels available: Sport, Sahara and Rubicon. Sport will be the entry-level option across the board, with the lowest price and specs. Sahara will have a lifestyle orientation, but will only be available on four-door Unlimited Wranglers. And finally, the Rubicon will no doubt carry the flag of off-road capability with serious stuff like lockers, gearing reduction and suspension. Interestingly, the document lists a 285/70 R17 mud-terrain tyre option, which would be for the Rubicon.
Like other Wranglers, there will be a huge amount of options, packs and accessories that you can spec up on the JL Wrangler for personalisation. There looks to be lots of paint options, tech packs and external accessories to keep everyone happy.
Along with a recently updated Grand Cherokee JL Wrangler will form a bit part of Fiat Chrysler Australia's plan to turn their slow-selling ship around, and return to positive growth.