Issue 011 of Pat Callinan's 4X4 Adventures is now firmly in circulation, and available at all reputable newsagents.
We aren't usually ones to have tickets on ourselves, but we have to admit that each issue of Pat Callinan's 4X4 Adventures magazine keeps going from strength to strength. As usual, issue 011 is 196 pages of top-quality paper stock, filled with the best 4X4 lifestyle magazine in print. We chat with Dick Smith about his love for 4WDing, we travel overseas, we learn how to catch a trout in the High Country. we have all of the product news and reviews you could hope for, and we have the most beatiful and inspiring travel stories getting around. What's more, you'll find an industry-leading 30% capping of ads, which means more great content for you, the reader.
NORTHERN EXPOSURE – THE NSW NORTH COAST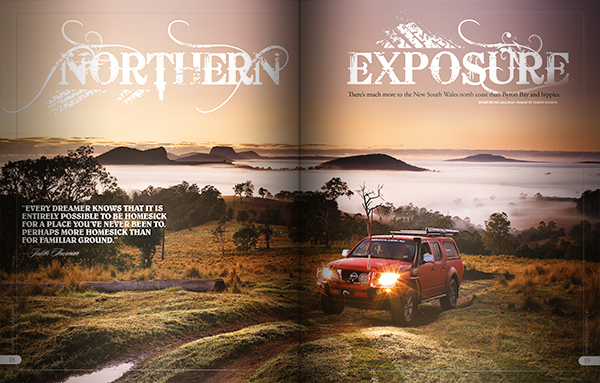 Join Pat on a no-holds barred adventure through the untamed hills and spectacular beaches of the NSW North Coast. These destinations are all within close reach of Melbourne and Sydney, and should be on every 4WDer's hitlist.
THE GUNBARREL HIGHWAY – WITH A TWIST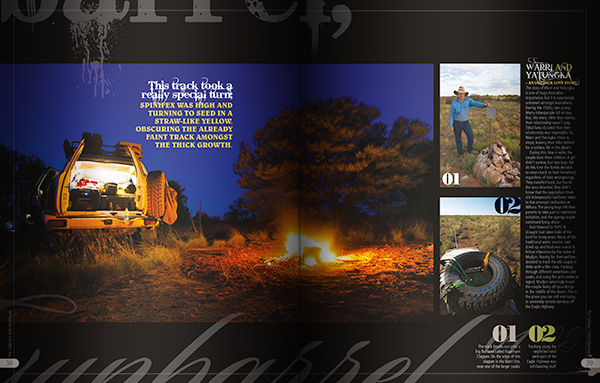 They don't get much more iconic than the Gunbarrel highway, and they don't get much more adventurous, either. We crank it up a notch, travelling the Eagle and Gary Highways as well in search for one of Australia's most poignant historical locations. You don't want to miss out on this adventure. It's remote, it's adventurous, and it tells one of the most compelling love stories that Australia has ever known.
REVIEWED – ISUZU MU-X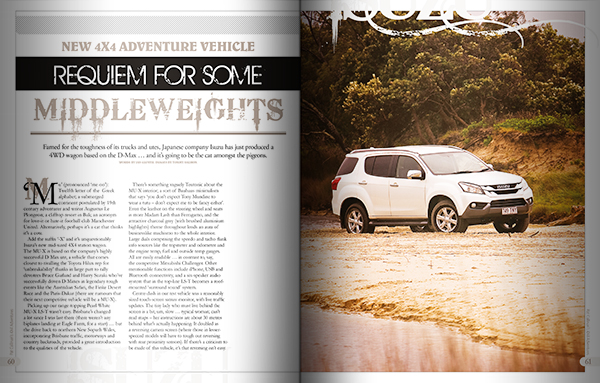 Isuzu has made a dedicated following with their popular and tough D-MAX ute, but does the MU-X fit the same bill for the family. Stalwart 4X4 journalist Ian Glover takes one for a long drive to find out if its on top of the medium-size 4X4 heap.
REVIEWED – CUB BRUMBY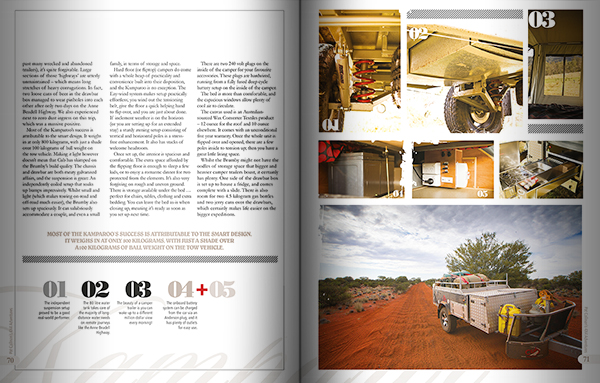 Cub's Kamparoo Brumby has proved to be Australia's most popular hardfloor camper of late, combining an impressive balance of comfort, strength and agility. We drag one along some of Australia's most notorious 4X4 tracks (for over 9,000 kilometres) to see if the real world appeal stacks up to the on-paper sense.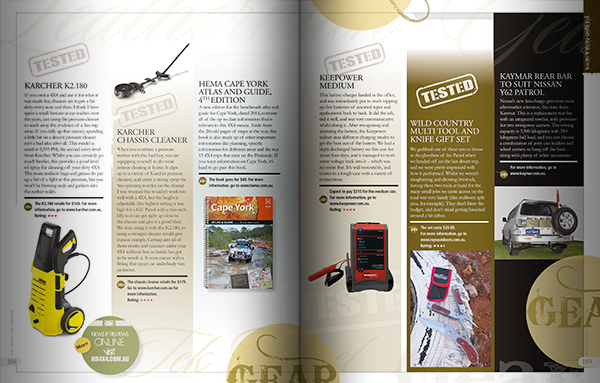 And of course, we have all of the scoops and roadtests on 4X4 products that you want to know about. Head over to the MR4X4 SHOP now to make a subscription to the best 4X4 magazine getting around.