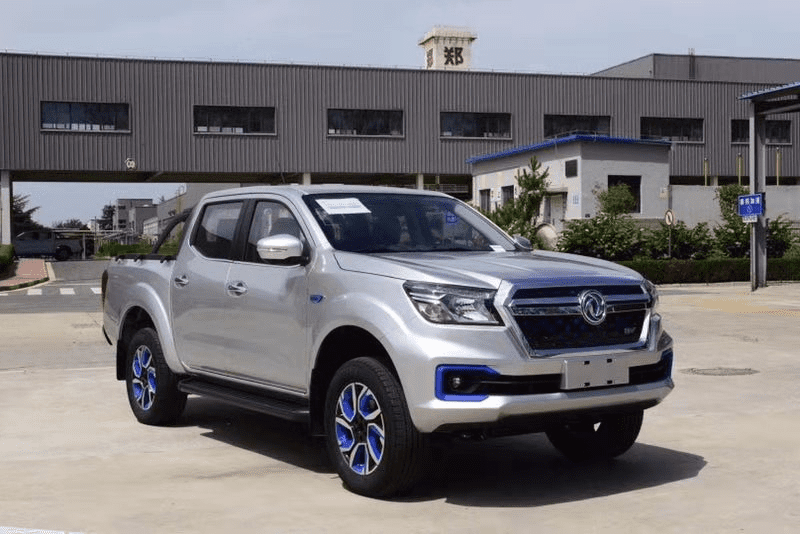 One Dongfeng Rich 6 EV please
While Rivian and Tesla talk a big game and argue among themselves about who will release the first all-electric pick-up/ute, Nissan and Chinese manufacturer Dongfeng have combined forces to beat them to it with the Rich 6 EV. Based off the Navara's body the Rich ute range traditionally was supplied with either a petrol or diesel engine.
In the Rich 6 EV, that engine has been replaced by a single 68kWh electric motor that reaches the astounding figures of 119kW and 420Nm. The Nissan Dongfeng collaboration has an uninspiringly low payload of 490kg, along with a claimed top speed of 110km/h and more importantly a claimed range of 403km. It also says that it can go from empty to 80% charge in less time than it takes to drive from Sydney to the Blue Mountains, 45 minutes.
Some small drawbacks aside, the fact that the first electric ute to be put into production is a Dongfeng and not a Tesla or Rivian, is impressive. The Rich 6 EV will be exclusively available in China and thanks to the government subsidiaries, the price is expected to be around only $24,000AUD – substantially less than a Tesla.
Looking to the future, if the cooperation between the two companies continues then we can expect their EV products to improve. Therefore, if they can continually be improving the Rich 6 EV by bettering the key specifications – power, distance, and capacity – then by the time either the Rivian or Tesla pick-ups/utes are released, Dongfeng and Nissan should have a much improved product and potentially even be able to match them.