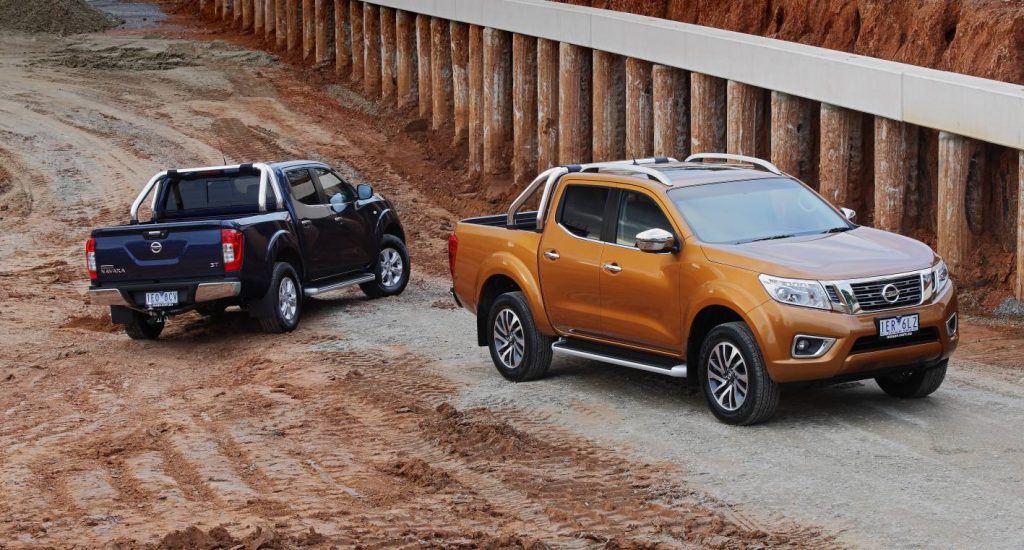 Nissan's new Navara range has gone through a bit of an early upheaval, based up user and dealer feedback in the real work.
There's a new specification level available for prospective 4X4 Navara buyers. It's called the SL, and is aimed at tradies and fleet customers. It has Nissan's YS23DDTT 2.3-litre twin-turbo diesel engine, which makes 140kW and 450Nm, whilst only using a claimed 6.5 litres per hundred kilometres.
the new Navara SL will ride on 16×7" steelies,, wrapped in 255/70 R16 rubber. Make it quite practical for the rough and tumble of hard work, the SL has spurned fancy interiors, rather going with a tough vinyl covering.
Suspension changes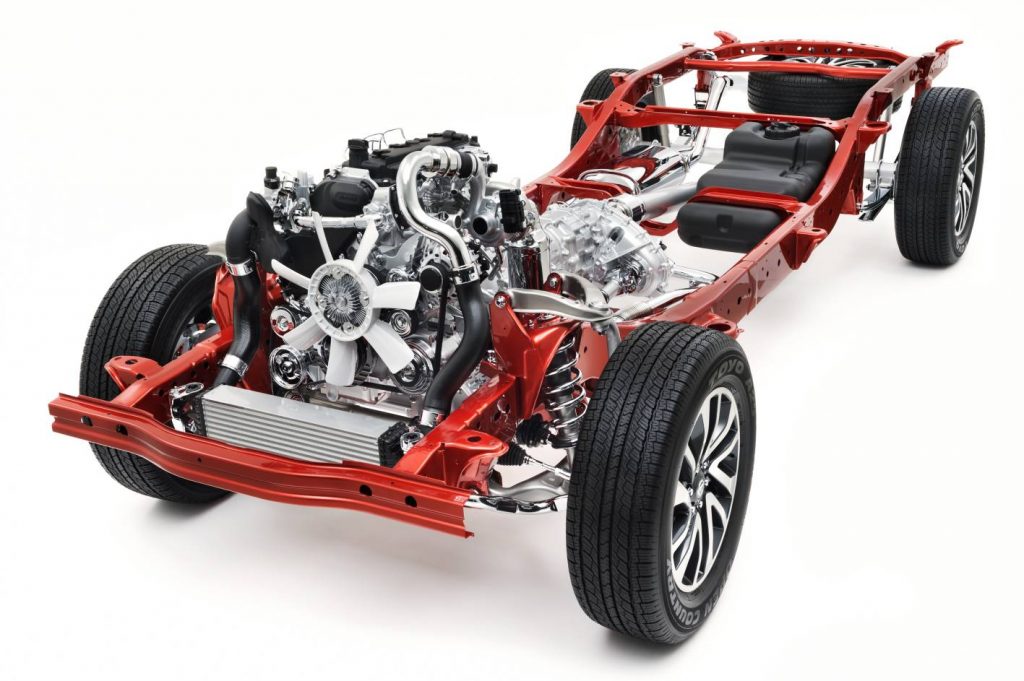 The Navara Series Two with a five-link coil-sprung rear end will be extensively re-worked, with new damping rates, new coil springs and shocks all-round. Reading between the lines here, Nissan have realised that they didn't get the suspension tuning right with the Navara. Too busy chasing carlike dynamics and comfort, it all gets thrown out the window as soon as you get anywhere near GVM, let alone towing a decent sized trailer. We'll be very interested to see what this tuning will do.
Specification changes
All ST dual-cab models will now have satellite navigation added.
The base-spec RX will have their carpet flooring replaced with vinyl, making those working vehicles a bit easier to clean after a getting filthy.
That floor-level cup holder gets binned, completely. We can only assume that user feedback was that it just didn't work.
The RX model will now have an automatic transmission option
The high-spec ST-X will have the sunroof listed as an option, instead of being standard
New Pricing
| | | | |
| --- | --- | --- | --- |
| Nissan Navara Series II Pricing  | MSRP*  | Change vs Series I | Estimated Driveaway** |
| Single Cab | | | |
| DX 4×2 single cab petrol manual cab chassis | $19,490 | – | $24,933 |
| DX 4×4 single cab diesel manual cab chassis | $31,990 | – | $37,899 |
| RX 4×2 single cab diesel manual cab chassis | $25,990 | – | $31,706 |
| RX 4×4 single cab diesel manual cab chassis | $32,990 | – | $38,931 |
| RX 4×4 single cab diesel automatic cab chassis | $35,490 | – | $41,511 |
| King Cab | | | |
| RX 4×2 king cab diesel manual cab chassis | $28,490 | | $34,115 |
| RX 4×4 king cab diesel manual cab chassis | $35,490 | | $41,340 |
| RX 4×4 king cab diesel manual pick-up | $36,990 | | $40,861 |
| ST 4×4 king cab diesel manual pick-up | $43,990 | +$1,000 | $48,086 |
| ST 4×4 king cab diesel automatic pick-up | $46,490 | +$1,000 | $50,666 |
| ST-X 4×4 king cab diesel manual pick-up | $49,990 | +$1,000 | $54,278 |
| ST-X 4×4 king cab diesel automatic pick-up | $52,490 | +$1,000 | $56,859 |
| Dual Cab | | | |
| DX 4×2 dual cab petrol manual pick-up | $26,490 | | $30,024 |
| DX 4×2 dual cab petrol automatic pick-up | $28,990 | | $32,604 |
| RX 4×2 dual cab diesel manual pick-up | $32,990 | | $36,733 |
| RX 4×2 dual cab diesel automatic pick-up | $35,490 | | $39,313 |
| ST 4×2 dual cab diesel manual pick-up | $39,990 | +$1,000 | $43,957 |
| ST 4×2 dual cab diesel automatic pick-up | $42,490 | +$1,000 | $46,538 |
| ST-X 4×2 dual cab diesel manual pick-up | $44,990 | New Grade | $49,118 |
| ST-X 4×2 dual cab diesel manual pick-up w/sunroof | $45,990 | +$1,000 | $50,150 |
| ST-X 4×2 dual cab diesel automatic pick-up | $47,490 | New Grade | $51,698 |
| ST-X 4×2 dual cab diesel automatic pick-up w/sunroof | $48,490 | +$1,000 | $52,730 |
| RX 4×4 dual cab diesel manual cab chassis | $38,490 | | $44,253 |
| RX 4×4 dual cab diesel automatic cab chassis | $40,990 | New Grade | $46,833 |
| RX 4×4 dual cab diesel manual pick-up | $39,990 | | $43,957 |
| RX 4×4 dual cab diesel automatic pick-up | $42,490 | | $46,538 |
| SL 4×4 dual cab diesel manual pick-up | $43,990 | New Grade | $48,086 |
| SL 4×4 dual cab diesel automatic pick-up | $46,490 | New Grade | $50,666 |
| ST 4×4 dual cab diesel manual pick-up | $46,990 | +$1,000 | $51,182 |
| ST 4×4 dual cab diesel automatic pick-up | $49,490 | +$1,000 | $53,762 |
| ST-X 4×4 dual cab diesel manual pick-up | $51,990 | New Grade | $56,343 |
| ST-X 4×4 dual cab diesel manual pick-up w/sunroof | $52,990 | +$1,000 | $57,375 |
| ST-X 4×4 dual cab diesel automatic pick-up | $54,490 | New Grade | $58,923 |
| ST-X 4×4 dual cab diesel automatic pick-up w/sunroof | $55,490 | +$1,000 | $59,955 |