With headquarters located in the Blue Mountains of NSW, Pat has a few 'go-to' tracks where he likes to play and take his family and friends. We reckon it's time to stop gatekeeping, so we got him to give us the complete rundown. Here it is in his words.
Every 4X4 journey needs fuel. I'm not talking diesel though, I'm talking carbs and sugar! Before I head over the Blue Mountains, I religiously stop for a coffee and the world's best cinnamon scroll at Schwarz German Bakery in Wentworth Falls. It's a proper German bakery that has been in the mountains for decades, as it's always humming. If you stumble out of bed late though and land closer to lunchtime, Wentworth Falls has a brilliant little Asian deli cafe called Saigon Sandwich. Here, you will find the planet's best Banh Mi. High praise I know, but well deserved. Okay, so now you're sufficiently fuelled, we can hit the tracks.
Sunnyside Ridge Road
The beauty about this area these days is that you can find these roads on Google Maps. Although Google won't tell you whether you can get bogged or stranded. From the Zig Zag Railway, allow around an hour to traverse this track one way. Incidentally, it is a one way track, as at the end you'll marvel at the most spectacular view across the Wolgan Valley. You can edge your vehicle up to the edge of the cliff, and get a magnificent photo from a drone. LandCruiser owners please stay away from the edge and keep your vehicle in gear, because the drop off the cliff is about 80 metres, and there ain't no guard rails here. And of course be very careful with small children around the cliff edges.
The last few years of heavy weather have deteriorated the track somewhat, so take it easy on the way out. You can get bogged in a few spots (just ask my son Bill!). But I haven't had the privilege yet. As with most of the Blue Mountains tracks, they have a firm rocky base, so if you dodge the worst holes you should arrive bog-free. You can do the Sunnyside Ridge Road Track in a standard vehicle with road tyres, but of course with a small suspension lift and some all terrain tyres, you'll enjoy yourself that much more. Just be sure to dump your tyres down to around 26 psi, as the road will be as bumpy as hell.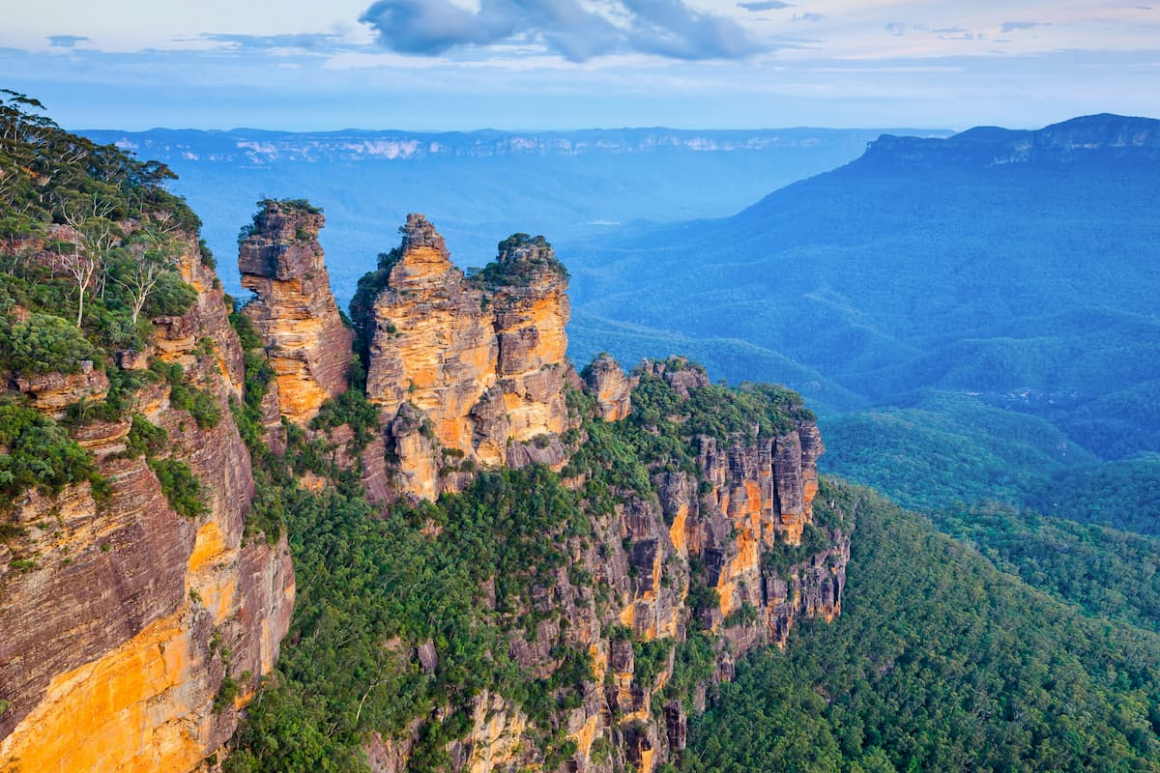 Angus Place Track
I like to attack this track from the western end, at the Angus Colliery. This way, you dive straight into some nice technical inclines. I wouldn't do this track in a standard vehicle. You could, but you'll be battle-scarred at the other end. Better off to lift your vehicle around 50mm and fit some all-terrain or mud terrain tyres. A diff lock will come in handy on a few occasions.
As you ascend the track, you will come across some magnificent rock gardens. In fact, on a few occasions the track meanders right through the beehive formations. Be sure to get out and explore at least once or twice. The track is quite slender though, so when you do stop, be sure not to block the track.
As you ascend further, there are some technical rocky sections. Good wheel placement and tyre pressures of around 16psi will pay dividends here. Angus Place track will take you around an hour and a half to complete without stopping. But as I mentioned before, you'd be mad not to stop and soak in the view.
Marrangaroo National Park
Marrangaroo National Park was once a sheep farm, so there are some beautiful clearings on the northern edges. But as you drive further in, you'll strike some beautiful steep hills. Perfect for giving your transfer case a workout.
Some brilliant campsites are astride the Cox's River, the very same place Sir Charles Darwin spied his first platypus. Did you know that the plural of platypus is platypi? No doubt you did, you smart bugger. I never doubted you.
The Cox's River can be crossed on a few occasions, and this reed-lined river remains the longest water crossing I know of in NSW. If you know of a longer one, please let me know!
The river crossing has a rocky base, so provided it's not flooding, it's usually quite safe to cross. As you head further into the National Park though, you will have more options to cross other bodies of water. Be very careful, as one particular crossing is incredibly deep, and regularly swallows 4X4s. Be sure to walk the crossings beforehand.
In terms of modifications, you can drive most tracks here in a stock high clearance 4X4. However, the fitment of a snorkel or a water blind for the crossings is advised.
So there you have it folks, some of Pat Callinan's best kept secrets: his top 3 backyard tracks. If there's anything else you want to hear Pat's opinion on be sure to shoot us a message on either Instagram or Facebook!