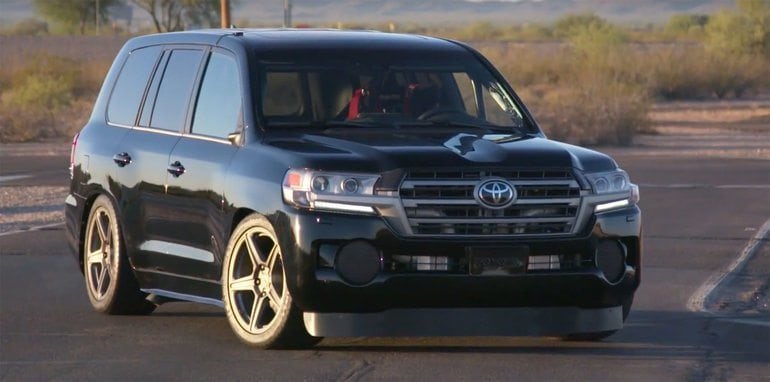 This big old Toyota LandCruiser has had a chop at getting into the records book, with a high-speed run down an operating airstrip in Mojave, California. It's claiming the title of 'world's fastest SUV', based on it's recorded 340km/h. It won't take a diehard Tojo nut to notice that this thing isn't exactly original …
Most noticeably, Toyota has dropped the LandCruiser on it's guts for the challenge as, making it much more aerodynamic, but will get hung up on a moderate suburban speed bump. Not so much chop for crossing the desert, right? They have also reduced the track width significantly, to allow the factory bodywork to accommodate the super-wide Michelin Pilot tyres. Once again, they might be fast, but probably wouldn't stand up too well against the mulga stakes.
The Engine
The low-slung LandCruiser uses a modified version of the Toyota 3UR-FE, which is the 5.7-litre petrol V8 used in Toyota Tundra utes and Lexus LX570 4X4 wagons. Normally, it's pushing out 270kW @ 5,600rpm and 530Nm @ 3,200rpm. Sure, it's a strong V8 that tows well, but your garden-variety Lexus or Tundra isn't going to come within a cooee of having enough power to pull over 300km/h.
For the extra 1,200-odd kilowatts, Toyota has slapped a couple of turbochargers off the engines. Each turbo is feeding 55psi of boost into the V8. The internal moving bits have been modified to handle the significant increase in stress, and the intake manifold is also a custom job to accommodate and optimise the ravenous amounts of boost. This is running through a completely different, race-spec gearbox, through to the super-slick wheels. We're going to assume this LandCruiser isn't 4X4 anymore.