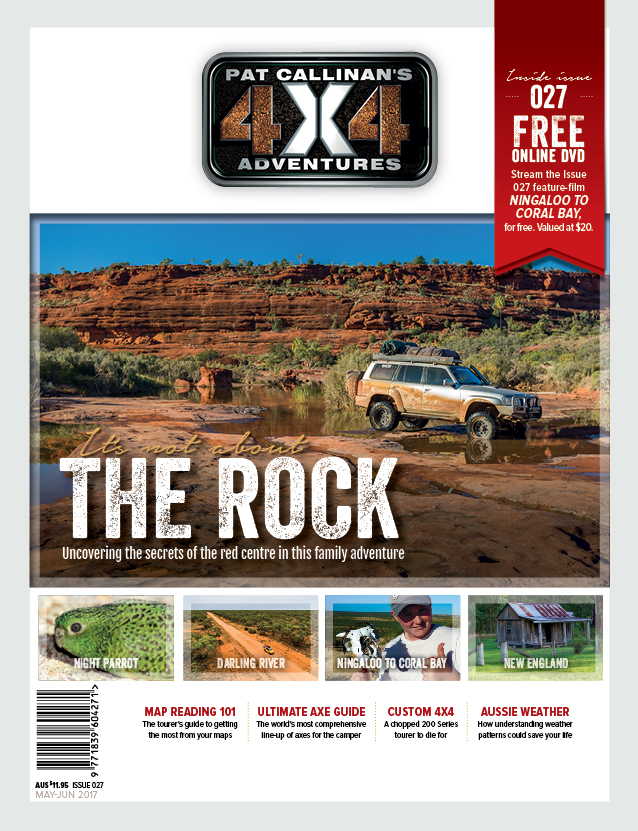 Issue 027 is out now and believe us, you're going to want a copy! From the only axe guide you'll ever need to the 'Coast with the Most', you'll be covered in all areas from 4WDing to bird watching and plenty more. Issue 027 also gives you access to stream the FREE online feature film 'Ningaloo to Coral Bay'!
New England High Country
"The often over-looked mountains of New England offer an abundance of adventure, driving and scenery – just the reason you need to avoid the well-known northern New South Wales coastal route" – Scott Mason
This journey took us between the New England and North Coast regions, part of the Great Dividing Range. If you choose to take the road less travelled, you can do so at whichever difficulty you wish. While some areas are definitely for the more experienced, they can be avoided via well-maintained tracks that run throughout the mountains. Definitely worth the read and a note for your future 4WD destinations.
It's Not About the Rock
Now this is where we pass all the touristy spots and get in touch with the bliss of being alone. It's a good alone feeling, where you may only see one or two cars drive by. If you want to experience what many pass up by not exploring the lesser known areas, you need to grab a copy to ensure you don't miss out when planning your trip.
The Coast with the Most
Where the outback meets the coast you will find yourself in the kind of location where you end up staying longer than you thought you would. Want to know what we mean? We will let you read it for yourself.
The Ultimate Axe
What started as a basic review ended up evolving into the axe guide you see before you. After extensive research and a life changing moment once watching 'the video,' we knew there was too much a review would not allow us to share. So, if you need a new axe, or even your first axe, you need this guide.
Subscription Offers
Make sure you're prepared for Season 10 coming out at the end of the year! Check out our subscription offers which will get you ready for our biggest season yet!
Boxed Set Subscription Offer includes the Season 8 & 9 DVD Boxed Sets along with a 12 month subscription to Pat Callinan's 4X4 Adventures. Now includes a year FREE access to all of the back issues of the magazine!
Download our app to preview any issue for free!