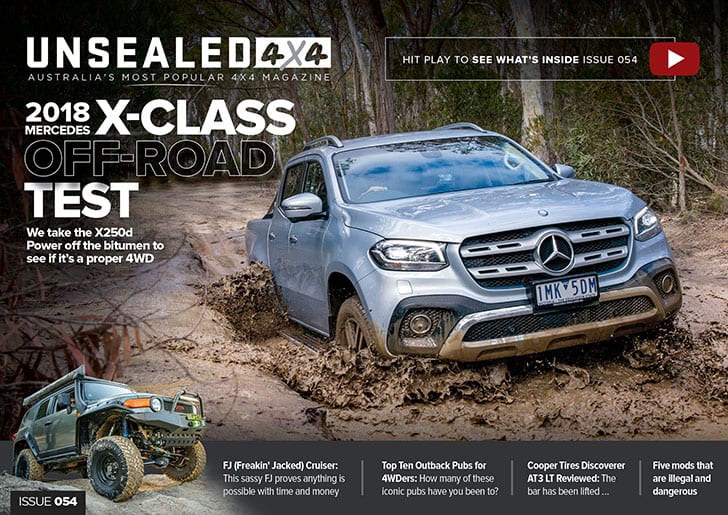 Spring has absolutely sprung and with it, we bring you Unsealed 4X4 Issue 54! Have a look at the video below for the hard and fast look at what's in Unsealed 4X4 Issue 54.
Mercedes X-Class X250d – we take it off-road to see if it's a proper 4WD

We take the brand spanking Mercedes X-Class X250d off-road, put it through its paces to see if it's a real 4WD worthy of it's salt. To be honest, we were actually pretty surprised.
FJ (Freakin' Jacked) SAS'd Cruiser Custom
We go over just about ever nut and bolt on a rather mental SAS'd FJ Cruiser, cause well, no epic build ever started with the line "We liked the IFS setup, so we left it standard…"
Top ten outback pubs for 4WDers
We give you our list of top ten iconic outback pubs that you need to get on the bucket list, worthy of a sticker on the back of your rig.
Barrington is definitely Tops
While everyone headed to the beach last summer, Gary Tischer headed out into the Barrington Tops National Park just north of Newcastle, to prove it's not just a winter snowfall destination.
Overseas holiday, or touring in Australia?
Ev recently took off on a trip round Europe ('cause that's what you do right?) and gives us his thoughts on whether he should have taken off around Oz instead…
Queensland Police "Operation Lift" defecting modern 4X4's
Surely you've not missed the sh!t fight on social media lately – we look deeper into the issues, and help you make heads and tails of what's actually going on…
So there's a quick round up of whats in Unsealed 4X4 Issue 54. Make sure you head over and have a read, cause at the end of the day, it'll cost you nothing, and give you a metric boat-load of good info and some rather spectacular photos!