Pop top roof conversions had taken somewhat of a back seat in recent years, with the advent of the off-road camper trailer and caravans. With their weights and size increasing, it seems year on year, it was only a matter of time until we saw a reinvention of the pop top roof conversion for getting into places you just cant drag a camper. Enter the Bonetti Campers 'Cruisinator'.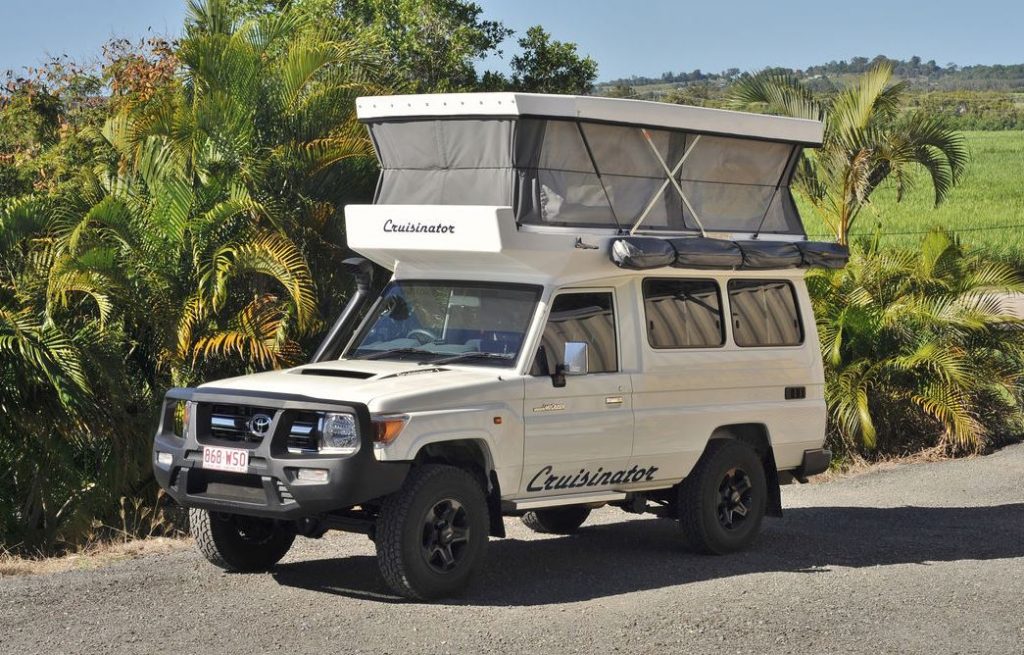 The aim of the design, according to owner and designer Stefano Bonetti, "was  to design and use the highest quality equipment on the best base vehicle available, and build a home for travellers who search for a simple, but comfortable solution that allows quick setup  under any conditions and circumstances."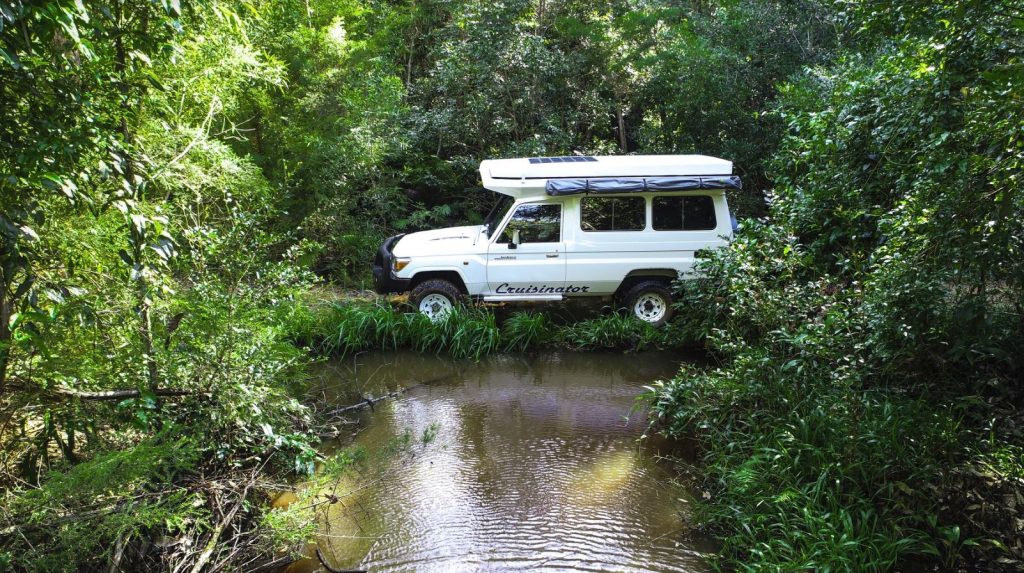 Essentially you supply your 78 Series LandCruiser Troopcarrier to get your vehicle converted or Bonetti Campers can build one for you based on a brand new vehicle. There are a few different options for fit out; from the Basic which offers the roof conversion, mattress, scissors and gas struts and modified snorkel head, through to the Adventure Camper Basic.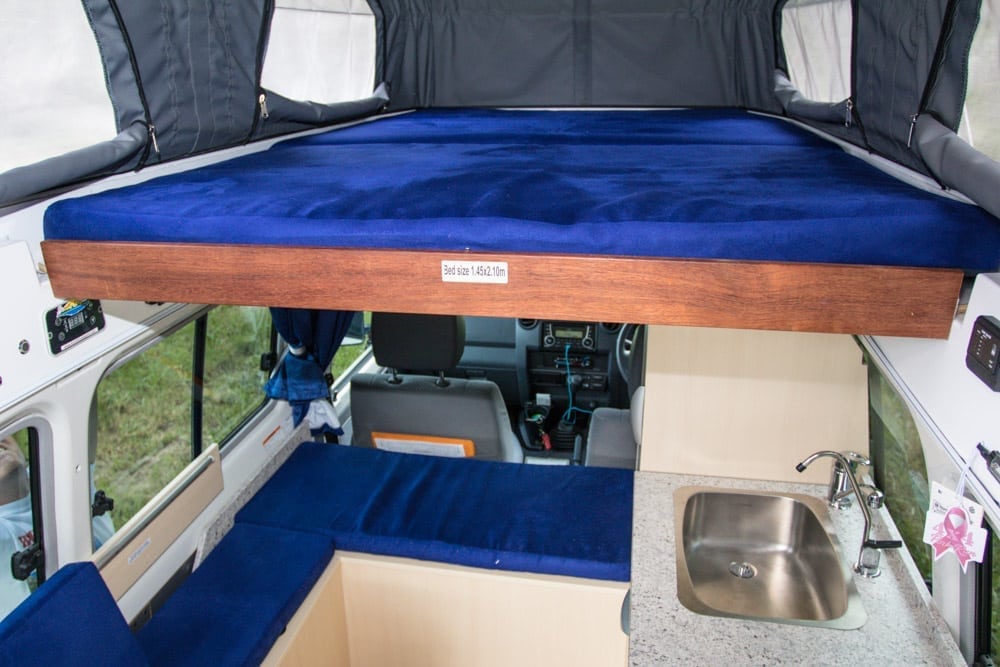 The Adventure Camper Basic, offers the full roof conversion as above, plus:
Gas lifters for bed base (extra storage)
– Storage pockets in roof collar
– Curtains in living area
– Modified Snorkel
– CNC cut lightweight poplar plywood cabinetry laminated
– 2 Burner Origo cooker cold water system pressurised, inclusive carbon water filter.
– 75L Fresh water Tanks, can be extended
– Custom made compressor fridge / freezer with double lid for easy access when seated at dinette'  can be set as fridge or freezer only.
– LED lights inside and exterior, Dimmer or Remote Controlled possible.
– Camper electrics in 12V, 100AH AGM Battery VSR, Volt /Amp Meter / Water Tank Gauges, USB Double Power Point 5V 2.1A
– 240 V Power Inlet, RDC fused with 2 x Double Power Point (Australian  Standards compliant and certified)
– 240V Charger for Interior Battery @ 10A
– Porta Potti, Portable Toilet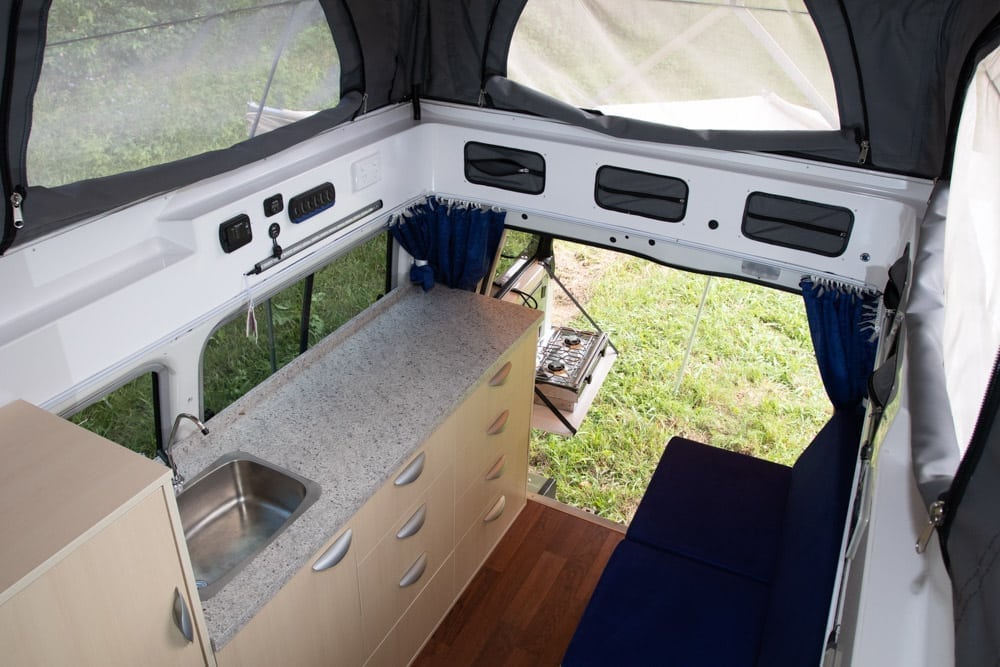 So you get everything, and the kitchen sink! The folks at Bonetti will even build it out to your specific specs. Anything from solar, lithium batteries, to hot water and an outdoor shower.
Head on over here for all the info on the Bonetti Campers site, and keep an eye out for our full review that will be featured in Pat Callinan's 4X4 Adventures magazine soon!