Bollinger Motors is a company founded by Robert Bollinger, a former Manhattan advertising executive and skin care entrepreneur. It's small, practically just a shed out in the boonies of New York State with a small team of engineers and designers behind it. But, don't be fooled by it's size. This company is brewing up something big.
The Bollinger B1 is a fully electric 4X4, there's no engine whatsoever. Instead, there's an electric motor front and rear, which power each end independently. There will be a choice of either a 60kWh or 100kWh battery which translates to a 200 or 320 kilometres range in between charges. Recharging, via 220V, takes either 7 hours or 12 hours for the 'long-range' setup.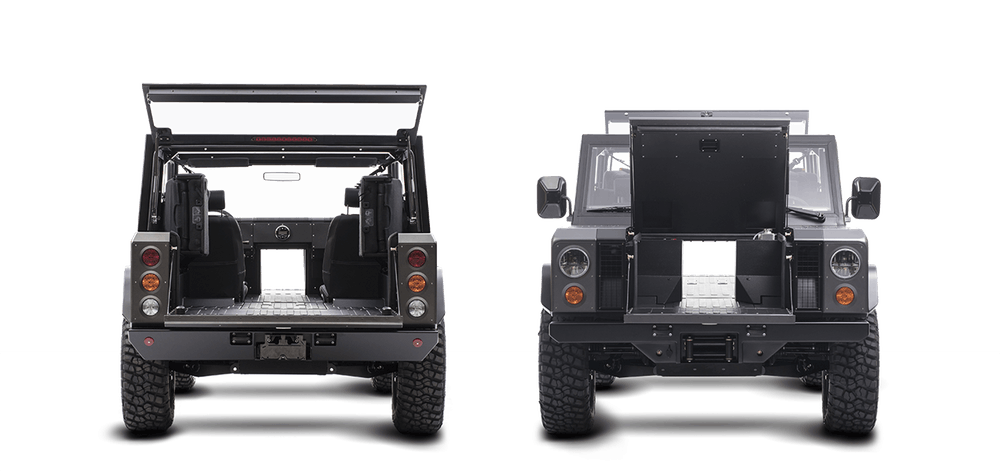 It looks like a 4X4, with flat slab sides, and hardly any curves to be seen. In many ways, it looks similar to the original Willys Jeep and Land Rover Series 1. It's a completely electric vehicle, with an incredibly simple interior. Even the battery gauge is analogue, which is awesome. But is it really a 4WD? Let's have a look at the specs:
Suspension: Adjustable hydropneumatic
Ground clearance: Up to 390mm, 56° Approach, 33° Rampover, 53° Departure angles
Tyres: 285/70 R17 (33″) BF Goodrich Mud Terrains
Gearing: Hi and Lo gearboxes, front-and-rear electronic locking differentials
Wheel travel: 250mm
Well I don't know about you, but if I had a 4X4 with that much clearance, articulation and locking diffs, I would be pretty stoked. Adding to that, it's sporting a 12,000-pound hydraulic winch, and in-board disc brakes. All pretty cool stuff.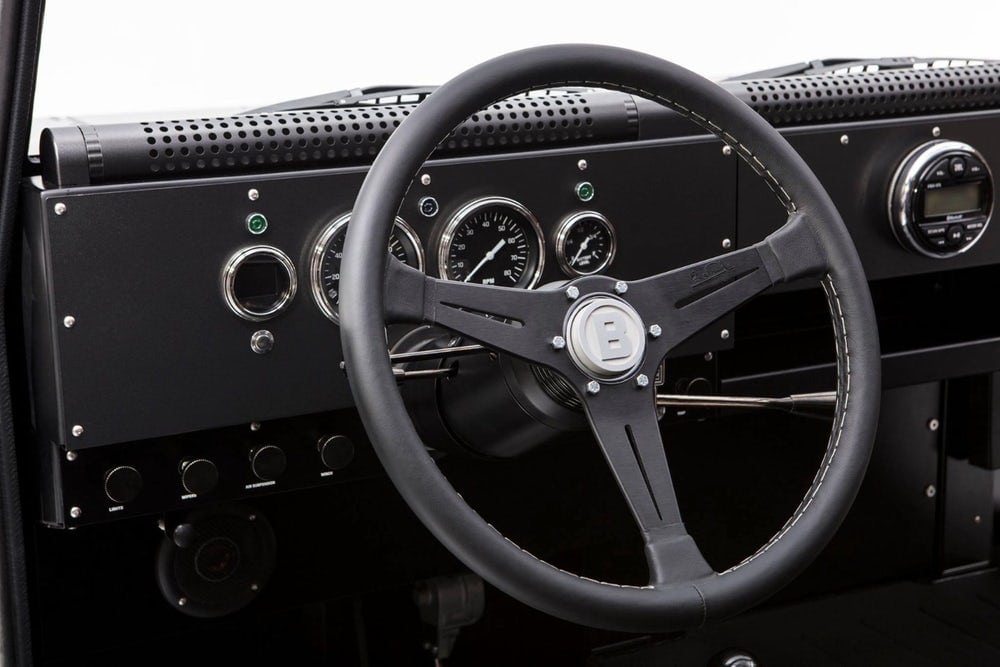 Impressively, compared to other fancier and flashier electric vehicles, $60,000USD could land you one of these units. It weighs 1,800kg, with a 105″ wheelbase. That's on the slightly small side, and the lack of overhangs makes it a smallish 4X4 overall.
There is talk of the Bollinger B1 being available as early as 2020, the same year the new Defender will come out. The road ahead is still quite long for the Bollinger B1. It's a small startup team, personally bankrolled by an entrepreneur. They still need to get the thing certified, legalised and finally mass-produced. But, it's a start. And it's really exciting. Imagine when electricity range gets to a point that you can cross the Simpson Desert, topping up your batteries at Birdsville and Mount Dare. You're robbing Peter to pay Paul at that stage however, considering places like Mt Dare run off diesel generators. I think I'll always love the idea of an internal combustion engine, but a long-range, capable electric 4X4 will be undeniably cool.