Following up from a tonne of spied shots and speculation, Ford has now confirmed the Ranger Raptor is coming to Australia. And how else, but a scintillating video of a development model bashing it's way through some desert tracks.
The video looks like the Ranger Raptor is running along the Old Ghan Line, which is famous run each year as part of the Finke Desert Race, between Finke and Alice Springs.
Ford reckons the Ranger Raptor will bring a "level of capability and off-road performance never before seen in the mid-size pickup truck segment.", and "create a class of its own among off-road performance vehicles." Specifically how they will do this is still under speculation, but we can all-but confirm a few things.
The five-cylinder, 3.2-litre diesel will likely make way for a turbocharged petrol V6, running through an automatic gearbox. For reference, Ford's F-150 Raptor uses a 3.5 litre V6 turbo and 10-speed automatic gearbox.
The suspension will use a coil-sprung live axle setup, borrowing a Watts Linkage setup from it's Everest wagon brethren. This will steer the Ranger's emphasis away from towing and hauling, and will look a better high-speed dynamics, both on-road and off-road. It looks like the front track width is increased with the use of aluminium arms, but we'll have to wait and see what exactly changes.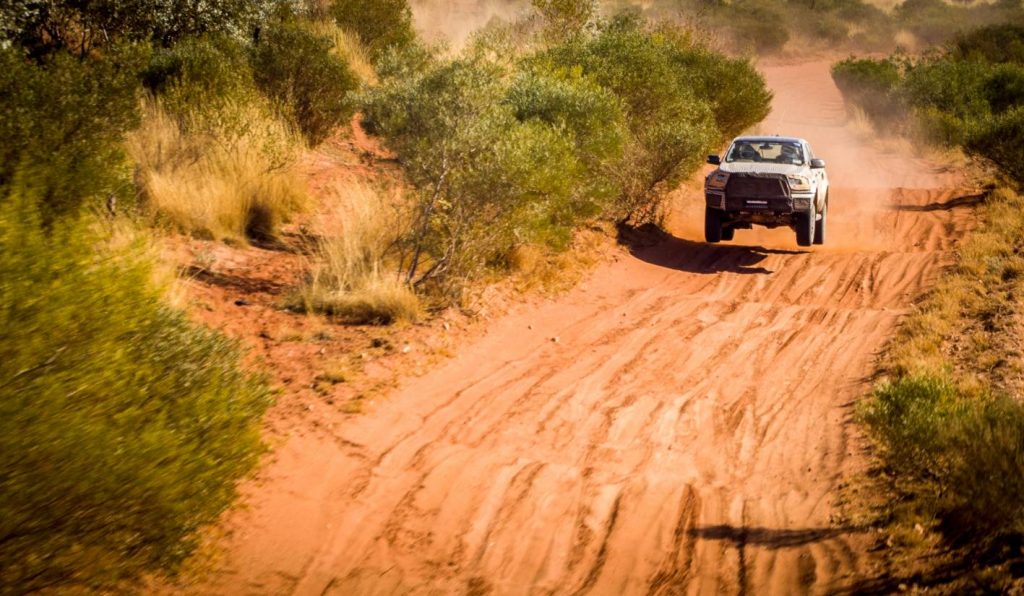 There is also going to be bigger rubber on the Ranger Raptor, accommodated by the wider wheel track and correspondingly flared arches. Along with improving the Ranger's stability and off-road ability, this will also go a long way in the looks department. You can also expect to find some pretty top-end shock absorbers, probably sourced from the aftermarket world, tucked inside those mean looking arches.
Are we excited about this? You bet. It's finally great to see a performance-oriented 4WD come out that does more than just black details and a sticker pack. See Ford does plenty of road testing in Australia through the local R&D arm, there's a good chance it will stand up to Australian conditions. But, we'll reserve judgement for now …