Some Ford Ranger fans on Facebook have snapped images of what looks to be the Ford Ranger Raptor tootling around on some Victorian roads. The images aren't super high quality, but we can clean some solid information from the posts. This will probably come with the 2019 updates to the Ford Ranger range.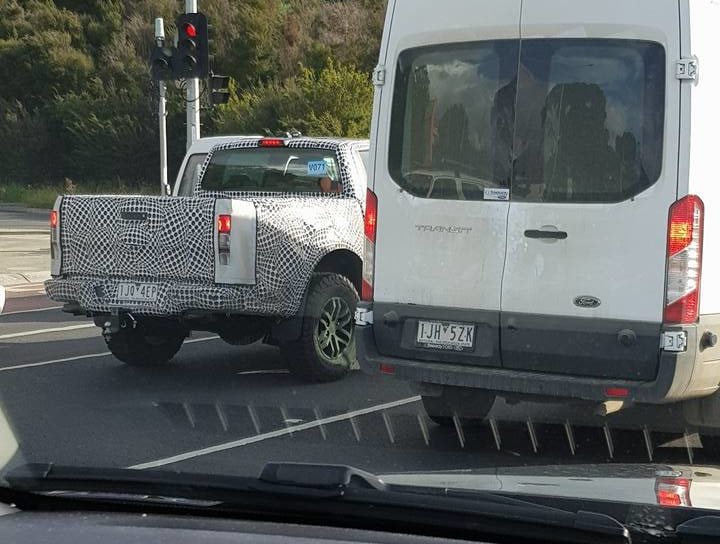 Note the black wheels, BF Goodrich All-Terrain tyres and pronounced fender flares in this image. It's worth noting both sets of images are of the same vehicle. One would assume they are using this model to fine-tune the suspension (which will be quite different from the current Ranger). Ford is just looking to score some publicity.
"Chased the Sneeky[sic] new Ranger in the Dandenongs today. Could not see any leaf springs in the rear. And it was hammering. Not one puff of diesel smoke to be seen accelerating hard uphill.  Hmm, what's lurking under the bonnet."
What's important here isn't so much the image, but the image's context. Old mate who took it was apparently holding a reasonable amount of speed in a supercharged Falcon. The colour and shape of the bonnet makes it look like 335kW FG XR8 (at a guess), which means the Ranger Raptor must have some serious power under the bonnet.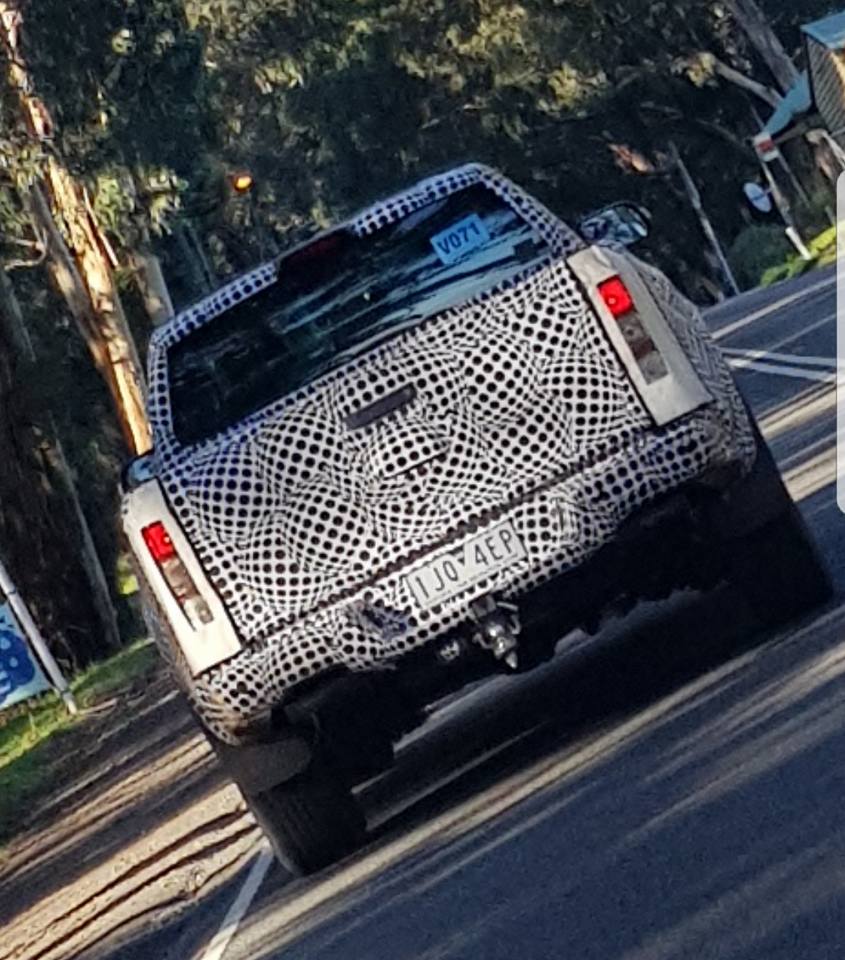 What kind of motor does lie under the bonnet? We don't know, but current musings are that it will be a turbocharged petrol V6, probably in the 2.7-litre size. That's a big move, breaking the diesel-only mould that premium utes are currently powered by in Australia. If that engine is there, it won't be short on power: 2.7 litres of Ecoboost can make up to 250kW @ 5,500rpm, and 515Nm @ 3,000rpm. Reading the comments of the post, the car wasn't blowing any smoke and was noticeably fast.
Modern diesels rarely blow smoke these days anyway, so it could also be Ford's new 'PowerStroke' V6 diesel, which is a 3-litre unit. It's landing in the Ford F-150 Stateside in the future, and is getting nicked from Land Rover's current stable of PSA-sourced engines. Output figures for this engine are over 200kW and 600Nm, both a big jump from the current 147kW/470Nm 3.2-litre engine. But, odds are, it will be the petrol.
The other big change is in the suspension: A coil-sprung rear end is obvious, using a Watts Linkage stolen from the Everest. Load carrying capacity will likely be reduced, but driving dynamics will be vastly improved, on-road and on fast, undulating dirt.
What do you think? Is a high-powered petrol ute what Australia is missing at the moment.