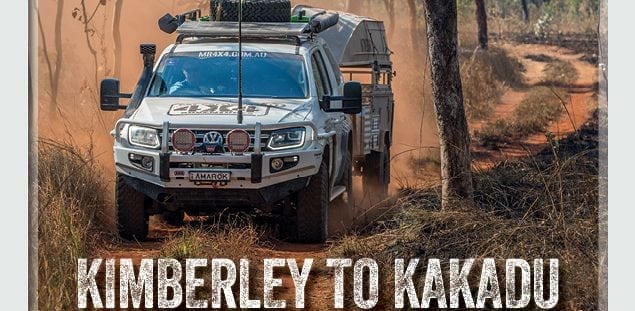 Issue 31 of Pat Callinan's 4X4 Adventures is out now, and we've stepped it up another notch!
In issue 31 we're taking you from the Kimberley to Kakadu turning the 'transport stage' of our trip into one hell of a trek.  We see a spectacular photo essay by our very own Scott Mason on the Birds of the Top End. We review the new Tvan Mk 5 Scout, the 2018 Toyota LandCruiser Prado and the Oztent Oxley 5. Also we give you a guide to fuel storage, covering everything from jerry cans to long range replacement tanks. Plus we travel to the Myall Lakes on New South Wales' mid-north coast. And we catch up with Greg Sullavan from Canon Australia for another set of tips on getting the most out of your camera while you're away.
Want to have a closer look? Download the app for your tablet or phone here, and you get 5 minutes viewing pleasure absolutely free!
Transport stage to epic trek!
Pat Discovers the hidden gems that lie in between The Eastern Kimberley and Kakadu taking the roads less travelled.
Lorella Springs
After more than a couple of attempts to see Lorella Springs, Scott finally reaches the tempting gulf getaway. With camera hanging off one shoulder, and one hell of a sense of adventure off the other, Scott takes us on an incredible visual journey of one of the most revered getaways in the top end.
Guide to fuel storage
Whether you're planning a 900 kilometre trip across the Madigan Line, or you just really dont like servos, this guide is for you!
With the new year upon us, there's never been a better time to organise a print or digital subscription. We've got some fantastic subscription offers at the moment, so you'll not only get a subscription to the magazine, you'll also get some amazing bonus 4X4 and camping gear with it too! Click here and give something special this year.