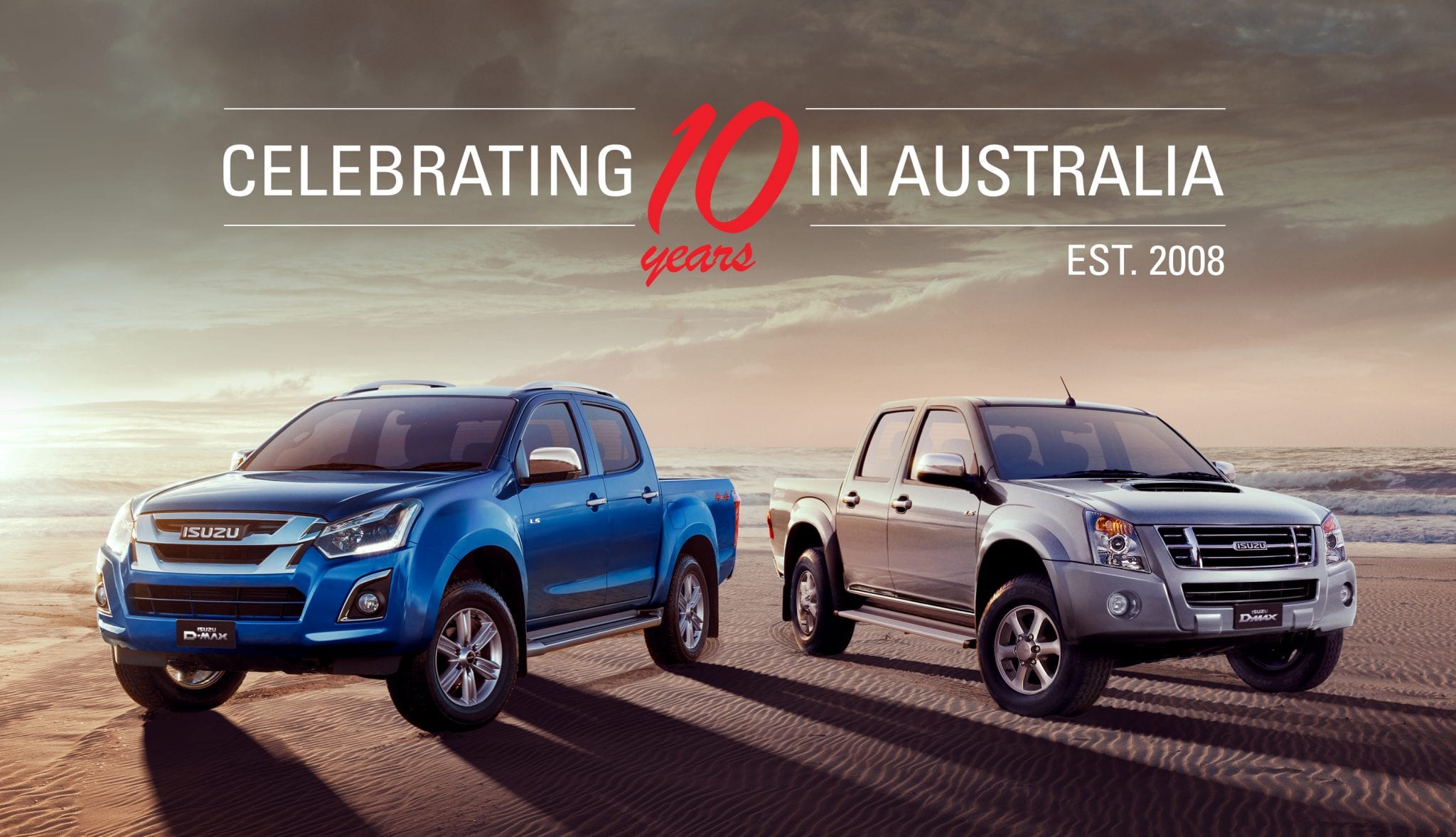 Congratulations to Isuzu Ute Australia, 10 years in the cut-throat ute market in Australia is a landmark achievement!
Isuzu's Thai-built ute came to our shores in 2008, marketed by Isuzu as the D-MAX. Holden also sold the D-MAX badge engineered as the Colorado, replacing their outgoing Isuzu-sourced Rodeo. Australians jumped at the new recruit with sales to date totalling over 100,000. Australia is now Thailand's biggest market for Isuzu vehicles.
2013 saw the release of the MU-X, the 7 seat wagon bodied D-Max sibling. In five years Australians have purchased over 30,000 of the successful wagon, making it the most popular ute-based wagon SUV on the market.
The D-MAX and MU-X share the 3.0 litre turbo diesel engine producing 130kW@3600rpm and 430Nm@2000-2200rpm of power and torque respectively. Six speed auto and manual transmissions with dual range transfer case and part time 4WD round out the drivetrain.
Prices start at $50,200 + on road costs for the MU-X while $35,000 + on road costs will get you in to a 4X4 D-MAX.
A Growing Presence in Australia
From an initial 38 dealerships, Isuzu Ute Australia now has over 140 dealerships Australia wide. Isuzu Ute is now the 13th largest motor vehicle sales company in Australia, according to VFACTS.
Isuzu Motors celebrated 100 years 2016, and can claim to have manufactured the first motor car in Japan in 1918. Now, Isuzu Motors mostly focuses on commercial vehicles from the utility market up to trucks, buses and construction machines, as a result reliability and durability are renowned.
More than a car company
The I-VENTURE Club was launched in 2015, inviting D-MAX and MU-X owners to join trips run by Isuzu Ute Australia to iconic 4X4 destinations. Unsealed 4X4 went along for a trip with I-Venture to Fraser Island, check out the video below