Capturing a water crossing is a ton of fun. Use these tips to get picture-perfect results! 
Words and images by Australia Rediscovered with Ricko.
One of 4WDing's great pleasures is tackling the water crossing. Whether it be no more than a puddle to a full-on over-the-bonnet crossing, these encounters also present the budding photographer with an opportunity to capture a breathtaking image.
Here are our top tips to help you capture that fair-dinkum "wall hanger" that your mates will be talking about for years to come.
The Equipment
While a great big expensive full-framed camera and the top-notch lens is the perfect ensemble for just about every photography situation, you don't have to have the latest and greatest to capture stunning shots. With water crossings, the technique is far more critical! If you are using a dedicated camera (as opposed to a smartphone), one with either manual mode or TV mode (the abbreviation for shutter priority) is a real bonus.
If you are using a smartphone, something a year or two old will get you some surprisingly good results! Another part of your arsenal if you are utilising the phone is an editing app that can improve an otherwise ordinary image. Your author likes Snapseed, as it can add some drama, and it's pretty simple to use.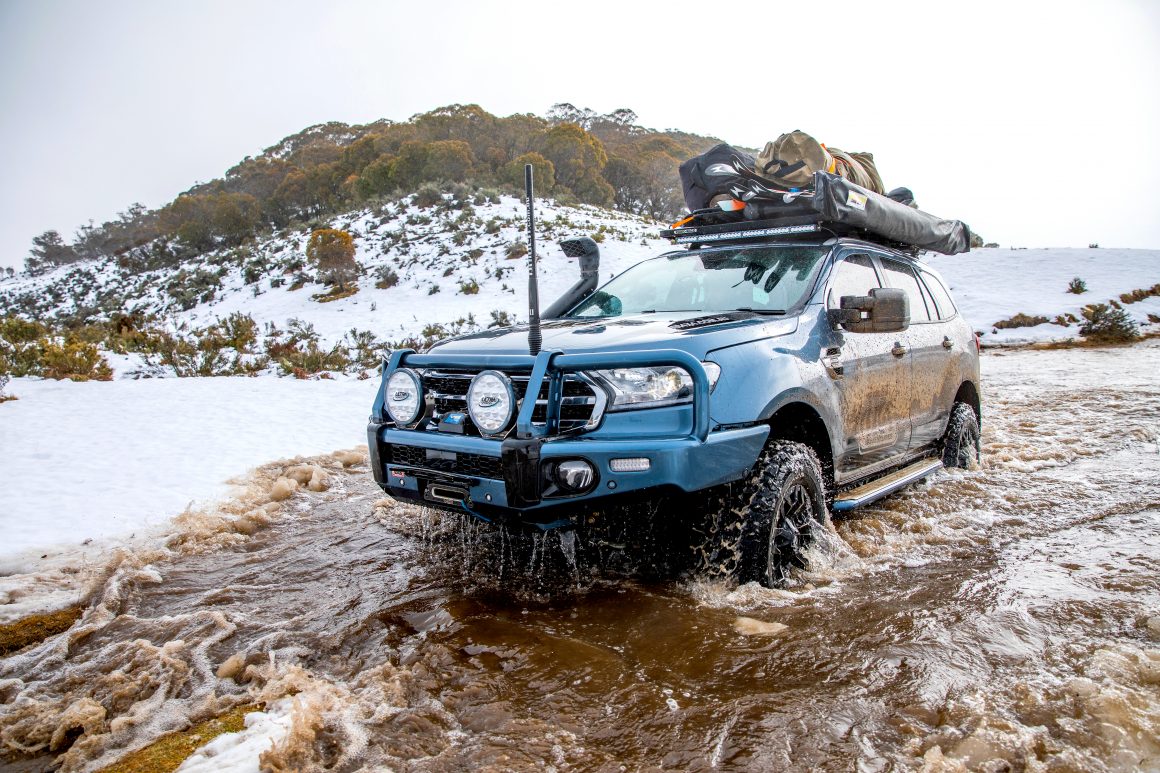 Six Top Tips
1. COMMUNICATION
To ensure that the subject is going to be where you want it, when you want it, talk to the driver of the vehicle and explain what you need him or her to do. Keep in mind that hitting the water too hard is not only an opportunity for bad things to happen mechanically, but the resulting splash will probably render the 4×4 invisible! Aim for a splash that is around or below mirror height for a good, dramatic effect.
2. POSITIONING
The great thing here is that there are no real hard and fast rules – let your imagination and creativity run wild! In many circumstances, the surrounding terrain will play a key role in where you stand to capture the shots, but where possible, I like to put myself in a spot in front and slightly off to one side to grab an excellent splashy image. I'll aim to shoot from headlight height to emphasise the impact of the water and the size of the splash.
3. FRAMING
There is a thing called "the rule of thirds" in photography, and it can certainly be helpful in this context. Imagine a noughts and crosses grid over the image and line the subject upon one of the horizontal gridlines for an eye-pleasing composition.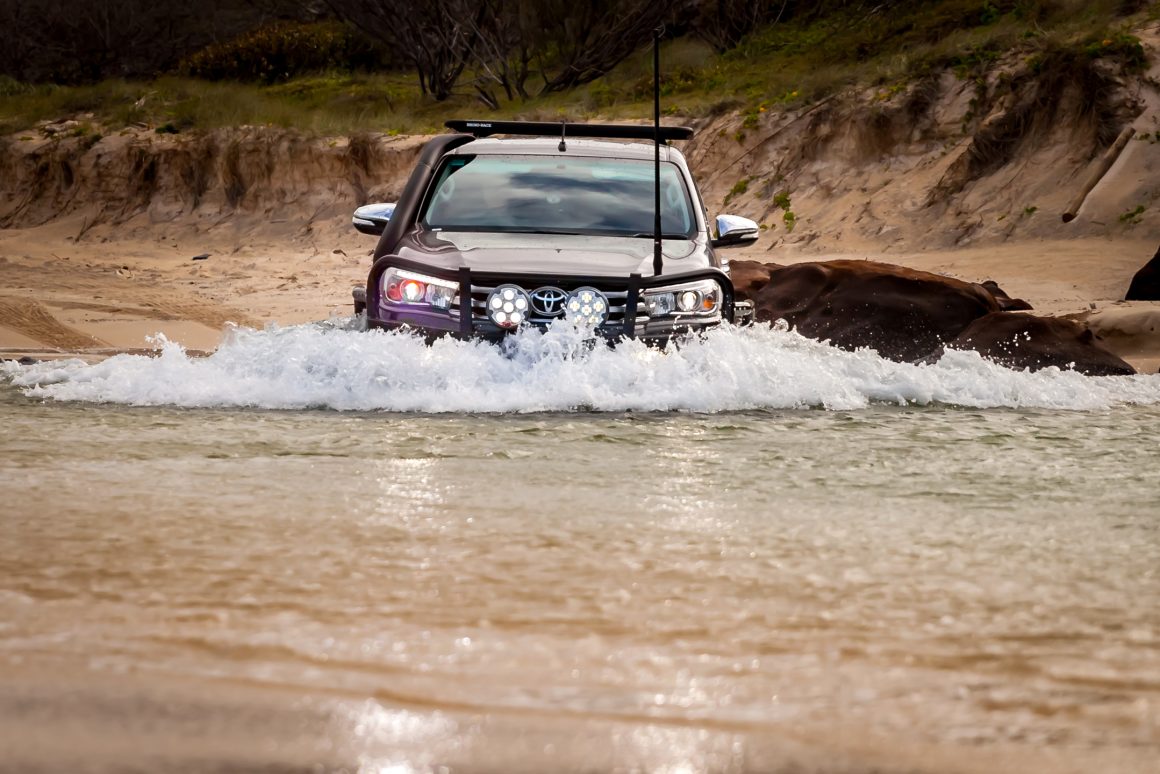 4. TIMING
Choosing when to activate the shutter to capture the image can be the difference between a good shot and a truly great one! Too soon, and you'll miss the peak of the splash or bow-wave, too late, and you will likely see water and no 4WD. The correctly timed shot will give you the perfect balance of 4×4 to splash ratio. It may take some practice and experimenting, so don't be disheartened if you don't nail it first go. Be patient and keep practicing, we're sure your mates driving won't mind.
5. TECHNIQUES
Here is where knowing your way around the camera and its functions can be a real boon. On an actual camera, a handy way to ensure a nice sharp result is to utilise a high shutter speed; this will have the effect of really "freezing" the action, resulting in a crisp shot. Something over 1/320th of a second is a good starting point if the light allows it. If going full manual mode is a bit daunting, try TV or Shutter Priority mode. Set your shutter speed nice and high, and click away; the camera will take care of the rest.
If the smartphone is your weapon of choice, try burst mode. Hold the shutter down, and the phone will take continuous shots that you can then go back and review to choose your fave.
6. PROCESSING
Very few shots taken by the pros do not have some post-production processing. Computer programs such as Lightroom and phone apps like Snapseed are a great way to add a little saturation, contrast, and structure to your images. A slight vignette (darkening of the corners of the image) will draw the viewer's eye into the image's focal point. These tiny and often subtle changes can often really add up to creating an image with impact!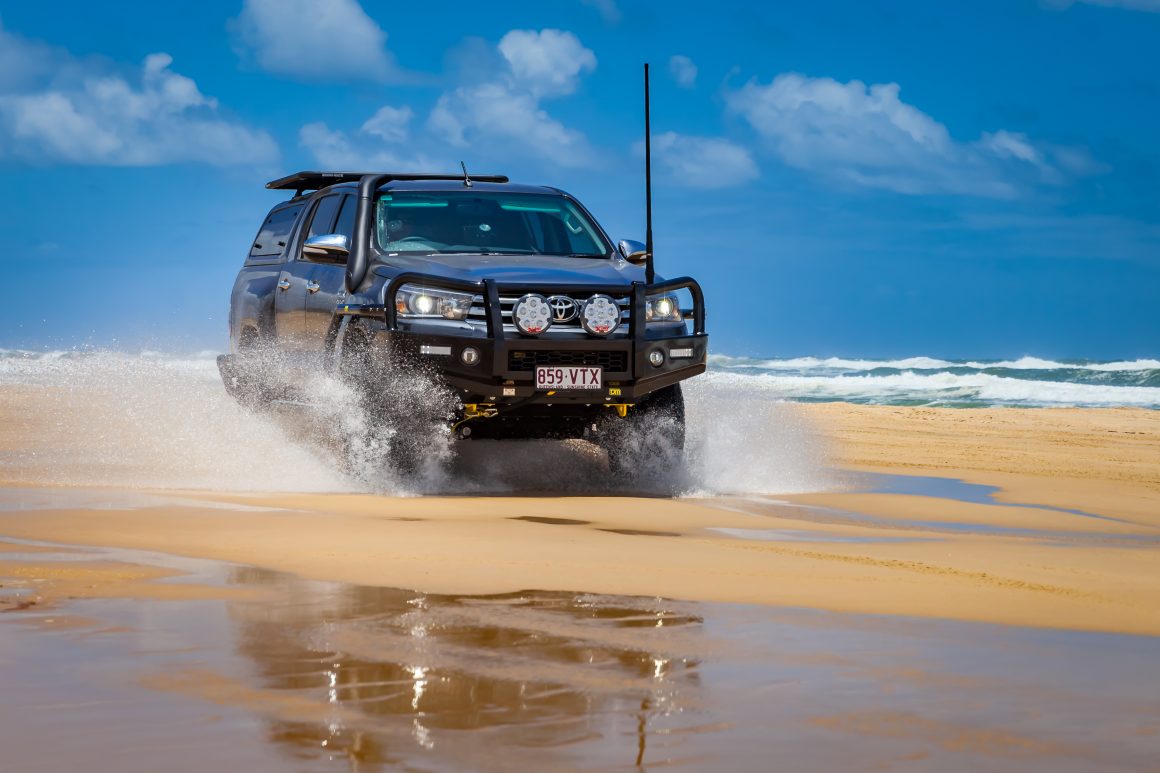 So get your mates together and hit the local creek or river for a water-crossing photo session! You'll have a tone of fun and get some absolute satisfaction from creating drama-filled action shots of one of our favourite subjects.
Why not head to our Facebook page and share some of the results? We'd love to see them!