We are all very concious about the weight of the gear we shove into our vehicles but, when it comes to roof racks, it seems if it's out of sight, it's out of mind. This is a dangerous game to play!
Words and Images by Wes Whitworth and Dean Mellor
If you've been following our social media pages, both for Pat Callinan's 4X4 Adventures and also our sister publication Unsealed 4X4, you'll know we've been banging on about loading roof racks for a while now. Chances are you may even have an article we did just over 12 months ago specifically on not overloading your roof for the obvious reasons on Unsealed 4X4. It goes into the common sense required to load a roof rack, and even a little about the common sense to own and drive a four-wheel drive.  
It would seem that recently there have been a couple of people get on their video soapbox and yell to the masses that there needs to be labels on everything, and they need to be spoon-fed instructions, in short, single-syllable words to be able to understand it.  
Where it gets super interesting, is that I (Wes) am a huge fan of Darwinism, and taking the safety labels off everything and letting nature run its course. But, thankfully, I've got a managing editor (Dean) that inspires me to take the time to try to save the four-wheel driving masses from themselves. With that in mind, let's go over what you can, can't, should and shouldn't put on your roof racks, and why it could end up killing you or someone else.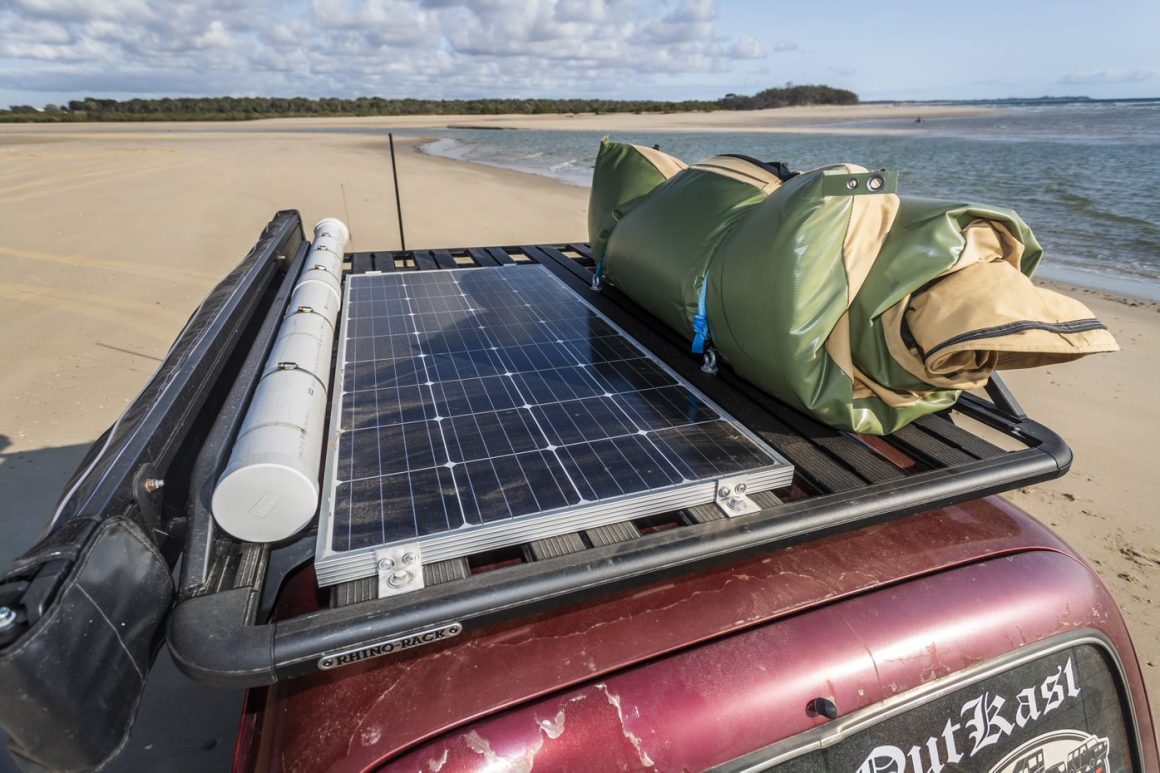 First things first: Safety and common sense.
It would seem that common sense is becoming less common these days and, well, safety is "someone else's" job. What I mean by that is (especially regarding roof loadings and racks) there's an attitude that unless someone has explicitly told you what you can and can't do, then you can do what you want. If it all happens to go sideways on you, well, it is that "someone else's" fault (from above) for not telling you what and what not to do.
Common sense tells us that we should be cautious when loading things onto the roofs of our four-wheel drives. Weight up high, added to side-to-side rocking while driving the more exciting off-road tracks is going to see us have a bad time fairly quickly. Either our four-wheel-drive will fall over due to the higher centre of gravity or the roof rack and everything we've lashed to it with 600kg straps will part ways with its mounting system. No, it's not rocket science.  
So, when you're loading up your roof racks, be conscious of the weights. You shouldn't need to have to weigh everything you put up there to stay within some guidelines but, unfortunately, there are people who do need to be told that.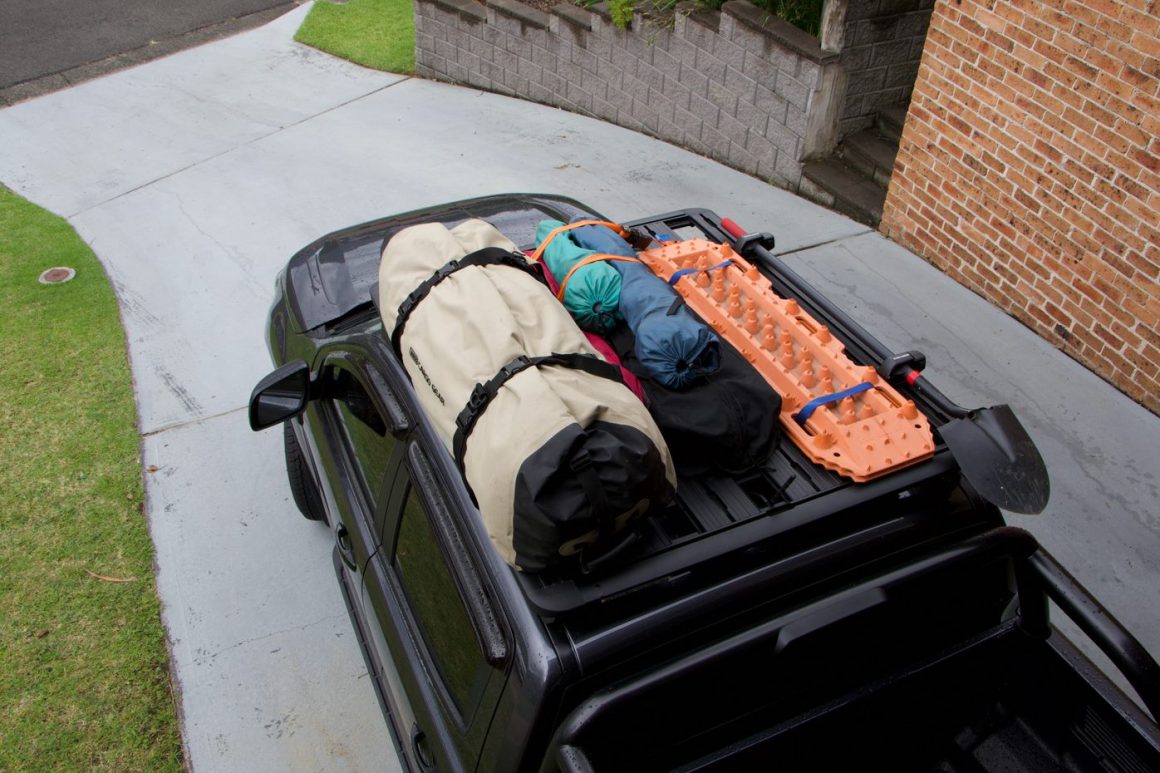 How much can I carry?
This is where things become cut and dried. See, most vehicle makers list the roof load limit for their vehicles and some variants within a model range can have a different load limit depending on whether they've got a panoramic glass roof, or not. For instance, the Ford Everest lists a roof load limit of 100kg but limits the top-spec Everest Titanium to 80kg because it has a panoramic glass roof.
The limits manufacturers list are dynamic limits and they include the weight of your rack. Meaning, that's the maximum weight you can have on the roof when driving around (including the roof rack). And by that manufacturers tend to mean driving around town. Have a flick through your vehicle's owner's manual and it might suggest you carry a lot less on the roof when you're driving off-road and that's because there are additional stresses in play, like corrugations – the up and down can cause the dynamic load to impose many times more than the peak dynamic 'static' load on your vehicle's roof.
Here are a few roof load ratings: Y62 Patrol = 100kg, Everest = 100kg (unless it's a Titanium as stated above), Amarok = 100kg, Discovery 5 = 80kg, and HiLux = 75kg. Remember, the rack counts as part of the load too and these can be anywhere in the vicinity of 30kg-60kg. Now, let's look at some average weights of the stuff we commonly see people storing on the roof. Say, 20kg per full jerry can, 20-30kg for the spare wheel, 12kg swag, 20kg awning, 20kg box of 'stuff', 3kg driving lights, and 20kg alloy rack. Total = 125kg. That's more than the roof load limit on every single passenger vehicle 4X4 on the market right now. Better not grab any firewood or double up on jerry cans. And, then, consider a steel rack might weigh 45kg and a rooftop tent between 45kg and 80kg, and you're dancing with the devil without any other gear. 
The ugly business of overloading your roof racks
It's fair to say most people are carrying way too much stuff on the roof of their 4X4. But there's more to the issue than just exceeding the manufacturers' roof load limit, see, you're reducing the handling ability of your vehicle and also increasing its wind resistance. And while the latter will cost you cash the former could kill you or someone else. 
Now let's look at how carrying anything on your roof, be you carrying stuff at the maximum roof load limit or over it, increases your vehicle's centre of gravity. Think of it like this. If you're carrying two 10kg weights (one in each hand) and you turn a corner while carrying the weights, you'll be less likely to fall over than if you were balancing those same weights on your head. In fact, you could carry half the weight on your head and your stability would still be affected to a greater degree.

That means if you've got 100kg loaded onto your roof (at 2m above the ground) the effect on stability is the same as if you loaded 200kg into the vehicle (at 1m off the ground). And because you're carrying weight up high and raising the vehicle's centre of gravity you need to corner and brake less vigorously. Indeed, any sort of direction change when your roof is loaded becomes potentially dangerous, and that's regardless of whether you're travelling at high or low speed – around rocks, ruts, washouts and roundabouts. 
Then there's the additional wind resistance created by carrying a big load on your roof, or even just by having empty roof racks. Depending on the vehicle and the rack type, you could be looking at a fuel consumption increase of more than one per cent with an empty rack. This will increase once you add a load to the roof because you're affecting the shape of your vehicle and its ability to cut through the air as cleanly as it would without racks and a load. 
It's not just about the rack
Contrary to popular belief, it's not just all about the rack's weight limit. See, rather quietly, the vehicle manufacturers have been reducing the roof capacity of their vehicles over the years. For example, look at the Nissan Navara. In 2014 the NP300 had a roof loading capacity of 100kg. Then, in 2015 it dropped to 80kg. Now in 2020, it was 56kg. Mind you, the body of the ute hasn't changed at all. The vehicle manufacturer has been steadily decreasing it for its own reasons.  
Worth noting too is the prevalence of utes these days; they have nearly half as much roof real estate as the wagons we used to own did, so with a reduction in the roof area and support comes the obvious reduction in weight capacity.  
That's not to talk about actually loading your roof rack sensibly, or being able to put weight on your canopy, or tub rack.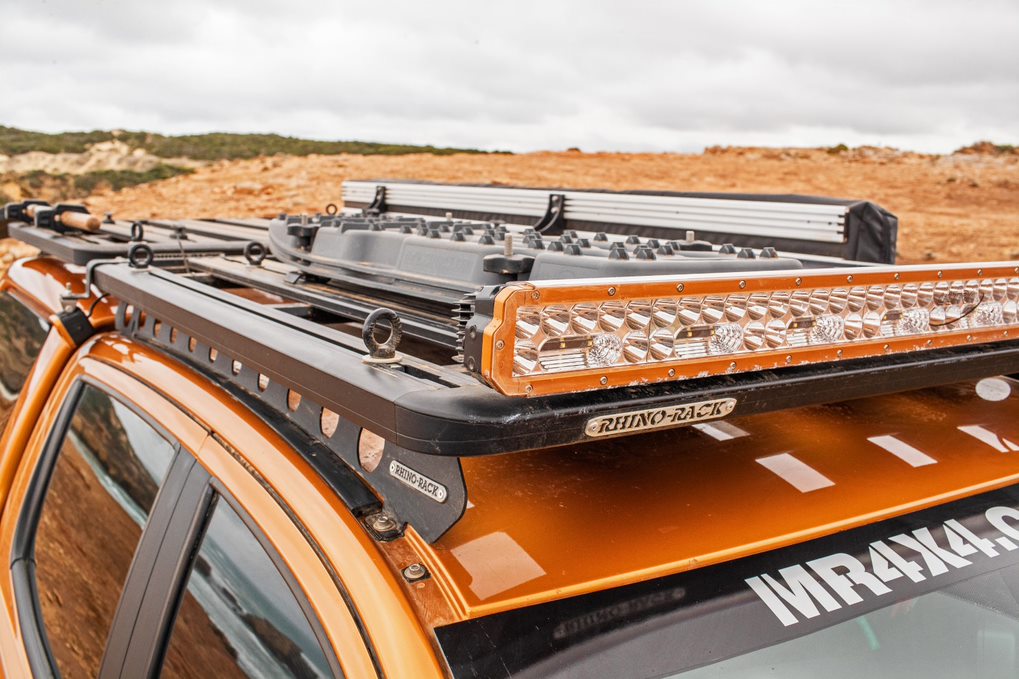 What can we do about it?
First thing is to stop loading so much gear on the roof racks. Bear in mind, further along, you'll see what Deano has lobbed onto his rack, still within the safety limits set by Rhino-Rack, and actually using his common sense.  
Next off, many of us are driving utes. With a cargo area. Specifically designed to carry… well… stuff. Use it to carry the heavy stuff, like jerry cans, spare wheels and the like. Leave the light swags, camp chairs, and awnings for up high.
If you absolutely need to put the heavy gear up top, like two jerry cans or spare tyres, take them off the roof once you reach camp. Then go for a wheel up that crazy track you've always wanted to give a run. Chances are you'll not need the spares, and if you do, you'll have a mate with you who can run back to camp and get the spare wheel.  
***DEANOS PART ABOUT HIS ROOF LOADING***
I recently fitted a Rhino-Rack Pioneer Platform to my Ford Ranger, mounted to Rhino's backbone system. The roof load limit on a PXIII Ranger is 100kg, and the Pioneer Platform and mounting system weighs 27kg, leaving me with a roof rack payload capacity of 73kg. And if I apply Rhino-Rack's advised formula for off-road driving (divide by 1.5) this is reduced to 48.6kg.
Now I don't like carrying heavy stuff like fuel, gas bottles or spare tyres up on the roof due to the negative effect this has on vehicle handling (raised centre of gravity). What I do like to carry up top is light gear that I can't fit into the vehicle tub on a trip away.
A typical roof-rack load for me (pictured) includes the following:
Swag: 15kg
Camp bed: 7kg
3 x camp chairs: 7kg
2 x Maxtrax: 7kg
Shovel: 2kg
Awning: 10kg (on order so not pictured)
TOTAL: 48kg
That's bang on the recommended off-road load limit for my roof-rack system. If I want to carry an extra pair of Maxtrax on the roof, I'll find space for the camp bed or the camp chairs in the tub so as not to exceed the off-road load limit. 
I absolutely understand the want to be able to put heaps on our roofs. I've done it in the past, and near rolled a four-wheel drive, so I've learned nearly the hard way; thus I get to impart this knowledge to you.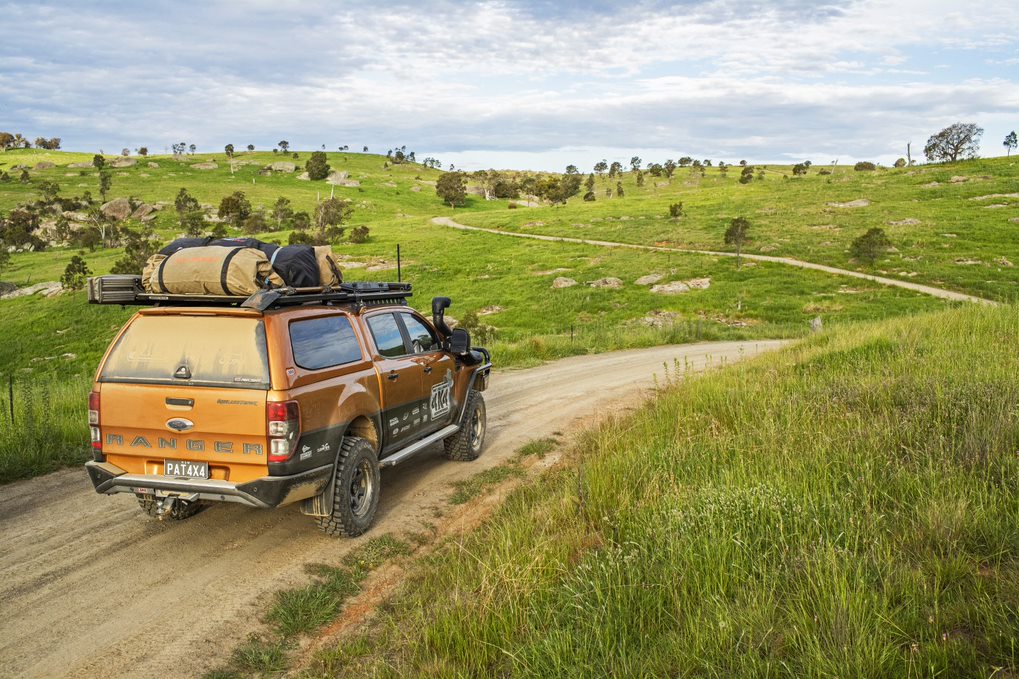 Wes' final thoughts and opinion
I have all the faith in the world in Rhino-Rack, despite what a fairly spoiled minority have to say about them. First off, Rhino-Rack is a solid Aussie company that's been around for a bloody long time. I've run both the company's crossbars and the Pioneer Platform on my old 80 Series 'Cruiser, and it was perfectly fit for purpose. What you might not know, is that the Rhino gear is predominantly made in Eastern Creek in Sydney, and Rhino-Rack employs about 150 Aussies like you and me, from assembly to engineering to sales and marketing; and all who I've had the pleasure of meeting have been good people.  
But my appreciation of Rhino-Rack aside, it's worth noting the company builds a lot of OEM roof racks and roof bars too, for more than a couple of vehicle manufacturers on the market. I can't tell you exactly which ones, but I can say there's a pretty high chance you're driving one at the moment. So, if the manufacturers have been using Rhino-Rack products for well over 30 years without issue, chances are you have been too.
At the end of the day, please use your common sense when you're loading up on your roof. Maybe some folks want this country to be more of a nanny state, with more rules, and more labels, and the way people have been carrying on lately, it seems they want it too. Instead of being able to use their common sense, they want everything to be spoon-fed to them. Well, I don't want it, nor do I need it.