Hope Street Woolloomooloo are one of the most valuable charities and support services in Sydney, offering support to the marginalised and homeless in Woolloomooloo. Many of those cared for by Hope Street are at risk of, or are already experiencing homelessness, living with addiction, mental health, physical health, and legal issues in addition to having diminished employment opportunities. Last year Club 4X4 were heavily involved with Hope Street's "Drive to the Top" event, which was a hike, ride and drive to the top of Mt Kosciusko as their annual fundraiser. Club 4×4 raised over $1700 last year for the fundraiser and are turning it up a notch this time around. 

Club 4X4 is again participating in the 2018 Drive to the Top, plus they're running the Drive to the Top Giveaway. By engaging their partners Darche, ARB, Yamaha, Narva and Pat Callinan's 4X4 Adventures, Club 4X4 now have a rather generous prize pool worth over $5000 in which you can get yourself a ticket for just $1. Yep, a whole dollar, a quarter the cost of a cuppa, a 50th of the cost of parking in the city for the day, less than half the cost of a song on iTunes! And for that dollar, it gets you a ticket in the draw for the $5000 prize pool. Want to donate $20? That's fine too! Donate your dollar 20 times, and you get 20 tickets – it really is that simple.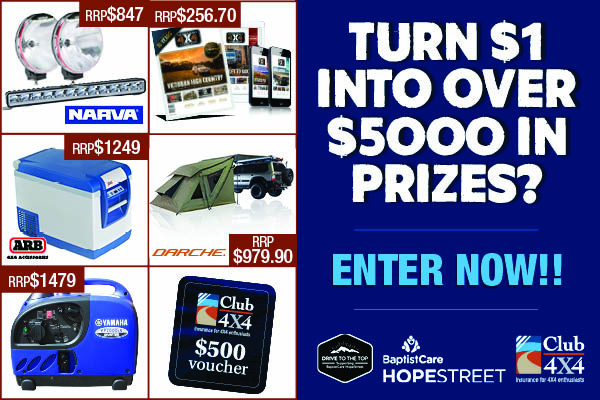 Every single dollar raised in this draw goes directly to the folks at Hope Street via the 2018 Drive to the Top Campaign. By supporting Hope Street you're helping to offer hope to people living with disadvantage and distress, empowering people to confront complex issues and exploring pathways to positive change. This helps to alleviate poverty, homelessness and marginalisation in Sydney, so besides doing a great deed and helping out a fantastic cause, you're also getting a chance to turn $1 into over $5000 in prizes!