So a ute won't cut it, and you need something bigger. Maybe an Expedition Vehicle is the go but what are your options?
These days we're taking more gear and heavier gear than ever before. Now I could get all sanctimonious and lecture on about simply traveling light, but I believe in personal choice, so take what you want as long as it doesn't affect other people. And the fact is, many people do need a lot of space; long-term travelers, families of four or more, and round-the-world adventurers. For them, an expedition vehicle based on a light 4×4 truck is the only way to go.
One way to solve the space and weight problem is by minimalizing everything, and in fact, I've just written a blog post over at Mr4X4.com.au describing how I use hiking gear in my 4X4. Or, you could GVM-upgrade your ute, even maybe convert it into a 6X6.
But what we're dealing with here is the light truck option, a bigger vehicle purpose-built for the load, Your average single-cab ute can carry maybe 1000-1200kg, but these trucks are good for 3000-4000kg, and built for it. The forward-mounted cab gives you a load length of maybe 4 to 5 metres, compared to a single-cab ute of 2.3m. Off-road capability is typically excellent, despite their height and weight. I carried out a comparative test of an Isuzu NPS 75-155 against my Ranger, and, well, the Ford was embarrassed. And the dual-cab versions can often seat 7 people, so no need to resort to a third row for the larger family, and even with 7, there's plenty of loadspace and cargo capacity.
But there are disadvantages, of course. The trucks are less powerful but considerably heavier than utes so they're much slower – some have a top speed less than 100km/h, and you'd never get that on a hill with any of them. They're wider and especially taller so won't fit down narrow trails – not recommended for the Victorian High Country for example, but are fine out in the deserts. And nipping into town can be more difficult too.
You won't get luxury, just Bluetooth, maybe cruise control. The ride is harsher, the handling isn't ute-standard, there's more noise, and you need to climb up into it. Most of them are manuals and 5-speeders at that. And, they're more expensive but not massively so compared to a modified ute, certainly not a conversion like a 6X6. You are also likely to need a light-rigid truck license to drive one as they are most useful with GVMs over 4500kg, and that changes things like insurance and registration. Warranty won't be the now-standard 5 years either, but you will find that trucks simply last longer and are worth more after many thousands of kilometres and years down the track.
So, I've rounded up seven light trucks that are popular for off-road recreational touring, and compared the specifications. Some of the numbers are approximate, as you always fit some sort of tray or body to a truck and that changes the weight, but nevertheless the specs give you a good relative idea and base to do your own research on what suits you best. I've gone for single-cab specs, but most of them are available as dual-cabs, often termed crew-cabs in the truck world. Let's start with a benchmark, the venerable Toyota LC70 single cab.
Toyota LandCruiser LC70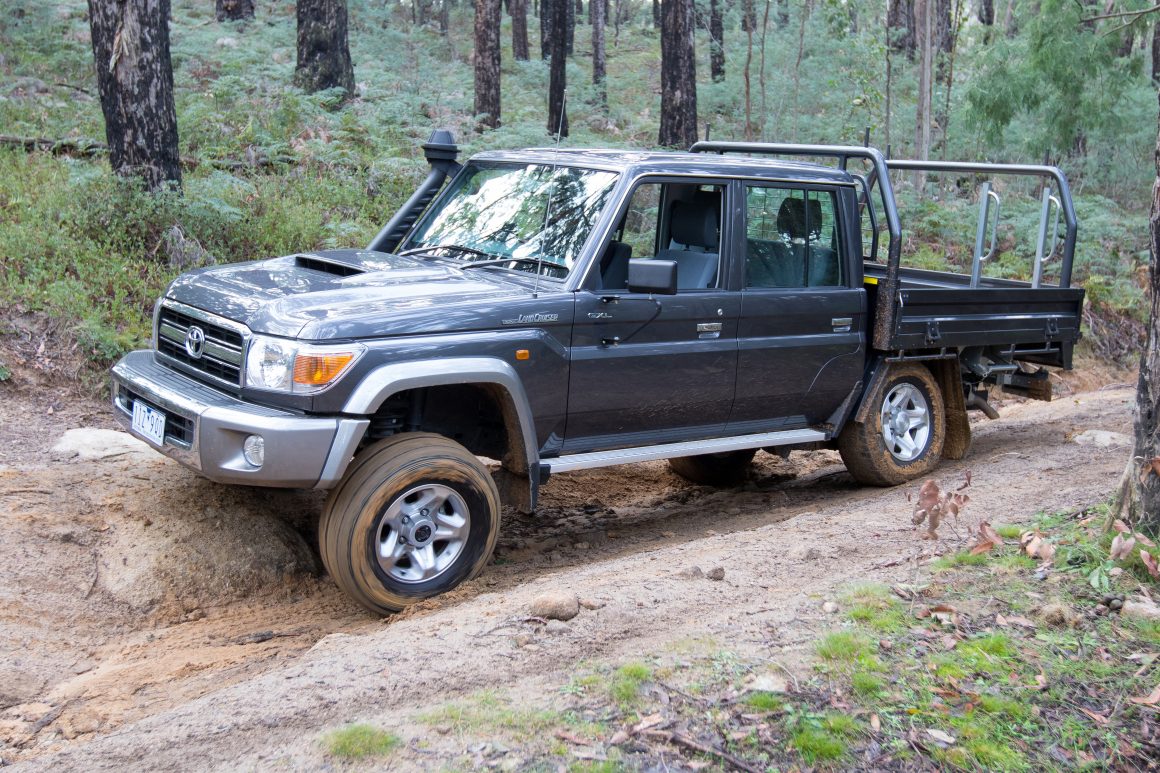 We all know and mostly love the LC70 so it doesn't need much of an introduction. It's a great heavy-hauler, but no longer representative of the current ute market; no automatic, limited safety features and luxury are just the start, poor handling, mediocre off-road capability and you have to smile when air conditioning is promoted as a standard feature. Nevertheless, it's our comparison benchmark for the rest where I'll compare its numbers against the others.
Fuso Canter FG (modified)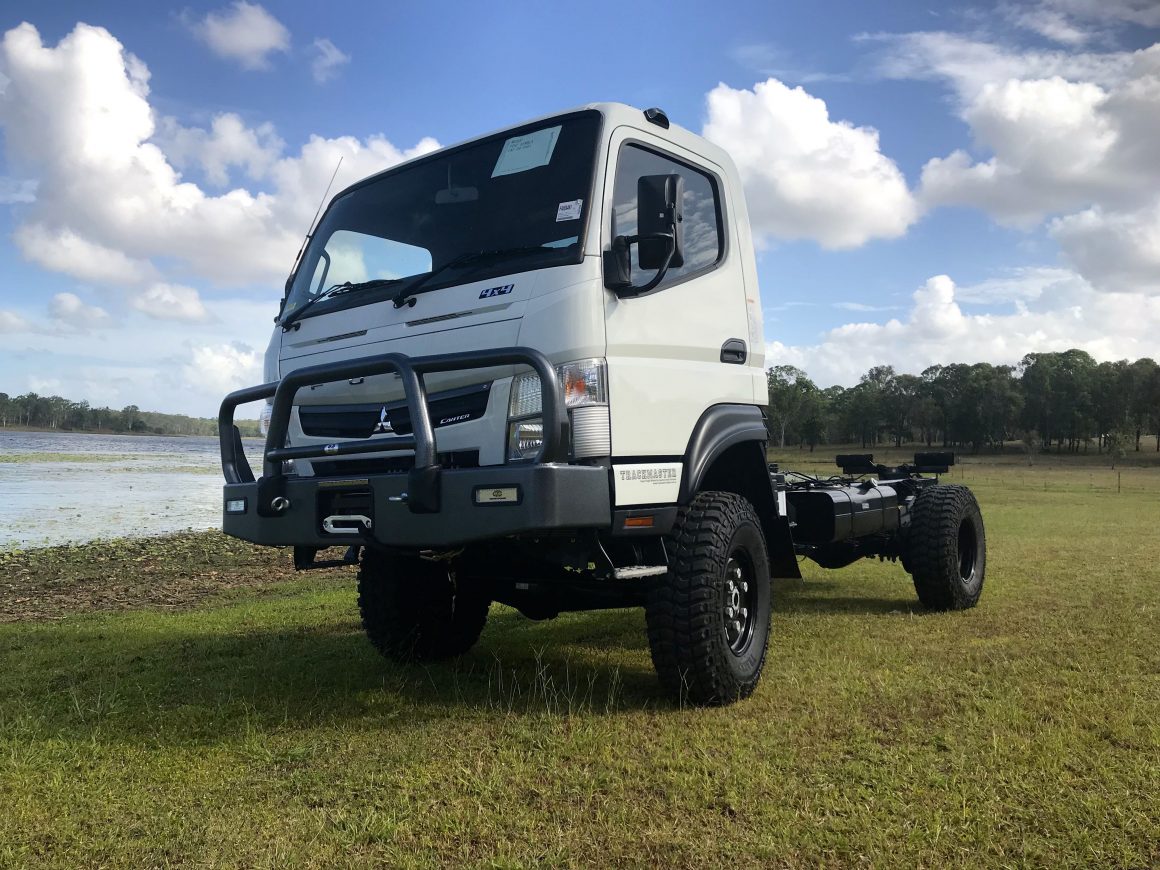 The Fuso Canter is the smallest of the trucks, but stock-standard isn't much of an off-roader. It comes with small-diameter tyres, and dual tyres at the back. So, companies like 4X4 truck specialist Australian Adventure Vehicles (AAV4X4) modify them. That means 37" tyres, a suspension lift with parabolic springs at the front for comfort, single tyres at the rear, and things like recovery points. The Canter is well-established as a very reliable, well-supported light truck with plenty of body options including a complete motorhome. It's a good choice for a budget buy and is as small and nimble as light trucks get. It also has the longest warranty of the group which is 5 years, 200,000km. The transmission is a 5-speed manual, and an auto is around $30k. There is a chip map that increases power but it'll still be pretty slow. Traction aids are a powerful LSD in the rear standard and the option of an electronic cross-axle differential lock for the front.
Isuzu NPS 75-155 (modified)
Similar to the Canter is the Isuzu NPS 75-155; it too needs a suspension and wheel conversion, but when that's done you have yourself a very capable off-roader. It's a little bigger than the Canter, so a good choice if you need that bit more room or payload. The rear LSD is good, and there's the option of a very powerful LSD for the front or a cross-axle differential lock.
Hino 300 817 (modified)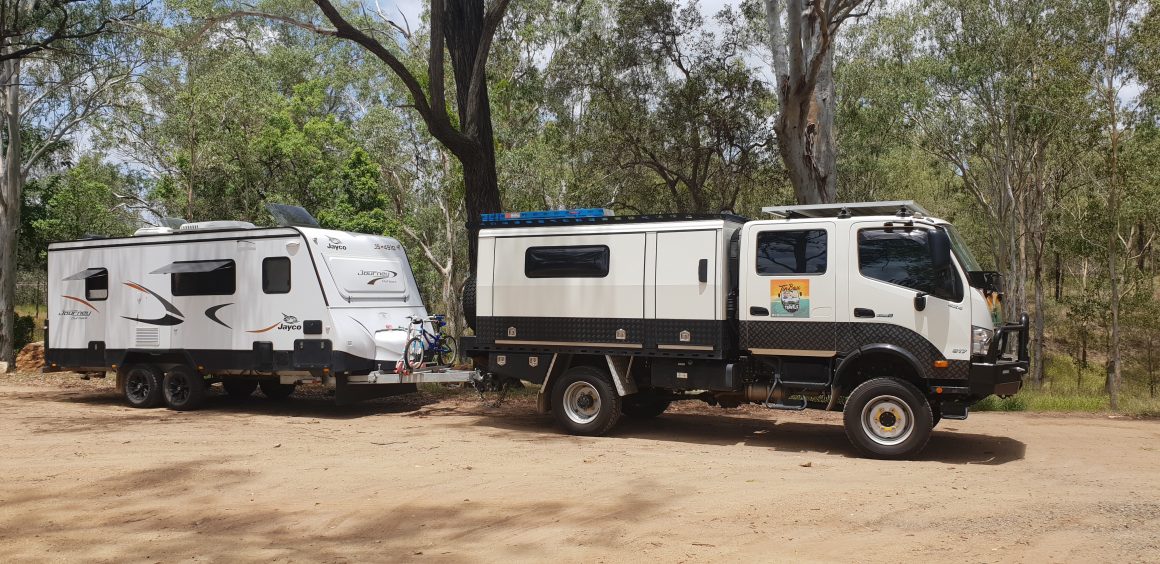 The 300 817 is the newest vehicle of the three Japanese trucks and is Hino's offering in the expedition vehicle market. It is a little bigger again than the Isuzu. It too needs 37" tyres and suspension as a base. A differentiator from the other trucks is electronic stability control and traction control. As it's the newest, the aftermarket options aren't as developed as the others.
GAZ Trackmaster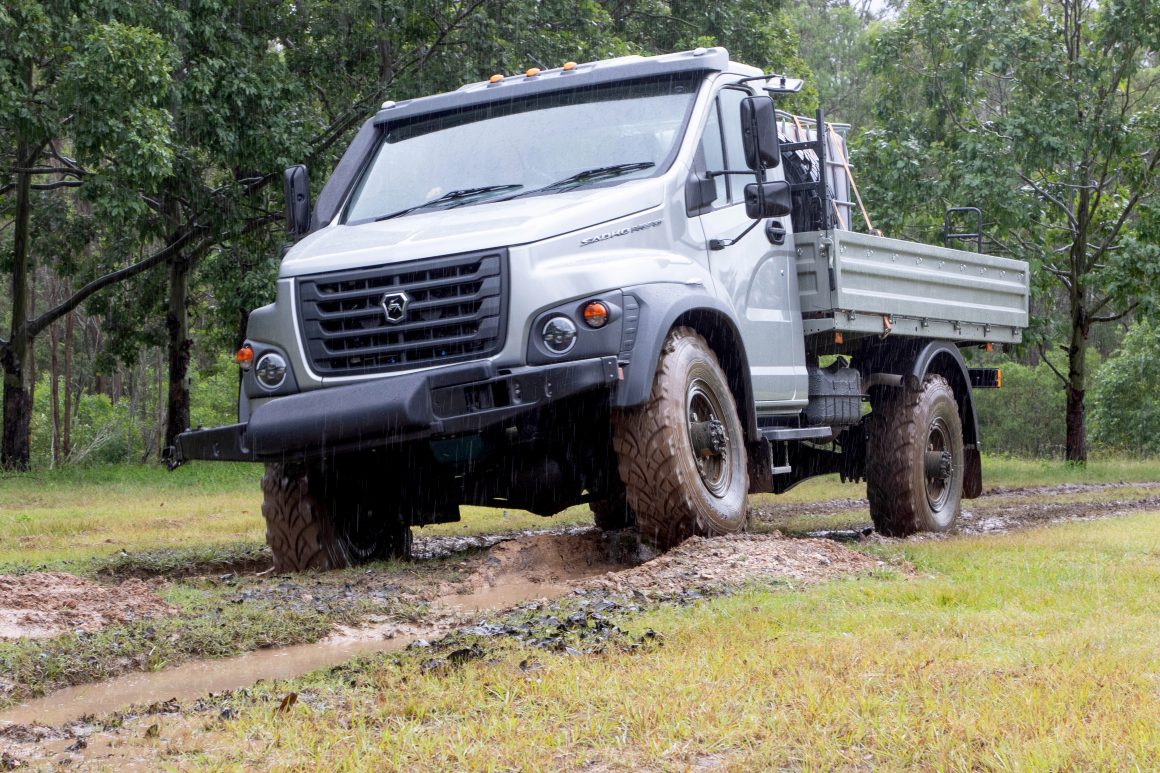 Now for something entirely different! Built ground-up as an off-roader, the Russian Gaz Trackmaster has standard 42" wheels, central tyre inflation (CTI) you control in-cab, and twin cross-axle differential locks. Its cab is set back from the front so you don't need to tip the cab to get to the engine, and you also get a more comfortable ride that way… but there are no airbags, unlike the Japanese trucks. But that forward-set cab does mean the tray length isn't as long as the more forward-set Canter, Isuzu, and Hino, and the payload isn't as high either. It's also wider than any of those three.
OKA 
The OKA is the only Australian vehicle here and it's pretty amazing. Like the Gaz, it's a ground-up off-road build but by a niche manufacturer, but with well-proven gear from the likes of Cummins. It's quite small, a little shorter than even the Fuso, with a wheelbase around that of a Ranger. Off-road ability is good thanks to 35" tyres and optional twin cross-axle lockers. The suspension design is particularly well suited to rough roads. The owners' group is small but passionate, and the company has big plans for the future. The biggest drawback is cost relative to the Japanese trucks.
Iveco Daily 4X4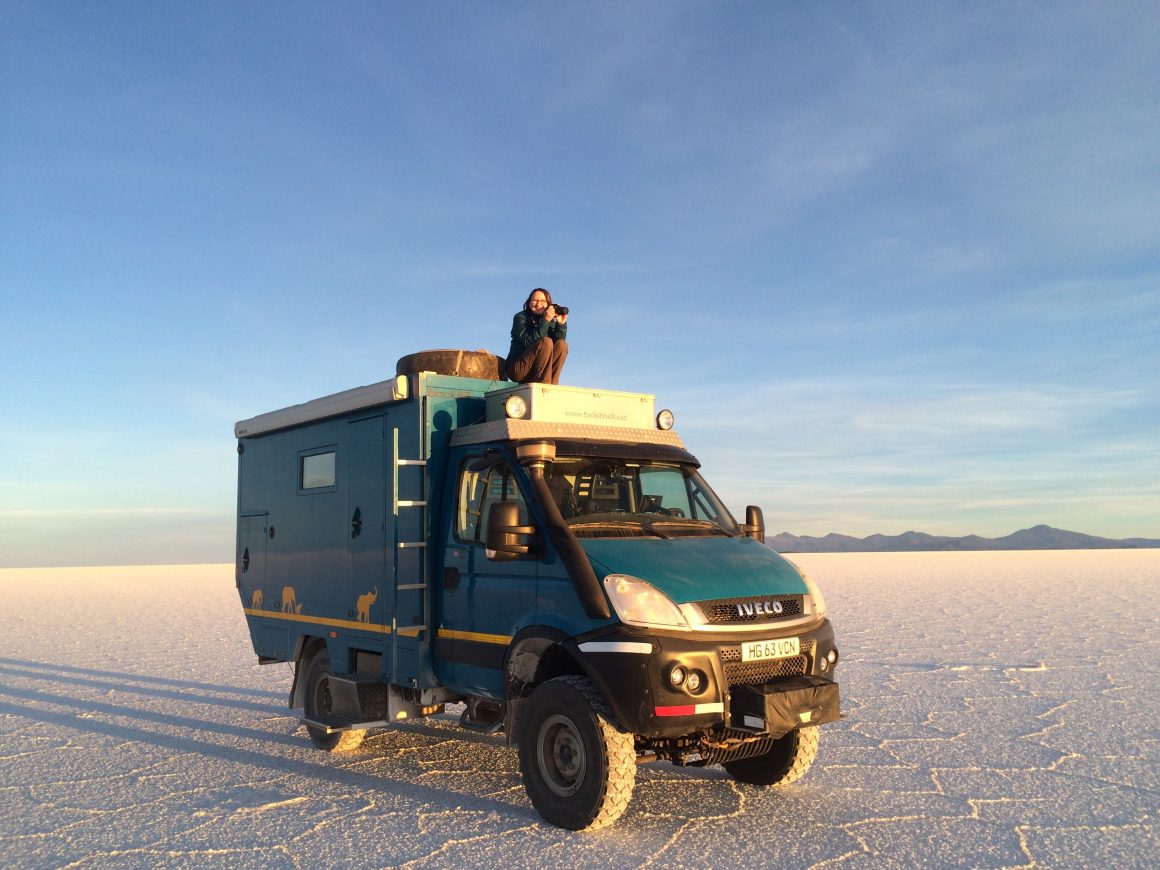 The Iveco Daily looks like a dream come true for potential buyers of an expedition vehicle; standard 37s, all-wheel-drive where the others are part-time, lockable centre diff, front and rear cross-axle lockers, twin transfer cases with a 1:100 low range, cab set back, and small enough to fit down many tracks. So what's not to like? Reliability is the problem… notorious issues and one owner has literally written a book on the subject. Approach with caution, but when sorted you will have a great truck. That said, round-the-world permanent travelers, Tucks' Truck are happy with theirs.
Unimogs 
Now we're into the big boys of expedition vehicles…the incredible Unimog. In fact, there are many, many types of Unimog, different models and sizes. Let's take the U1700, the common ex-Army version. They're nearly 2.5m wide, weigh over 6 tonnes empty, and have a payload of about the same. They're pretty impressive technically too, with 46-inch tyres which would give a lot of clearance but then there are standard portal axles, twin cross-axle locking diffs, and fantastic low-range gearing, riding on live axles with coil springs, yes coils can take a load! The U5023 you can buy new from Mercedes-Benz trucks is 2480mm wide, 6000mm long, has a GVM of 14 tonnes (in Australia 12.7t), and is speed limited to 100km/h.  These are large trucks for heavy-duty off-road work, and while the basic ex-ADF versions might cost around $25-$30,000, a new one might be around $160,000, and with a motorhome maybe $350,000 to $1 million depending on what the customer wants. 
And the rest.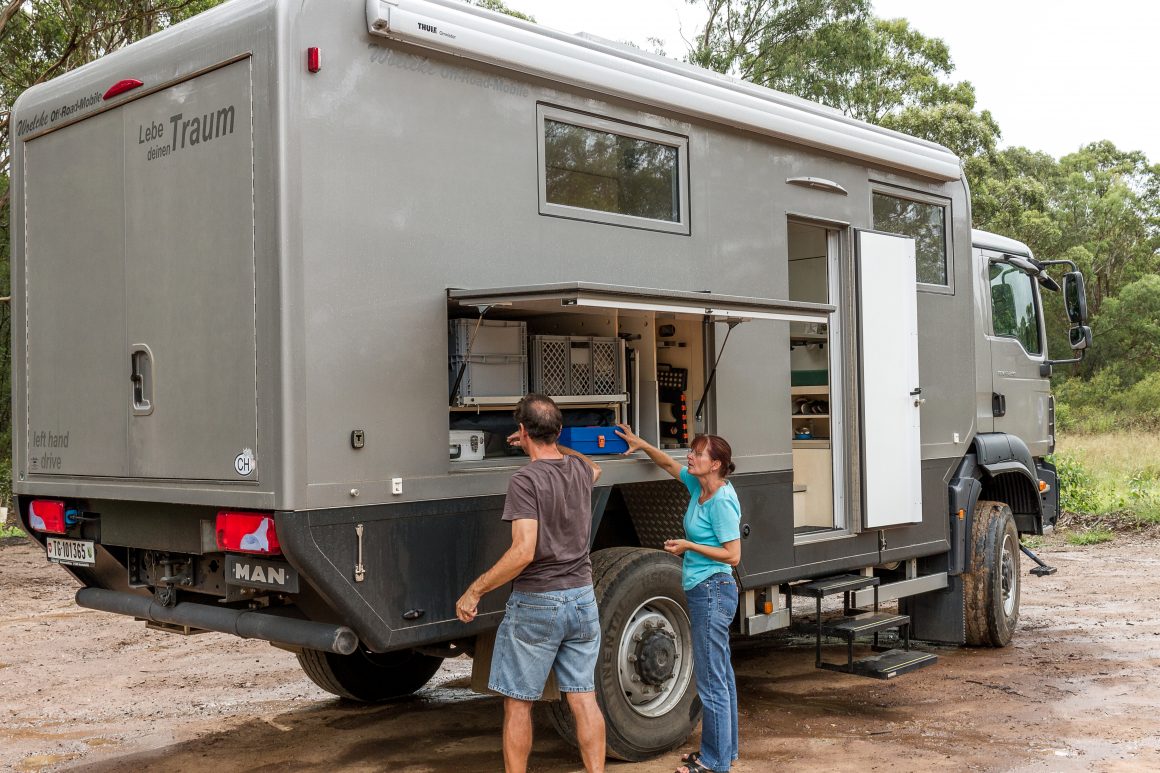 There are plenty more 4X4 trucks that would make excellent expedition vehicles, and you can go even bigger with vehicles from the likes of MAN. Just depends on your budget and where you'd like to travel, or not!
Where to buy?
Here are some specialist shops to look at for your light off-road truck, all of whom are based in Queensland but have the usual websites and socials. OKA sells direct.
Australian Adventure Vehicles (AAV4X4) – Canter, Isuzu, Hino, Gaz. 
UNIDAN – Unimog, MS Zetros and Acrocs, Fuso, Freightliner, and others 
All Terrain Warriors – Canter, Isuzu, Hino