ARB have added a new sibling to their range of LED-powered 'Intensity' driving lights, this time in light bar form. Due to be released at the SEMA show in Las Vegas, Pat Callinan's 4X4 Adventures has the scoop and all of the details on the ARB Intensity light bar, the 'AR40'.
The Design
Light bars would have to be one of the most flooded (excuse the pun, or don't) and competitive accessory segments for 4WDs in Australia, with options ranging from dirt-cheap to ultra-lux (whoops, I did it again).
Before entering the market, ARB did a lot of noggin-scratching and theorising before putting a design together. They wanted a point of difference, something new and innovative for the segment. We were lucky enough to have a chat with the engineers behind the product, who told us about the many hours put into the form, function and style of the new  ARB LED light bar.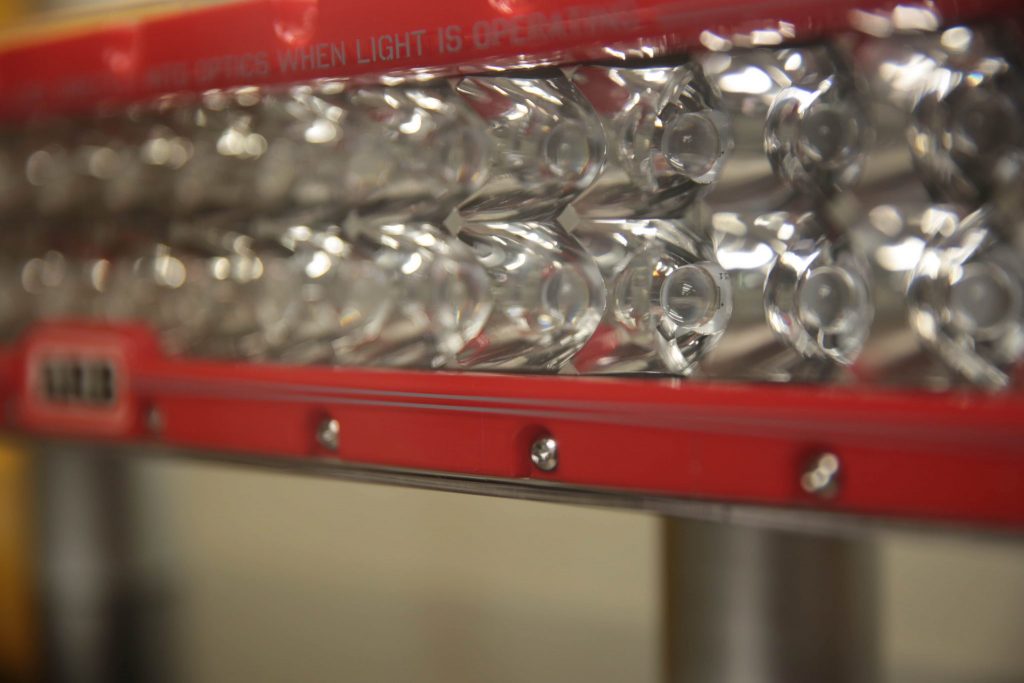 The Curve
No, keep it in your pants. This isn't a curved light bar. Well, it is, but… you know what I mean. The cast aluminium heatsink assembly on the back of the bar is has a curve designed into it, which allows it to mount onto a bullbar tube in a very different fashion, integrating much more cleanly. The mounts can also slide along a channel on the back of the light, making it adaptable with things like antenna tabs and other accessories.
The performance of any LED light correlates very closely with how it deals with heat. Chipsets come with integrated thermal management, which monitor how hot a light gets, and then dials back the power as the temperature rises. So, a hot light is not a bright light. Keeping a curve in the housing, whilst also making to good a dissipating heat, was one of the most important parts of the design.
The cast aluminium housing of the Intensity light bar is noticeably heavy (like other quality LED lights out there). This thermal mass, combined with the desirable thermodynamics of aluminium means a large amount of heat is drawn away from the diodes and dissipated out of the heatsinks. The upshot of all this are cooler (and therefore brighter) diodes. ARB also claim that being mounted flush on a tube means the bullbar also becomes an extension of the heatsink, allowing more heat to escape.
The Mounts
ARB have designed specific mounts for this bar, which suit particular tube diameters, which suits ARB's complete range of Summit, Deluxe and Commercial bullbars. The mounts are very impressive, and not only make for a much cleaner overall design, but are also very solidly and securely mounted.
For non-tube mounting, there is also the option of speccing the Intensity light bar with the 'pedestal mount', which allows it to be mounted onto flat surfaces like roof racks, bullbar pans and the like.
The Lights
ARB didn't go out and reinvent the wheel here, the guts of the Intensity light bar is the same as the AR21 and AR32 round driving lights: chipsets, reflectors and optics are all the same, as well as the distinctive red front housing. Like others, this light bar has a stout IP68 rating, and from what we have seen, looks to be made to the same (very high) standard.
Performance
AR40 refers to the fact that there is 40 diodes in the bar. So, you can expect the performance of this bar to be similar to two of their AR21 round lights (42 LEDs in total).
The lights are available in a spot or combo setting, which pushes one lux of light either 538 or 631 metres down the road. Whilst having less 'punch' from the addition of spread-oriented optics, the combo light then benefits from spreading light up to 20 metres wide, giving you great peripheral vision.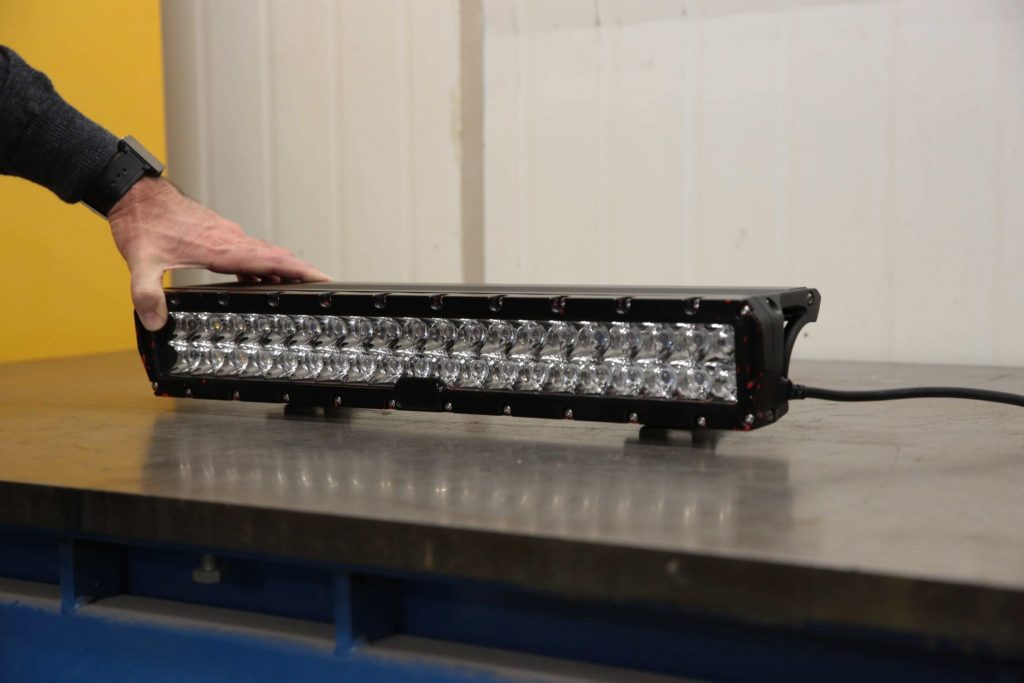 We tested these lights out in an ARB development shed, doing a quick comparison with a garden-variety cheap 20″ light bar. The difference was obvious, where a cheap light bar spews out a wide, uncontrolled light, the ARB light bar has an obvious focal point, putting a much, much brighter patch in the centre of it's light pattern, which gradually and evenly softens off towards the edges. That means light is harnessed better by the optics and reflector design, giving more 'usable' light.
Regulations
To put it bluntly, Australian road rules and regulations when it comes to things like auxiliary lights is an absolute dogs breakfast. Each state plays to a different set of rules, most of which are clouded in contradictions and vagueness. If you're keen on mounting a light bar on the top hoop of your bullbar or on your roof rack, your best bet is to give the roads authority hotline a call, and hear it straight from the horse's mouth. At least, this light bar has benefit of mounting much lower and more flush than other lights.
Anti-theft
Another thing ARB engineers spent a lot of time on was the security of these driving lights. Expensive lights sitting on the outside of a 4WD are always going to be a prime target for those grubs without a moral compass who like to take what is not theirs, but the design of this ARB  light bar means they'll have their work cut out for them. Bolts (which have a specific ARB anti-theft pattern on them) are recessed where possible, and don't have any flat surfaces to grip onto.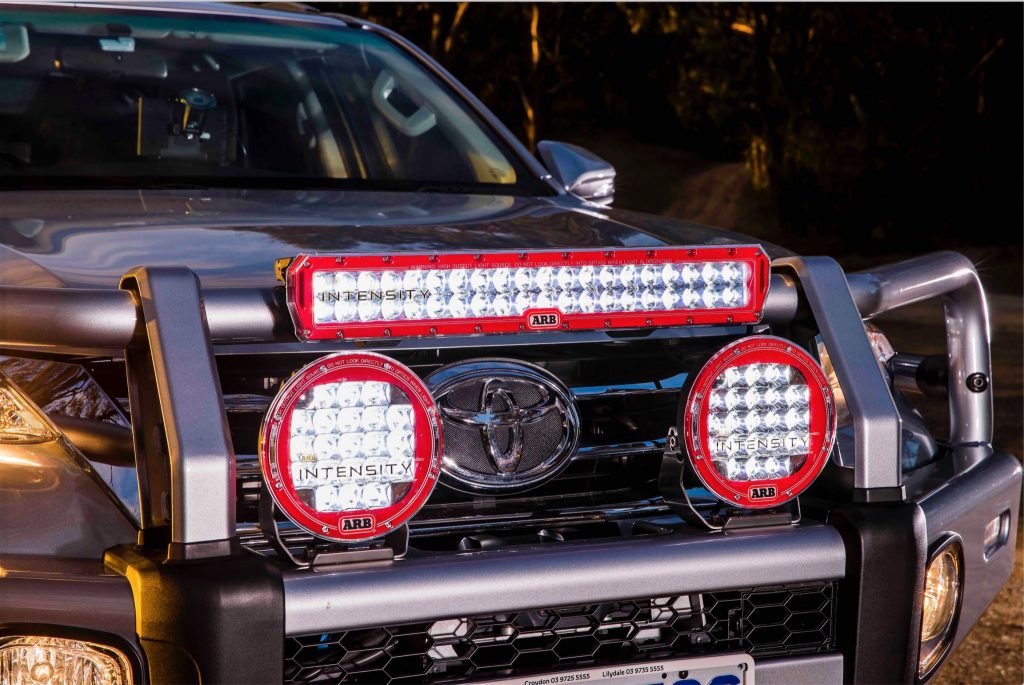 Warranty
These lights come with a two-year warranty.
SPECS
The ARB Intensity AR40 light bar costs $845, and comes with a two year warranty.
• 40 x 3W LEDs
• 50,000+ Hour LED life span
• Powdercoated aluminium extrusion body with pressure die cast end caps
• Virtually indestructible polycarbonate lens
• Hard coated, durable polycarbonate protective cover
• Gore® breather
• Vibration tested to MIL810-STDG
• RoHS compliant
• Dust and waterproof to IP68 rating
• Submersible to 3m / 10ft
• Over and under voltage protection
• Integrated thermal management
• Protected against radio frequency (RFI) and electromagnetic interference
• Zero UV emissions
• 9-36 V DC input
• 115 Watts
• Amp draw 8.0A @ 14.4V
• Lux @ 10m (33 Ft) – 4780 (spot) 2889 (combo)
• Operating temperature: – 40°C ˜ 63°C
• – 40°F ˜ 145°F
• Color temperature: 5700 Kelvin
• Deutsch DT-06 waterproof connector
• Weight 3.98Kg (8.7lbs)
Mounting Kit Options:
47.6mm tube –  ARM476
60.3mm tube – ARM603
76.1mm tube – ARM761
Pedestal mount – ARMP
Also available: wiring loom, coloured lens covers.