Outback Australia is no stranger to tragedy. It's part of the history of the land. Sadly, those tragedies are more and more frequently involving travellers heading to the red centre to create memories. Photos of a recent incident on the Gibb River Road have recently unsurfaced driving the point home. While travelling along the track, a 4X4 found itself in the stream of a slower moving vehicles dust. As they caught up, they've attempted one of the most dangerous activities any 4X4 can. Overtaking on dirt roads. Despite the low visibility, they've crossed to the wrong side of the road. Unfortunately, instead of finding clear air, they found an on-coming LandCruiser and trailer. The vehicles impacted at high speed. Miraculously all occupants survived, but both vehicles are written off, holiday's ended, and potential for long term lingering health issues. See the photos below for the aftermath.
But what could have prevented this?
Keep your distance
This one seems like a no brainer, but it's surprising how often people forget it. Keeping your distance between the 4X4 in front of you will help you in a variety of ways. First and foremost, you won't be travelling in someone else's dust which is going to drastically increase your visibility. That'll mean you can see oncoming vehicles, dangers on the side of the road like animals, and upcoming obstacles on the track itself like washouts or crossings. It'll also give you the added benefit of not choking your engine in dust. Literally just slowing down slightly can save you thousands.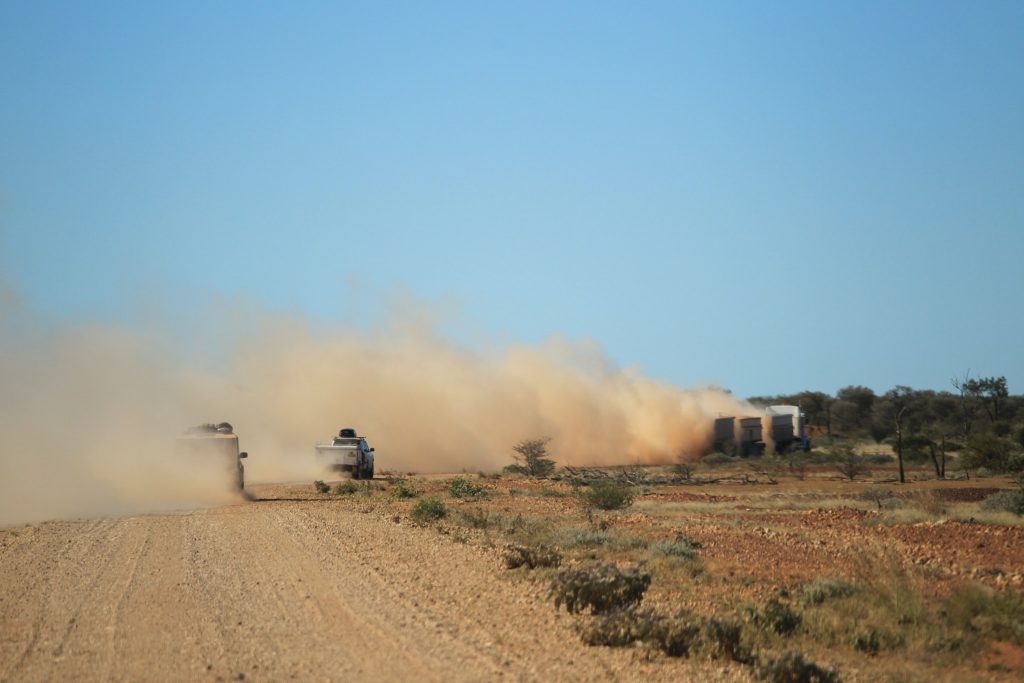 Pull over if someone's up your clacker
Touring Australia isn't a race. And there's no reward if you pull into camp 5 minutes earlier. Other people might not agree, but don't let their poor decision making ruin your day. If someone is right up your clacker in dusty conditions there's a solid chance they'll try and overtake you shortly, and an even more solid chance that things could go pear shaped when they do. Tap the left indicator on, slow down, and pull over to the left. It'll slow you down less than a minute. There's nothing like jumping out in the middle of nowhere and soaking it all in either, don't let your entire outback experience be through the front windscreen at 100 clicks an hour.
Communicate
Slowing down is great in theory, but it doesn't always work in the real world. Sometimes you need to get past the vehicle in front of you. The trick here is communication. As a general rule, trucks all over the country will be on channel 40 on their UHF. If you use it just to chatter away with friends in your convoy you'll quickly cop some abuse. But having a seperate UHF in your rig just to monitor it will hopefully give you a heads up if there's a truck oncoming. If you're stuck behind a truck, radio up and ask when it's safe to overtake. Even if you're behind another 4X4, chances are they'll be monitoring 40 as well and would be happy to spot you past them.
Drive smart in the dust
There's an old saying that you should never out drive your lights. Put simply. If a parked truck was to miraculously appear right on the edge of where your driving lights reach, can you stop before hitting it. That's unfortunately not always possible overtaking on dirt roads, but there are a few things we can do to help minimise the danger we're in. First of all, slow down, the slower you're overtaking the more time you have to react, and the less likely you are to pepper the other 4X4 with rocks. Secondly, give yourself plenty of room. You never know if they'll swerve to miss a pothole so give yourself a wide berth. Thirdly, make sure you're doing it on a straight section of track. Hitting the brakes coming into a corner because a fully loaded road train suddenly popped up is a sure fire way to cause an accident. You need to appreciate that overtaking on dirt roads is a dangerous situation, and drive accordingly.