Is this what the JL Wrangler ute will look like?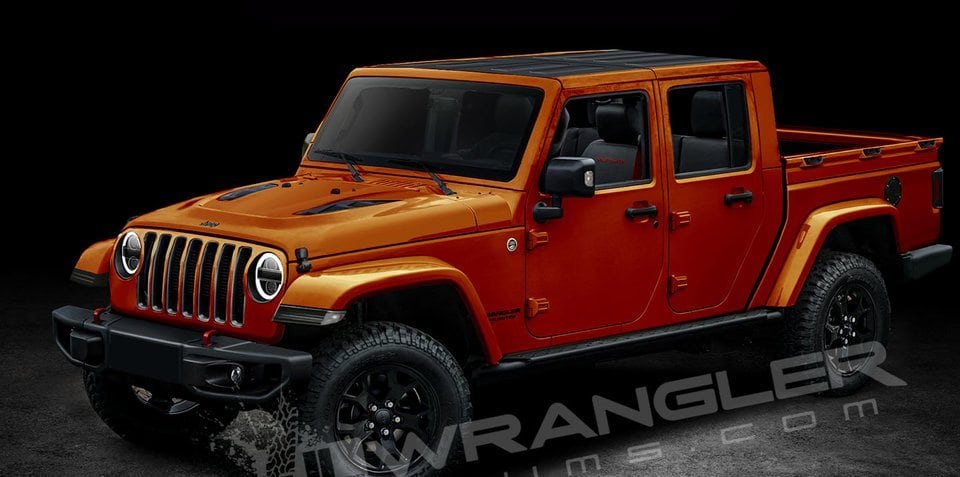 Somebody over at the JL Wrangler Forums have some mad photoshop skills and plenty of spare time, because they have come up with some pretty sharp looking renditions of what the JL Wrangler ute, which Jeep is going to unveil soon, is going to look like.
Just so we're clear, this isn't anything official. But, it has to be close to what the highly-anticipated ute will look like. The JL Wrangler ute will be a spin-off of the wagon, which will be landing in Australia in 2018. To make it even more competitive in the Australian market, FCA have confirmed that the JL Wrangler will have a lot of Australian development, research, testing and input. This will include the ute, which looks like landing in 2019.
Sure, that rear door is looking a little light-on length-wise, and the tray looks perhaps a little short, but it's great to visualise what the Wrangler ute is going to look like. The front end, which is derived from nutting out spy shots of heavily-clad test vehicles, does look very legit. Notice the seven-slot grille once again has the bend in it, like it did back in the day.
Chances are, the JL Wrangler is going to come with those traditional ingredients that are getting harder to find these days: a ladder chassis and all live axles. There would probably be some kind of fan meltdown if they didn't didn't, something like like when Porsche ditched air-cooling back in the late '90's.
You'll have petrol and diesel options with the JL Wrangler. There will be a 2-litre turbocharged four-pot, some version of the Pentastar V6 petrol, and probably (hopefully) the 3.0-litre V6 diesel sourced from VM Motori that currently lives in the Grand Cherokee.
What do you think? Does this rendition look accurate for the JL Wrangler ute?