QLD Academic calls for a stop on 4X4's in national parks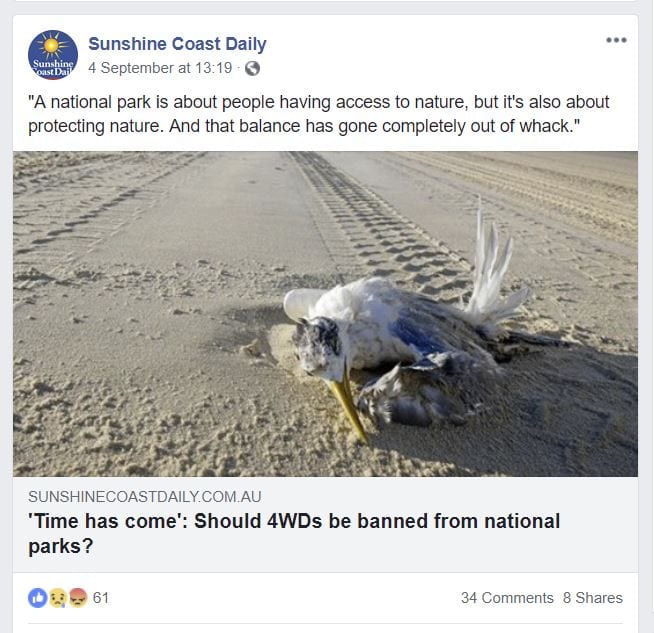 Queensland newspaper, the Sunshine Coast Daily, has just printed an article quoting a Sunshine Coast based professor of marine science, Thomas Shlacher. Essentially the article states that Professor Shlacher is calling for a stop on 4X4's in national parks due to the damage 4X4er's at large are doing to native fauna.
Interestingly, the Professor has submitted a photo to the Sunshine Coast Daily of a Crested Tern that he claims shows the effect of four-wheel drives on Teewah Beach. He further went to state that the Tern had been killed by "Four-Wheel Drives pummelling down the beach".
The photo does indeed depict a Greater crested tern, however it appears that the bird has previously been washed ashore by an incoming tide. The apparent tyre marks in the sand from the vehicle that allegedly killed it, are still fresh besides the carcass of the bird, not washed away. Indeed, it is clear that the tide has washed sand from under and around the bird, yet the tyre tracks are fresh and have not been removed by the tide.
One can only then assume the authenticity of the image, and of his comments as a whole. Further, we must assume that the professor used a 4X4 vehicle to access the beach to take said photo and see the apparent destruction caused.
Regardless of the authenticity of the claims, and the hypocritical concerns, it does however serve as a timely reminder to tread carefully whilst enjoying our 4X4's, and our great country. Regardless as to who is behind the wheel, one idiot doing the wrong thing will get us all tarred with the same brush. This then gives them ammunition to stop 4X4's in national parks, which none of us want.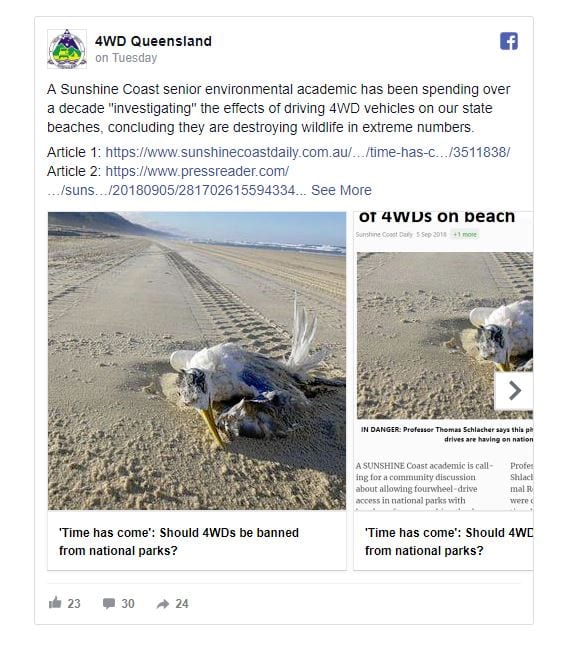 4WD Queensland has refuted the claims, and have brough to light previous statements made by the same academic, Professor Shlacher, in 2008, that "on any given day, over 250,000 cars travel up and down this beach", and "… they're dying by the billions under the wheels of our recreational vehicles". It would seem that the professor has an issue with maths, or over exaggeration, or perhaps both?