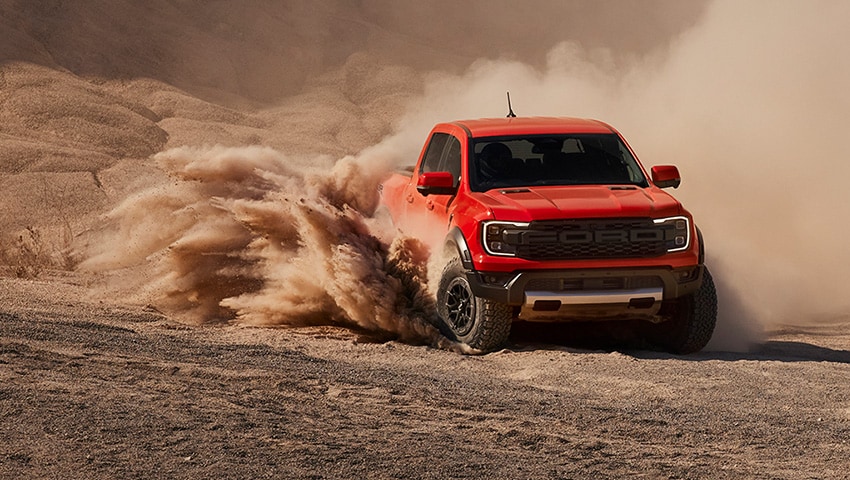 Ford blew the doors off the competition a few years back when it released the Ranger Raptor. The first dual cab 4×4 ute with actual performance and not just another sticker pack. Huge long travel suspension, Fox coilover shocks, a massive wide body and whole host of features designed for flat out getting it off-road. The only downside was the otherwise uninspiring 2L turbo-diesel under the bonnet.
It's no surprise then that when Ford took the covers off the new 292kW twin-turbo V6 model people got more than a little keen. With a July 2022 release date we're only a few months away from getting behind the wheel ourselves but a few leaked videos out of Europe give us out best look yet at the upcoming powerhouse.
YouTube user Dimitris Spilios has spoiled us with a couple of walkthroughs in and around the new Raptor. On the inside the first thing we spotted is just how good the new full screen LED dash is. Running through the available options we're able to see the various drive modes with visual representations for the terrain you're in. The steering wheel controls allowing you to dial in throttle, steering, exhaust and shock dampening levels. Something we haven't seen on any production car before.
Running through the rest of the interior the surfaces seem tough, with huge amounts of storage throughout including additional gloveboxes as well as pop out cup holders throughout. Not overly useful off-road, but great when you're doing huge drive days between outback stations. The uploader also runs through various internal controls, including the electrically operating roller shutter, all controlled from a switch on the dash.
On the outside we also get a decent look under the bonnet. The EcoBoost not exactly a pretty unit, it's various ducting and piping on display for the world to see. Like most new 4x4s, under bonnet space for accessories looks tight at best. Behind the central locking controlled tailgate a tub liner fills the tray. There's cut outs for internal lighting, various low-down anchor points, as well as an AC power outlet. A second switch for the electronic roller shutter is also fitted in the tray. The rest of the video show various aspects like exhaust notes and fit and finish. Interestingly, the tub steps in the regular Rangers haven't made it to the Raptor. A clear definition that the Ranger is for work, and the Raptor for play.