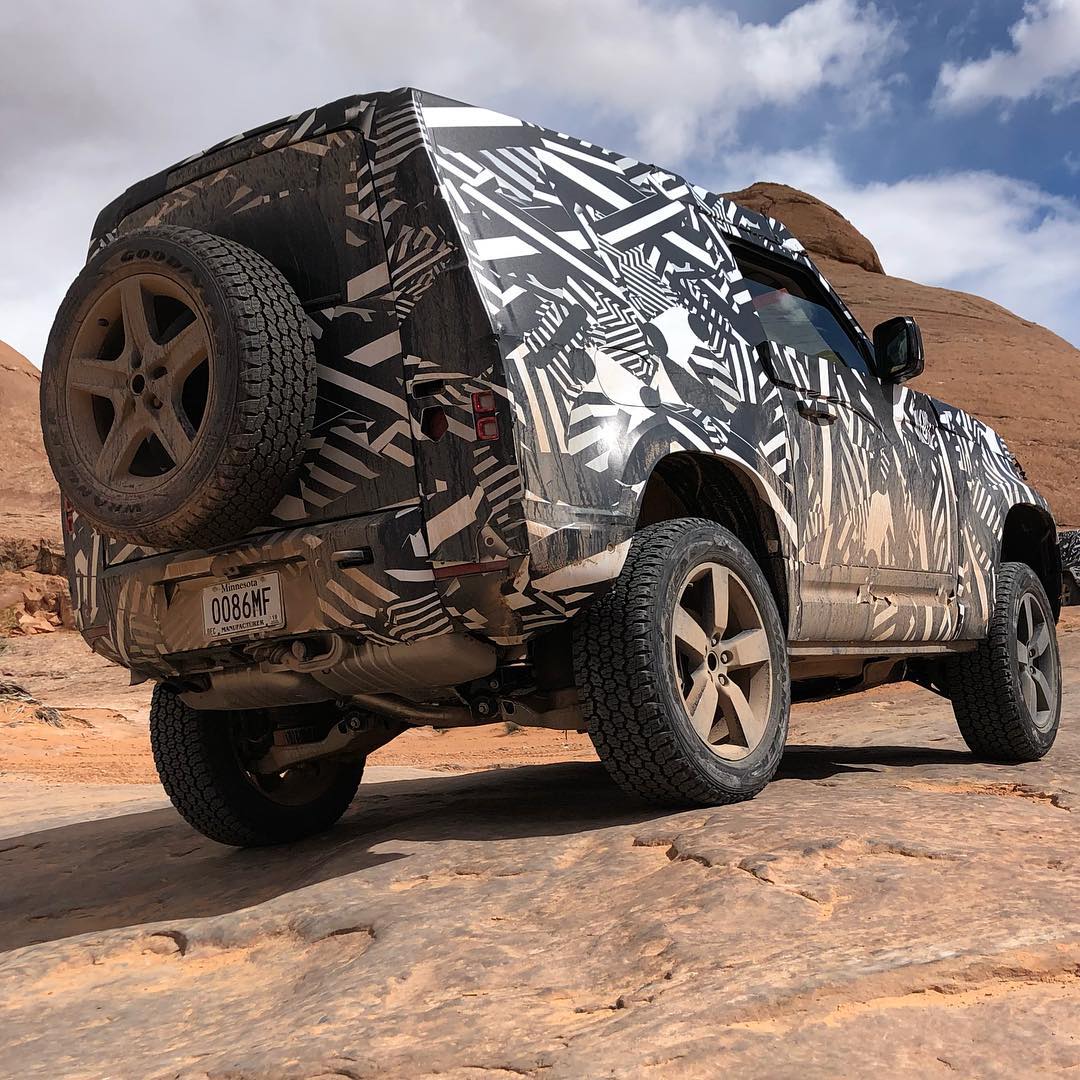 Land Rover Defender – an iconic 4X4 that succumbed to time and safety technology. Solid axles, strong chassis and a boxy body.
Land Rover's Defender replacement has been a drawn-out affair with supposed release dates passing unmarked into history and some fairly ridiculous concept vehicles shown years ago. Our patience has been rewarded with a whole lot of silence until recent test vehicles under heavy camouflage had been spotted around the UK.
Now, long and short-wheelbase trial vehicles have been spied off-road testing at Moab, Utah in the USA. The best bit – someone was there to take photos! We would like to thank @jonnylieberman via Instagram for sharing these photos with the world.
In @jonnylieberman's words:
"Bad news: the new Land Rover Defender most assuredly does NOT have a solid rear axle. Good news: we caught FOUR Defenders on the very most difficult part of Poison Spider Trail here in Moab. If these things can traverse Poison Spider, they don't need 'em!"
As much as we wish Land Rover would do some Australian testing, the reality is North America can cover the hottest and coldest climates on one continent with a great variety of terrain types, from the mud and swamps of Louisiana, the blistering cold glaciers of northern Canada and Alaska, the axle-twisting rock gardens of the Rubicon, desert sand and dust of Death Valley, and of course the slick rock of Moab, Utah.
Design Cues
Before we get into suspension tech, some design cues to note:
Mismatched (aka modular) rear body, pointing towards a removable rear canopy.
Large wheel arches for suspension travel, or larger tyres. The heavy modifiers can still use garden edging from Bunnings though!
Large front bumper, hopefully the aftermarket can make some airbag and sensor-compliant bar work to prevent smashing the plastic original parts.
Higher window line than the old Defender – not so good for kids in the back seat trying to see the scenery.
Narrow and not especially tall (even in off-road extended height as it seems here). Perfect for a Pommy farm gate or green lane. Or my garage.
Suspension
We're looking at airbags on all four independent corners here. Well and truly proven in the Discovery 3, 4 and 5 plus everything Range Rover for over two decades, you can expect a compliant ride with great wheel articulation and a multitude of ride height settings including 'get out of s#!t' extended height. However, a test vehicle spotted in the UK has been reported as riding on coils all around, so a pov-pack option may be available too. In the UK, commercial Discovery variants with blacked-out rear windows and lower specifications attract a lower tax threshold. Whether it comes to Australia in that guise we will have to wait and see.
Robust alloy struts are obvious, along with hefty sway bars. This Defender should corner a lot flatter than the old shed-on-wheels, which was notoriously fun when cornering to try and scrape the door handles on the ground. Somehow they'd hold on and not roll despite the insane body roll.
Unfortunately, the wheel rim is filled with large disc brakes so dropping rim size is unlikely to be possible. On the other hand, at least it keeps disc brakes all around, unlike so many dual-cab utes!
But, wait! There's video!
Youtuber Fjester also saw the trial vehicles at Moab:
Leaked interior images can be seen in our previous article here!