Whether your 4X4 is an adventure machine designed to get you to the far reaches of the continent, or a weekend warrior for ticking off every local campground you can find, sooner or later you'll come face to face with a rock ledge or 50. While the thought of punting your precious sheet metal into a slab of sandstone or granite can be a little daunting, with a few simple skills and a little gear even a decked-out tourer can dance in the rocks like a pro. So, let's dive into this beginner's guide to rock crawling and help you get a handle on this extreme sport.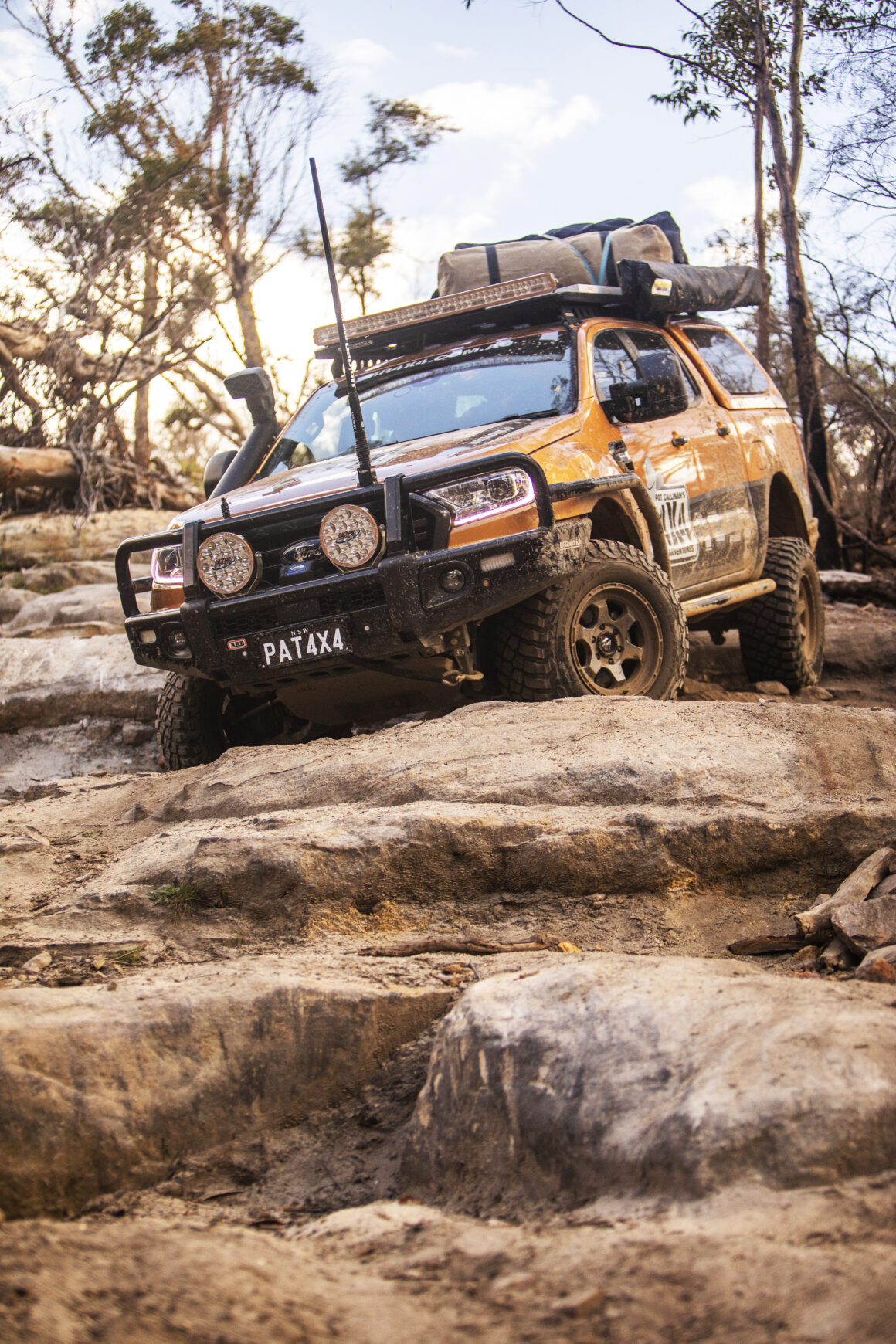 Diff Locks and When to Use Them
Let's start with diff locks, or differential locks. In regular driving conditions, a vehicle's differential allows each wheel to spin at different speeds, which is great for smooth cornering. Whichever wheel is easiest to spin gets the drive sent to it. But in rock crawling, that's a no-go; As soon as you lift a wheel all drive will head to it leaving it spinning in the air and you going nowhere. You want all wheels working in unison, delivering equal torque. That's where diff locks come into play.
When to use them: Basically, you want to engage the diff locks when you're about to tackle an obstacle that requires maximum traction or has the potential to lift wheels. Just make sure you disengage them when you're back on easier terrains; otherwise, you'll risk damaging the differential. But let's get this straight: don't overuse them. They're not your get-out-of-jail-free card for poor technique and can get you into strife you can't get out of.
Line Selection
Choosing the right line is like choosing the best path in a maze. Choose wisely, and you'll make it through. Choose poorly, and well, you'll get stuck—literally.
How to do it: Always assess the terrain before hitting the throttle. You're looking for the path of least resistance. Something that'll ideally keep your 4×4 sitting level and avoid lifting wheels. Try not to hit two obstacles at the same time. If the front and rear are both trying to climb up a step at once you'll rarely to it easily. Sometimes it's not straight; often, it will be slightly zig-zagging through the rocks. Consider your vehicle's ground clearance and angles—approach, departure, and break-over—when selecting a line. If in doubt, get out and take a closer look. Yep, leave the comfort of your 4X4 and physically inspect the route.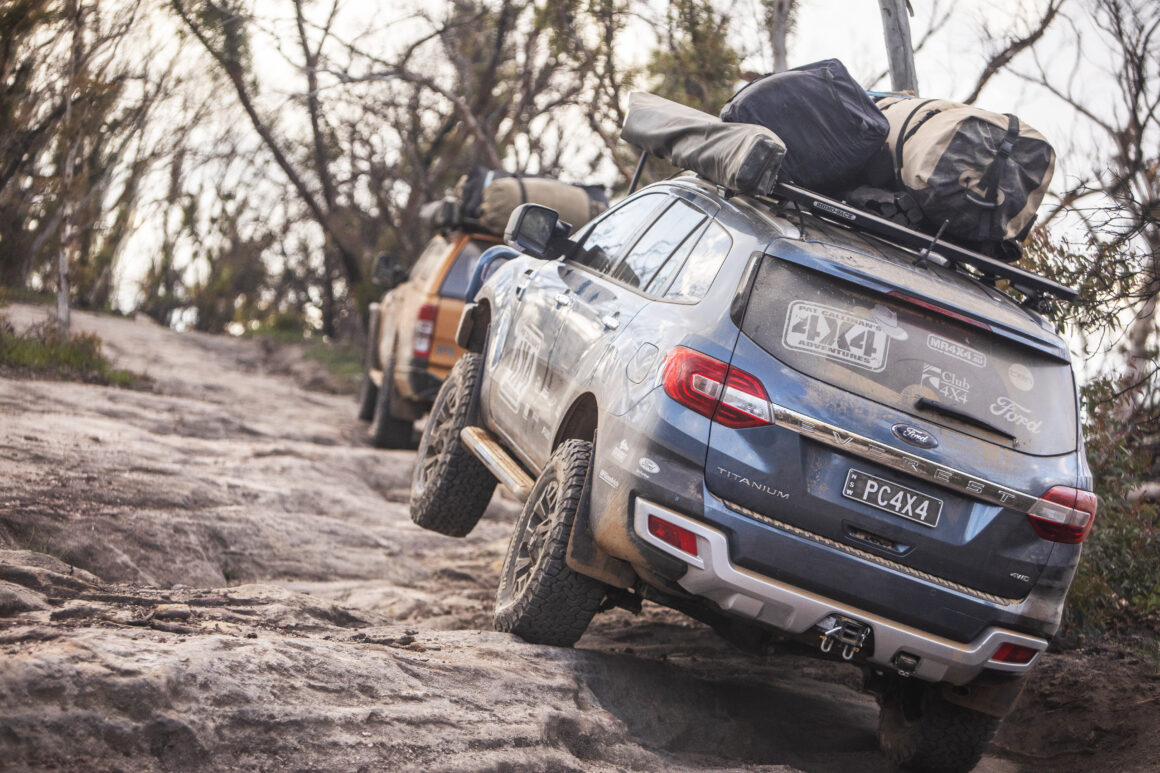 Tyre Pressures
Ah, the good ol' rubber. Tyres are your first point of contact with the rocky world beneath you. Lowering your tyre pressure increases the tyre's contact patch with the ground, which equals better grip. Think tank tracks, as the tyre loses pressure the tread pattern touching the ground gets longer giving you significantly more traction. It'll also allow the tyre to deform around obstacles giving the benefit of more grip, and less likely to cop damage. Think about how hard it is to pop a half deflated balloon compared to a rock-hard one. Pardon the pun.
The pressure game: Generally speaking, for rock crawling, you'll want to go as low as 15-20 psi. The exact number can vary based on your vehicle, the specific terrain, and the tyre itself. Be cautious, though—too low, and you risk popping the tyre off the rim.
Recovery Gear
Different environments require different recovery techniques and that's never more evident than in the rocks. Put simply, getting a run-up while I mate yanks on you with a snatch strap is a recipe for disaster when you've got a wheel cocked in the air. Slow is smooth and smooth is fast is the key for rock recovery techniques. Think winches, snatch blocks for double line pulls, Exitrax to build ramps up ledges and plenty of rock packing.
Using a Spotter
A spotter is your second set of eyes, helping you navigate through tricky spots.
Spotter rules: Always maintain a clear line of sight and pre-establish hand signals. Words can get lost in the noise of revving engines and spinning tires, but a good old thumbs-up or directional wave is unmistakable. Pick a spotter you can trust and listen to them, they can see more than you can, but can't feel what you can feel so communication goes both ways. Finally, all communication needs to go through the spotter, anyone else can yell stop, but only listen to your spotter saying go.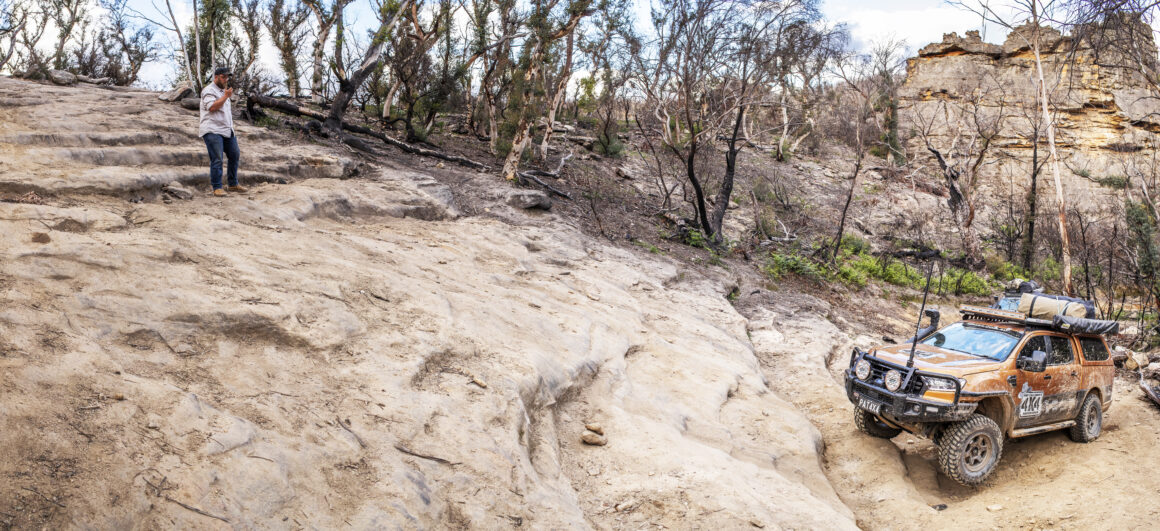 Other Tips
Throttle Control: A smooth throttle prevents wheel spin. When climbing, a bit more accelerator might help, but don't floor it.
Know Your Vehicle: Understanding your vehicle's capabilities and limitations makes you a better crawler.
Safety First: Always wear a seatbelt, and ensure all loose items in the vehicle are secured.
Rock crawling is an adrenaline-filled sport, but it's also one that requires skill, patience, and the right amount of prep. As you grow more confident, you'll begin to understand the nuance in each rock, each incline, and each challenge you tackle. Now get out there and start crawling.