With Suzuki fans collectively holding their breaths to see a return of the Suzuki Stockman, it seems that Suzuki are all over it with the announcement of the Suzuki Pickup Concept.
It is only a 'concept' at this stage, however, we should expect to see a utility/pickup released from Suzuki hopefully later this year. Chances are it won't come with the wood panelling, steel front and rear bars, LED spotlights, or sliders, but there is a very good chance we will see the body shape.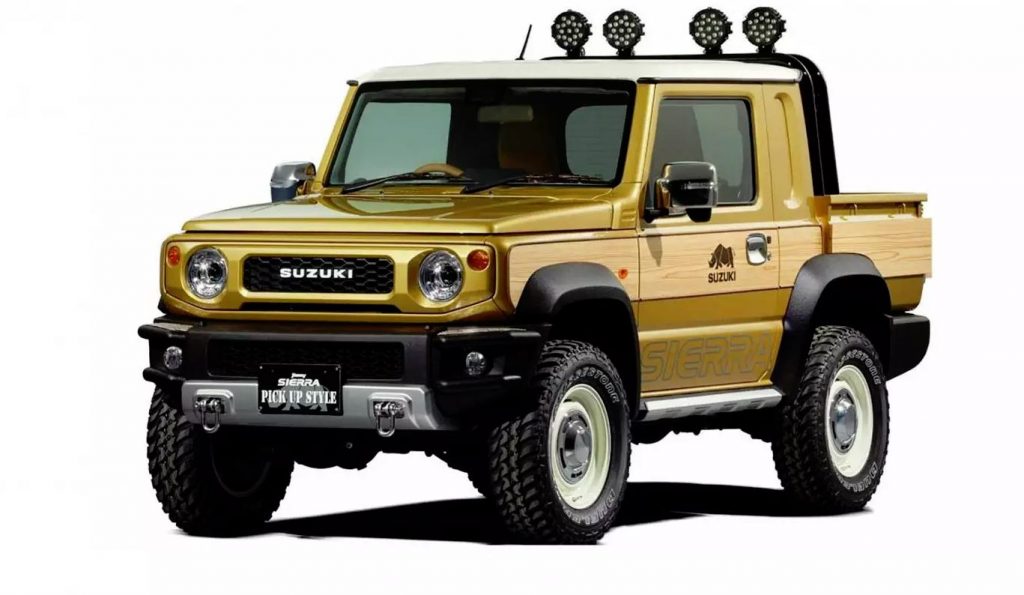 The concept utilises the new 2019 Suzuki Jimny body shape, platform and wheelbase, however has the rear end knocked off, in favour of a tub-back tray. The grille on the concept touches our roots in the earlier Sierras very deeply, and returns many of us to thoughts of our first four-wheel drive. The concept further builds on the off-road roots with some rather aggressive off-road biased tyres, as well as having inbuilt tow hooks to the front bar.
Insofar as the drive train and specs are concerned, we've not seen much, however it's not too far of a stretch to dream up the option of having the 1.4L 103kW/230Nm direct injected and turbocharged BOOSTERJET four-cylinder donk under the bonnet (it is a concept vehicle after all; we can dream!). There has been talk of utilising the 660cc three-cylinder engine (good for a massive 47kW), however we're going to say it'd be too under-powered in the torque department for a designated ute.
So we're absolutely all holding our breathes to see what comes of this little monster, and make sure you stay tuned in, as we'll have editor of Unsealed 4X4, Evan, at the official Australian launch of the brand new Suzuki Jimny later this month.
Do you think we'll get the Suzuki Jimny ute as a production vehicle and does it have a place in our market with everything else seeming to go bigger? Or maybe we'll see a 6X6 version?!