2019 marks the 20thAnniversary of the Tvan camper trailer from Track, and the brand has released two limited edition Tvan models to celebrate the milestone.
First released back in 1999 the Tvan was heralded as a bold and innovative reimagining of the camper trailer. With distinctive lines and a robust, go-anywhere attitude it struck a chord with off-road enthusiasts who were equally drawn to its ultra-light towing weight and formidable MC2 Suspension, engineered by Track in 1995 for the Australian Military. To this day, Track's MC2 Suspension is the only suspension system available in the recreational market that's currently being used by the military. Track wasn't messing around with the Tvan.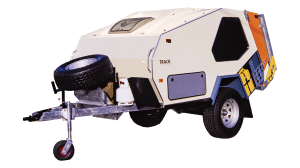 20 years on, the Tvan is in its fifth iteration and enjoys a hard-earned reputation as one of the best off-road camper trailers on the Australian market. Track continues to design and manufacture its trailers in Melbourne, and is a family-owned and operated business headed up by company director Gerard Waldron.
"Those early Tvans were brilliant in their day, but rather than give competitors the chance to copy or catch up, Track embarked on regular reinvention every few years," says Mr Waldron.
"From a distance every Tvan looks similar with its stand-out shape and signature window and deck, but up close you will see that the Mk1 and the Mk5 are 20 years apart in design and materials, usability and tow-ability, with new iterations of our famous MC2 Suspension."
The Tvan holds a special place in Pat's heart as he's travelled all over the country with one in tow and it turning 20 is an impressive feat.
You can read the full story on the Tvan's 20thAnniversary here.
To mark the occasion, Track has released two special edition models available only in 2019. The first is the Tvan Inspire, which Track says echoes the simplicity of its original MK1, with a few modern touches. It starts at $61,150. The second is the Tvan Zenith, aimed at showcasing Track's most recent innovations. Basically, it's got all the fruit, and starts from $76,720. Both feature unique 20thAnniversary styling and decals.
For more information, click here