Perhaps the most 'Murican 4X4 of all-time, the Hummer H1, is for sale once again. Back from the dead, it's being sold in China.
A company called VLF Automotive, featuring Bob Lutz, has been signed up to start making carbon-copies of the All-American hero. They're being built in the god-damned heartland of the American auto industry: Detroit.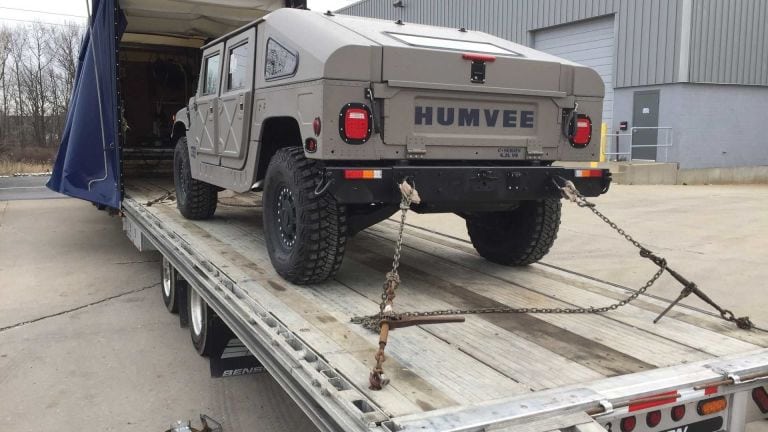 The Hummer H1 is a big 4X4, related to the M998 'Humvee' that earned it's stripes in active service around the globe. It's iconic shape being a hard one to forget, especially when it was Arnold Schwarzenegger's favourite 4X4. The driveline is tucked right away underneath, combining with portal gears for some seriously impressive ground clearance. Independant suspension all-round can't really flex much, but at least it's got lockers. And, they have a Central Tyre Inflation System. Cool.
Chinese buyers will have an option of the 6.5 Detroit diesel under the bonnet, which makes a very modest 116 kW @ 3,600 rpm and 461 N·m @ 1,700 rpm. With a factory turbocharger setup, these big donks make a more respectable 160 kW @ 3,200 rpm and 597Nm @ 1,800 rpm.
Or, you can opt for a Chevy LS3, a 6.2 litre petrol V8 that makes 321 kW @ 5,900RPM, and 575 Nm @ 4,600, probably enough keep a big brick at a brisk pace.
Laws and legislations means the Humvee can't be called by it's name, and it won't be procurable in America. They are expecting to shift around 100 of these "C-Series" by the end of the year, with a pricetag near $150,000.