Issue 34 of Pat Callinan's 4X4 Adventures is out now! In this issue, we take you through Part 1 of The Cape: Exploring the South.
In this issue we take you through the roads less travelled of the southern end of Cape York, showing you stunning tropical rain forest, gold rush ruins, Aboriginal artwork, and one heck of a challenging track. We put four different awnings to the test – four staff, four touring 4X4's, four completely different awnings, as well as travelling from hut to hut in the Victorian High Country as the editorial team goes AWOL! We also have a good look through the 'Cruisinator' camper setup, give you a hard and fast guide to the biggest treasure hunt on the planet; Geocaching, as well as give you some tips on mastering astro-photography. This is easily our best issue yet, and we'd love to have you along for the ride!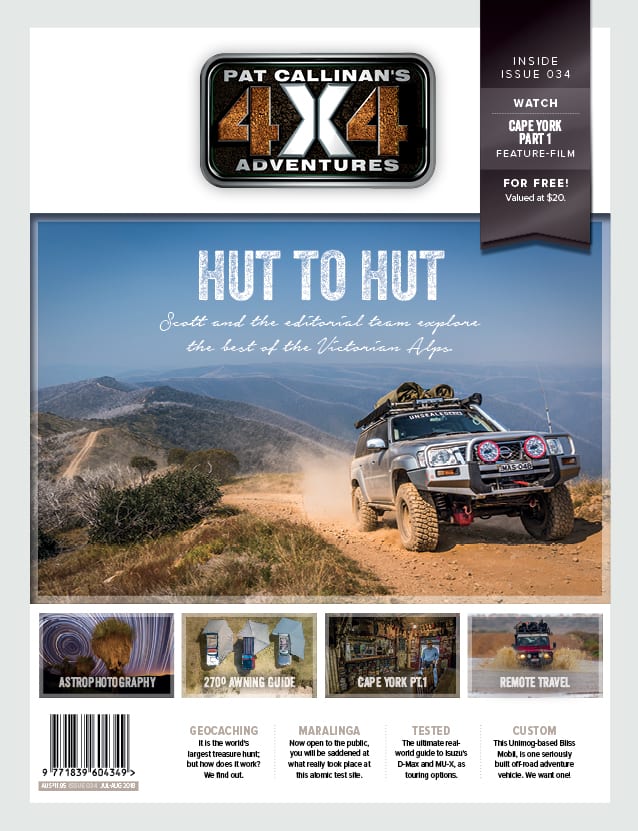 WANT TO HAVE A CLOSER LOOK? DOWNLOAD THE APP FOR YOUR TABLET OR PHONE HERE, AND YOU GET 5 MINUTES VIEWING PLEASURE ABSOLUTELY FREE!
Cape York – Part 1
Exploring the south of Cape York, its spectacular ranges, rain forests and ruins.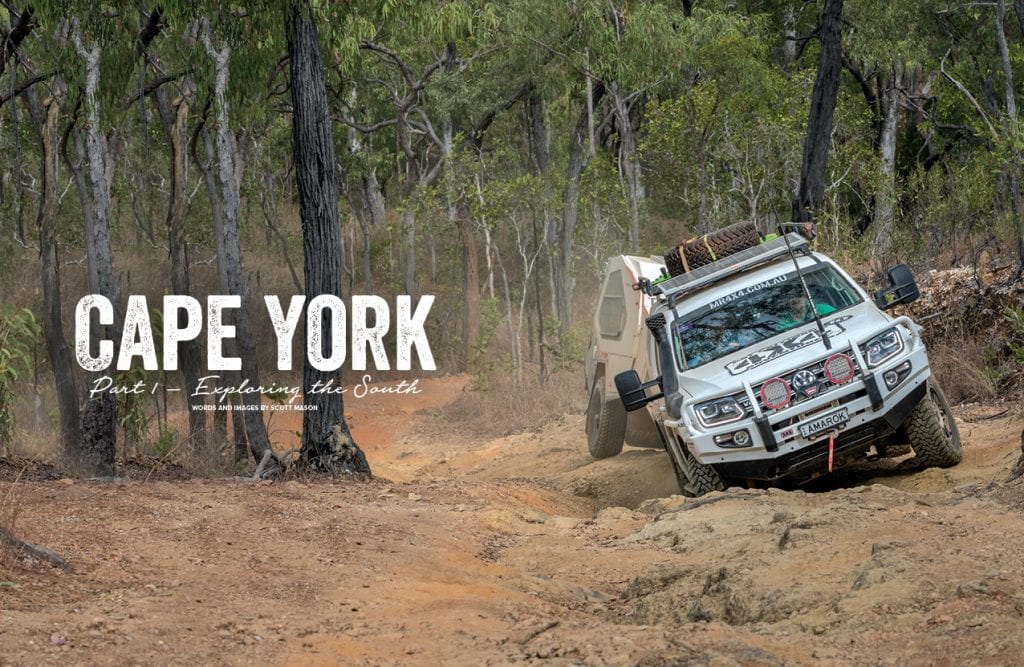 270° Awning review
The accidental review: How and why four of the staff chose four different awnings.

Hut to Hut
The editorial team quits and hits the Victorian High Country. Well, we didn't quit, but we did go AWOL for a week, to the possibly the best destination this hallowed country has to offer. This is one trip you want to start planning for yourself

Camper Review: The Cruisinator
If you think you've seen everything there is to see on camper van conversions, think again. The Cruisinator has changed the rules.

The greatest treasure hunt on the planet: Wes' guide to Geocaching
Gone are the days where a paper map and X marks the spot for buried treasure – it's now played with apps and GPS systems!
Remote travel: Gear Guide
Our very own Sam Purcell shows us his 'grab kit' for remote travelling, with the tools and equipment in it that you just cant live without.

So there you have the wrap up of Issue 34!
All this and so much more in Issue 34 of Pat Callinan's 4X4 Adventures, which is on sale now! If you've not got a subscription yet, or need to update yours, make sure you get over and grab a subscription deal now! We've got some fantastic offers on at the moment, to get you a print or digital subscription, with a bit of gear to throw in the 4X4! Click here to get yours now.