We've driven the LC300..back-to-back against the LC200!
Back in late May, six Australian journalists arrived at a location well hidden from prying eyes. We surrendered our phones and everything else electronic at the gate, then we were ferried out to an unassuming shed where we were briefed on a mystery vehicle…but we all knew what would be revealed.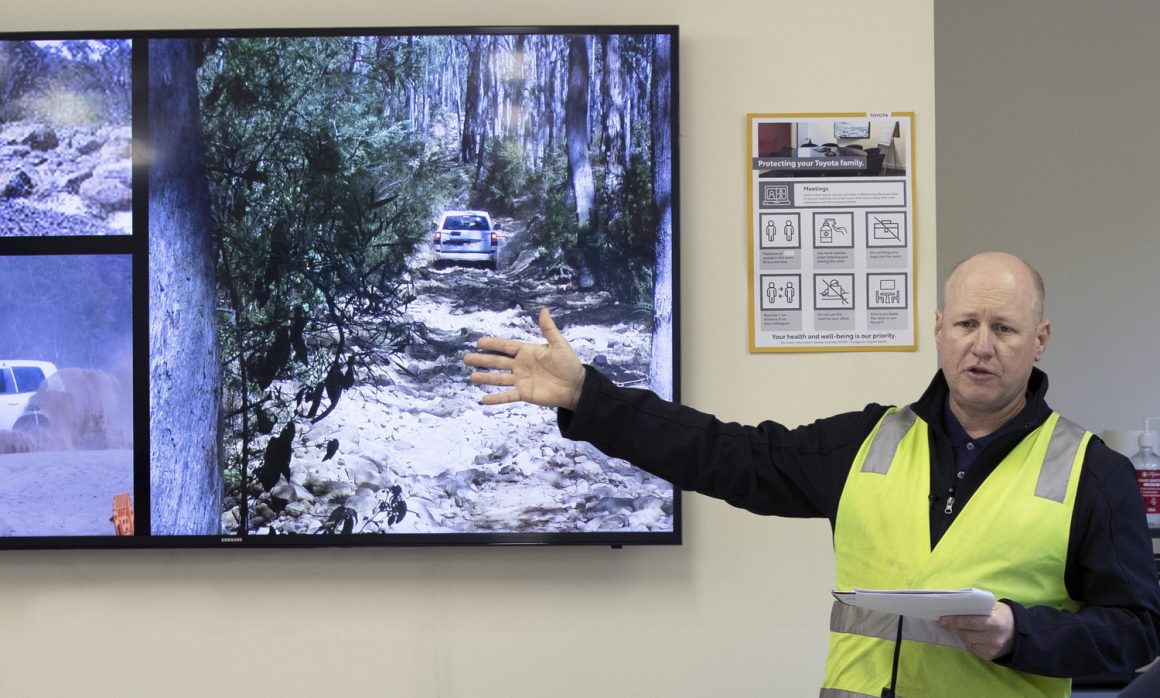 There we assembled around an LC200, parked next to another vehicle, but this one under a plain canvas cover. And then with a little ceremony, two Toyota staff pulled the covers off to reveal the Toyota Landcruiser 300 Series.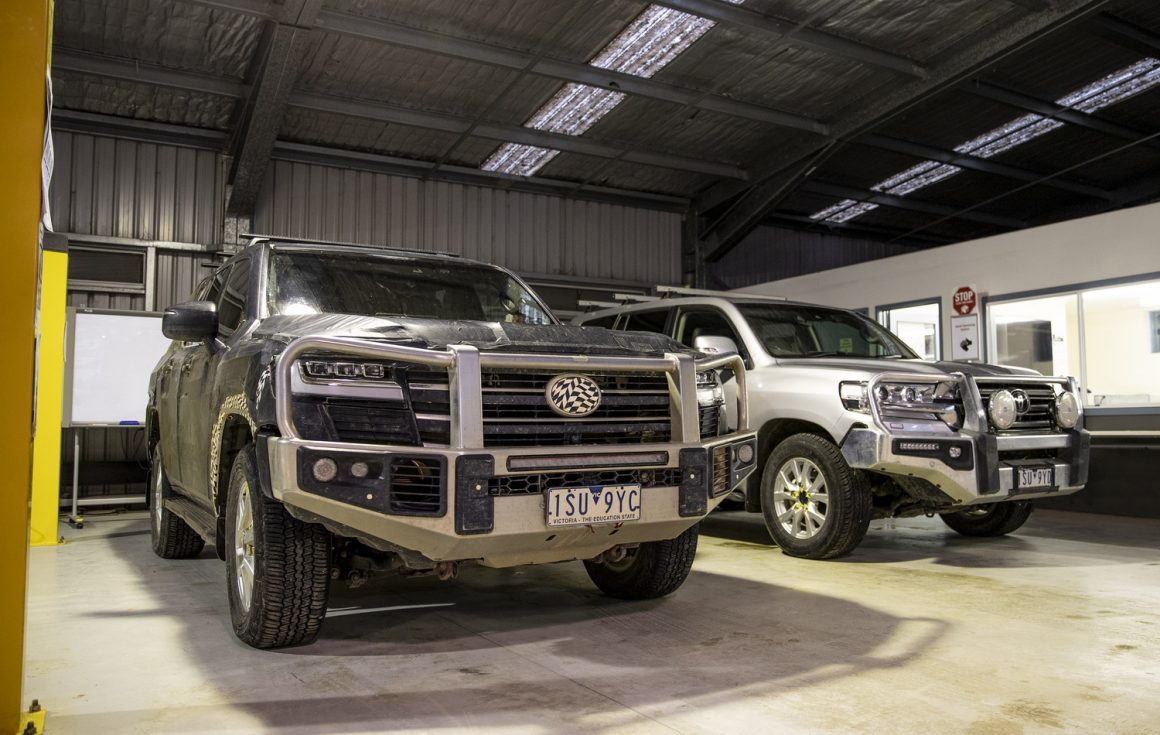 For the rest of the morning the six of us towed, drove and offroaded the LC300 and the LC200. It wasn't a full roadtest, but it was more than enough to get a good idea of what the 300 is, and how it performs. Having an LC200 for comparison was invaluable, and talking to the technical staff involved in the development was just fantastic – thanks to them this article is a lot better than what it otherwise would be.
So let's start with what the Landcruiser is, and what Toyota wants the 300 to be. It's good news for us 4WD people.
Toyota have a concept called "Landcrewness", a literal translation from Japanese. By this they mean reliability you can trust your life to in remote, difficult offroad situations. Dependability. Now as a 4WD guy I was incredibly excited to hear the Toyota staffers talk about Landcrewness, because its exactly what we need when we're out in a state forest, desert or beach. And I've never heard any other carmarker talk about anything similar; usually they drone out about design, heritage, looks which is not really all that important when it's 50 degrees outside and you're a hair over GVM on your 200th sand dune of the day after three hours worth of corrugations. Or when you've got to get yourself and the kids from your station to the town and it's a solid four-hour dirt-road drive. Reliability and dependability is, to my mind, first, second and third priority for a 4X4 design.
But talk is one thing..the engineering has to back up the rhetoric, and Toyota deliver. An Aussie engineer related an anecdote which explains how they shift into the mindset for Landcrewness.
In Japan, there's nowhere without mobile coverage. So the Japanese have no concept of remoteness as we do, and of course, with a modern mobile at your fingertips then help is only a phonecall or message away. This makes it hard to understand why reliability in a vehicle is so important. Today, we've got a kids of 15 to 20 who have never known anything other than a high performance, colour touchscreen mobile with a zillion apps permanently connected to high-speed Internet, and of course they rely on it as a brain extension.
To make the point, the Aussie engineers took a lead Japanese engineer out to Toolangi State Forest, which is only about an hour's drive out of Melbourne. And they dipped into one of the areas without mobile coverage. The Aussie stopped the car, and told his Japanese colleague to imagine they'd broken down, and to call for help. The Japanese engineer reached for his mobile…and stared at the screen. No service. No lifeline.
It's at that point you start to realise how far you are away from anything and anyone. Suddenly, reliability becomes more important that a "muscular, athletic stance"…yes, I absolutely do scorn the makers of 4X4s who priortise form over function then attempt to sell their products as offroaders.
And that's one example of how Toyota shift their staff into the mindset of Landcrewness. Personally, I think that's bloody amazing and means more to me than ten thousand words about how a car looks like a tiger, what the chief designer thinks about heritage, or some sort of supermodel clad in lycra unloading a mountainbike. Couldn't care less. I do care about the fact the 300 is designed to keep on driving and not come to a halt because something non-critical like a electronic system has failed.
So well done Toyota, apparently now the only carmarker who seems to truly understand what us offroad travellers need. Let's hope those fine words and ideas play out in practice as the 300 Series goes on sale – orders are being taken now – and is put to the ultimate test by thousands of buyers.
And now let's look at exactly what the 300 Series is, and how it performs.
Chassis and body
Toyota have stuck with the same basic design we've known since the LC100 – independent front end, body-on-frame, live rear end, coils all round. I asked why they didn't move to independent rear, and the answer was they felt their design goals could be best achieved with a live rear. In addition, the roll centre of gravity of a live axle is, in their view, better suited to rough-road ride and handling – that's the relationship between the centre of gravity of the vehicle, and the point at which the suspension geometry designed to pivot. In the same way, the engineers opted to retain the separate-chassis/body design rather than a lighter monocoque, again because they felt to meet the targets for rough-road comfort and ride there was no other way. And I guess the fact that the 200's rather conservative buyers love both designs would have been a factor too – just witness the reception to the Patrol Y62 and its independent rear suspension, although that now has been proven over time.
The chassis itself retains the same 2850mm wheelbase as the 200, and even the same going back to the 80 which Toyota say has the best offroad ride of any vehicle they've ever built – think long-travel live axles. The chassis is around 20% stiffer than the 200, which is good for handling because it means the job of handling flex and undulations is left to the suspension not chassis twist. The improvement is due to new steel alloys and welding techniques.
All the bolt on/off body panels are now aluminium to save weight. In fact, Toyota say the vehicle is 100-200kg lighter than the LC200.
Dimensions are basically identical to the LC200, give or take a few mm due to different trims on different 200 and 300 models, with the 300 being very marginally larger. Same boxy shape, too…which I like, very practical!
Suspension
Suspension travel is increased by 30mm over the 200, which was already impressive. And then there's E-KDSS. In the 200 Series there was KDSS, or Kinetic Dynamic Suspension System. The KDSS system was a purely mechanical diagonal interlock that allowed cross-axle flex in offroad situations – where the front left wheel rises up and the rear right moves down – but resisted movement where both wheels on the same side of the car wanted to move up and down in unison, for example when cornering.
E-KDSS – the "E" stands for Electronic – does the same job of optimising the suspension for onroad and offroad, but achieves it in a very different way to KDSS. The E-KDSS system runs conventional swaybars, front and rear, but computers loosen and stiffen them depending on what the car is doing, and there's no driver input which is a shame because sometimes offroad it's not good to have maximum suspension flex. So with E-KDSS the swaybars may be loosened even onroad in a straight line, but stiffened for cornering. These systems don't necessarily increase total suspension flex, but they do make it easier for the wheels to flex up and down and that has significant advantages offroad for ride comfort and traction.
The rear shocks are now mounted more vertically that before, and a little further outboard. This means that any movement of the rear axle can now be better controlled than before as the forces transmitted to the shock are more in line with the shock's piston movement.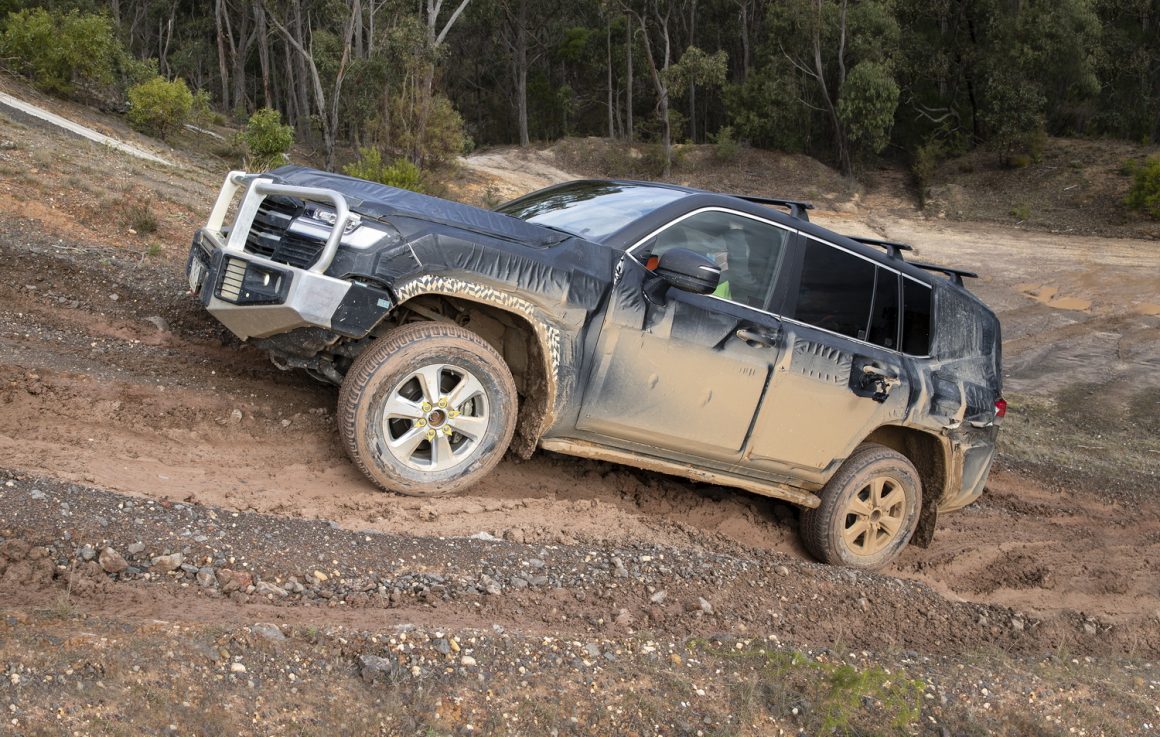 Traction systems & drive modes
Again here fundamentally the 300 is the same as the 200, but with improvements all round. The biggest change is surprise addition of twin cross-axle differential locks. I say surprise because the 200 never had them, although some models of the 80 and 100 did. So I asked Toyota "if the 300's brake traction control is better than the 200, and the 200 didn't need lockers, why does the 300?" And the answer was customer demand. So, there we have it. Interestingly, Toyota say that brake traction control is disabled on the axle without a locker..which is disappointing, especially as on vehicles like the 150 Prado Grande it isn't disabled. However, as there's twin lockers you could just use both.
Crawl Control is carried over into the 300, and it's much, much better than any implementation we've seen before. First, it's more effective; I know that because I was able to back-to-back with a 200. Second, that awful bouncing/clunking in the lowest settings is gone, it's now smooth. And third, you can engage it, drive, release the pedals and it comes back on as opposed to completely disconnecting. So, a big improvement. Toyota's hill descent control system, DAC (Downhill Assist Control) is part of Crawl Control, can't have one without the other.
Turn Assist is back too – this is the system that brakes an inside rear wheel when turning to tighten the turn radius. In the 200, you needed to unlock the centre diff and engage it, with the 300 it works with the centre diff unlocked so it's far easier to use in real-world conditions and people may actually use it!
Toyota's adaptive terrain system, Multi-Terrain Select (MTS), gets upgrades too. The MTS system configures the car for specific terrains by changing parameters such as shift points, throttle response, traction control sensitivity and stability control sensitivity – Toyota wouldn't say exactly what is changed when, so that's based on my test drive on the day, plus prior tests of Toyota vehicles.
The 200 had Rock, Rock and Dirt, Loose Rock, Mogul and Mud & Snow and only worked in low range. The 300 tidies things up to Sand, Mud, Rock in low range, and offers Dirt, Sand, Mud, Deep Snow in high range. Both ranges offer an Auto setting where the car figures out which is the best mode, but Toyota wouldn't tell me how Auto works. I can speculate based on other knowledge; I suspect it monitors wheel slip, required torque to move vs speed and possibly even monitors suspension movement. Anyway the functional and usability improvements to the MTS system are well overdue, and Toyota also say they have increased the parameter differences between the various modes. MTS is useful, and can definitely make the difference between succeeding or not in a given offroad situation.
The 300 also gets some on-road drive modes which are Comfort, Sport, Sport+ and a custom function. This an excellent example of just because you can, you shouldn't. I've driven Lexus sportscars with similar modes and it's too many, let alone in an offroader. It's not clear exactly what the modes do, but usually it's just throttle sensitivity, gearshift mapping and in the case of the 300, probably some adaptive suspension changes.
Engine & transmission
The big news is the engine, specifically the dropping of the aged 4.5L V8 for a modern 3.3L V6. And immediately there was an outcry about overstressed small engines, especially as the V6 develops more power and torque than the 4.5.
So let's take a look at what's going on, but before we do, how does 81kW from a 3.3L diesel sound? Pretty miserable, right? Yet in 2021 nobody complains about 150kW or so from a 3.2L Ford motor. But, 81kW was the power figure for the MQ Patrol 3.3 diesel back in the '80s. We're all just used to a certain power/capacity ratio, a figure set in our heads when we learn about cars, and start to worry when that's moved on.
So now with more open minds, let's take a brief look at why the 3.3 of today can outperform a 4.5L of yesteryear. Many of the reasons can be categorised into; combustion, air intake and efficiency. So for combustion a combustion chamber that is optimised for fuel flow so very precise amounts can be measured in. Then there's the swirl port where the fuel is initially mixed with air, again redesigned for efficiency. There's a total of seven cycles of fuel injection; not the single squirt-ignite of old. The seven stages mean less wasted energy as the resulting 'bangs' can build up in intensity, and that also pays off in reduced harshness and noise.
For the air intake there's a 2-way twin turbo. A low RPM the primary turbo operates, and then the secondary joins in at higher revs. Both turbos are variable-nozzle too which means the exhaust gases that spin them are angled, and speed-controlled for maximum efficiency, again quite a difference to the simplicity of older turbos. This means the turbo takes less effort to spin (so more power goes to the wheels and isn't lost), and is better at forcing just the right about of air into the cylinders. The LC200 had two turbos for its V8, but they were identical, one for each bank of cylinders, not working as a coordinated pair.
On the cooling front, the radiator fan is electrically driven, so that takes less energy than a belt, and its speed can be precisely regulated. When it's not needed it sits idle.
If I had some more time with the engineers I could certainly write a decent sized book on the changes in diesel engine technology over the last 14 years, but that should give you an idea of how automakers are constantly refining their engines to meet emissions targets and develop more power and torque from small displacements. Think of it another way – if those same changes were applied to the V8, then it'd probably make 300kW instead of 200kW.
And, it's not reasonable to say "oh it's just high-boost turbos" when there's so many other improvements. The transmission is now a 10-speed not 6, and Toyota have finally moved from a maximum-select system to gear-select for manual control.
So this is a new engine, and as such there's some element of risk. But, it's not reasonable to write it off simply because it's smaller capacity than before.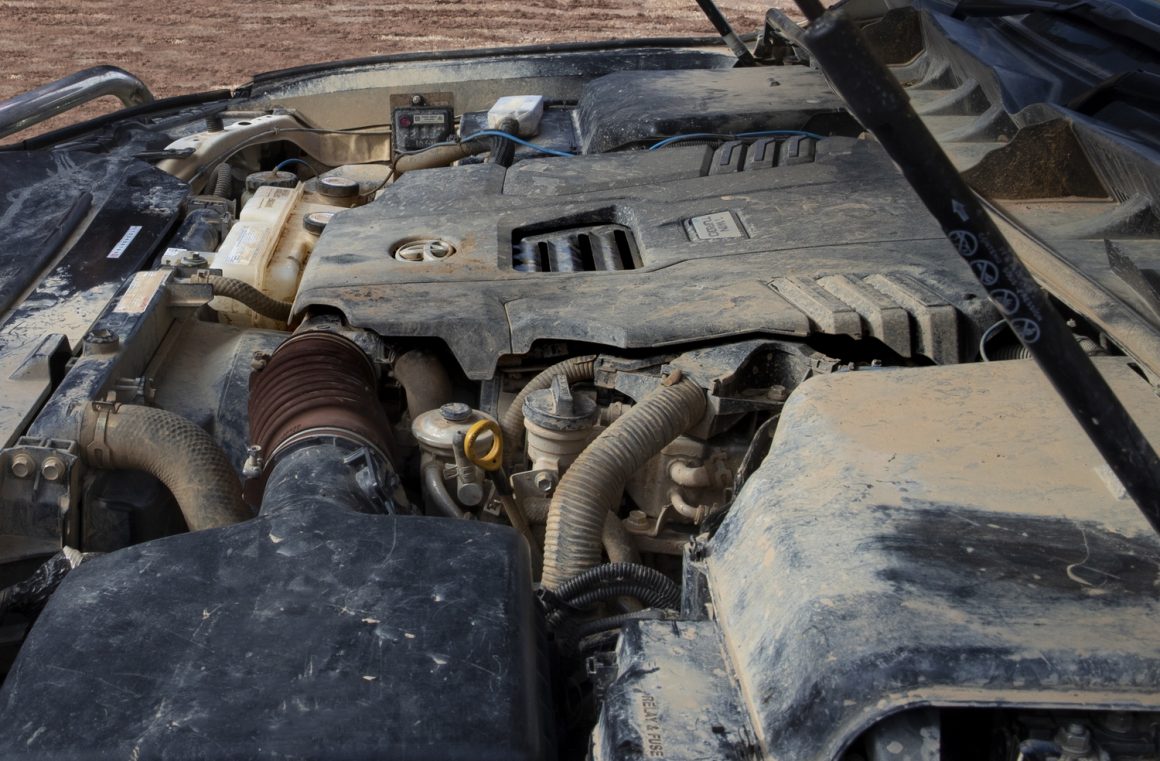 Wheels
The stud designed has moved from 5 to 6 studs, and the tyre is now narrower at 265/65/18 compared to 285/60/18, but both are 31.5″ tall. Good news is that 17s will fit as 245/70/17 is standard on the base-model GX. The change has been made for weight saving, and there would be a small fuel efficiency gain too. The narrower tyre won't affect offroad performance at all but would slightly negatively affect onroad handling but I'd challenge anyone to notice. Still, the changes will be tiny and more than balanced out by the other improvements.
Safety
The 200 had a 5-star safety rating and it is expected the 300 will be the same, although the testing protocol gets progressively more stringent over time so the 200 wouldn't get the same 5 star rating if it was tested in 2021. The 300 gets a range of safety features, none of which are groundbreaking and all common elsewhere including on upper-spec 200s; examples are lane keep assist, blind spot monitoring, AEB (Pre Collision System or PCS in Toyota-speak), and dynamic cruise control. The more interesting features are Road Sign Assist (recognition) and AHS, which is Adaptive High Beam System. This not just dipping the high beams when another car is detected; it's full-on adapting of the beam to suit the situation. For example, at low speeds there's a spread, and at higher speeds there's a narrower beam, plus cornering assist, and it'll even detect and illuminate things like pedestrians.
Accessories
The exact spec levels haven't been released yet, but you can be sure that Toyota will not offer all the goodies in the base spec such as E-KDSS and the cross-axle lockers, just like they limited KDSS to the top levels of the 200 Series. We'll need to wait for the official press launch for the range details. We do know that accessories are important to Toyota and they in fact built the car assuming bullbars would be fitted. Recovery points are on the way too, and the radiator is designed with the assumption driving lights may be fitted.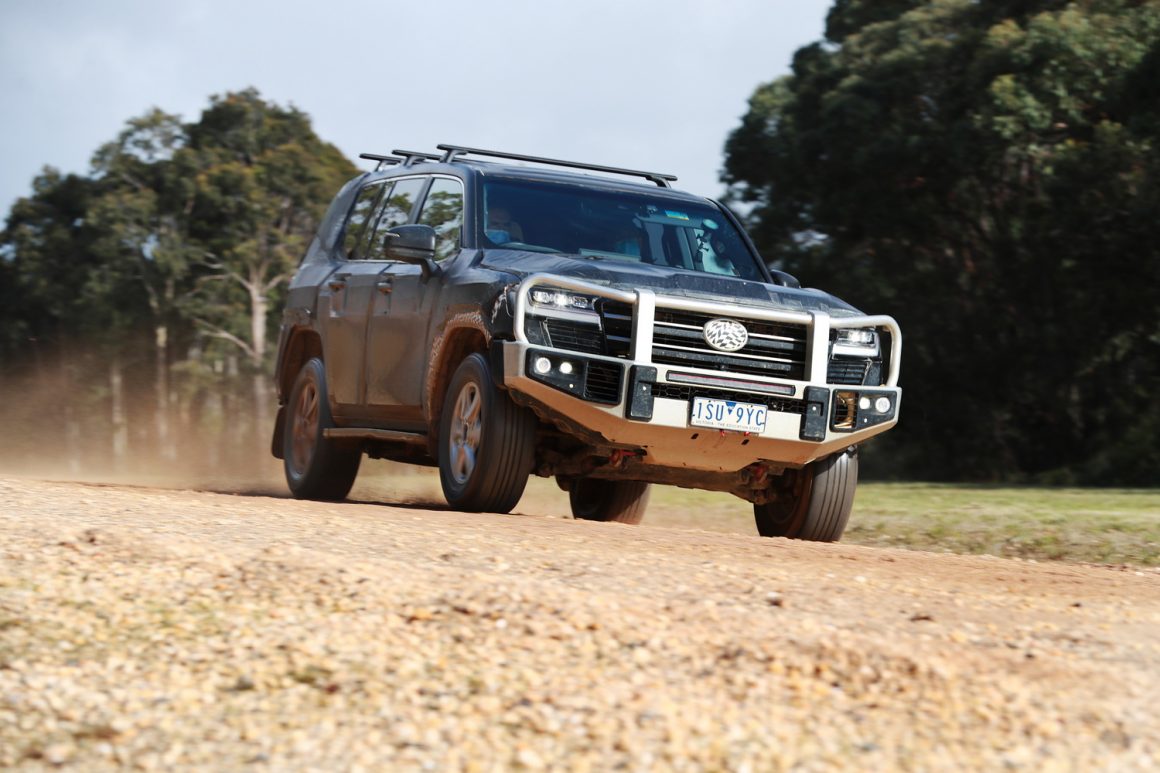 Spec levels
There are six grades of LC300, with some important changes compared to the LC200s. The base model is the GX, then GXL, then VX, then Sahara. Then it gets tricky because there's two top models, the Sahara ZX and the GR Sport. The ZX is basically an even more highly specified Sahara, and the GR Sport is a new hero model; it's the offroad-focused one with twin lockers, E-KDSS and more. But it runs 18s, unfortunately.
Toyota haven't fully detailed all the spec levels, but here's a brief rundown of the models with prices excluding onroads and some key specs of interest to offroaders:
GX: $89,990 – centre diff lock, brake traction control
GXL: $101,790 – centre diff lock, brake traction control, MTS (Multi Terrain Select, Toyota's adaptive terrain system)
VX: $113,990 – centre diff lock, brake traction control, MTS
SAHARA: $131,190 – centre diff lock, brake traction control, MTS, power fold rear seats, heated second row seats
GR SPORT: $137,790 – front and rear cross-axle difflocks, MTS, E-KDSS
SAHARA ZX: $138,790 – torque sensing rear LSD, MTS
Interior
The dimensions of the 300 are almost identical to the 200, so the space is about the same. I took a tape measure with me and made sure to measure the boot; the overall volume is the same far as I can see, but it's laid out differently. We know the third-row seats fold into the floor, unlike the 200, so ditch those and you've got a handy compartment for water or similar. Based on what I saw, the third row is probably the biggest improvement, plus the revised front row dash and controls. Our vehicle had rear climate control, and screens built into the front-row headrests. Why? I have no idea, everyone has their own personal screen now so why not just that, or just offer a holder. I was very pleased to see that there is copious use of dials and switches rather than relying on the touchscreen. Some variants look to get a surprisingly comprehensive rear climate control system. The second seatback is split 40/20/40.
Driving
As soon as you get in the 300 feels different to the 200. The raised centre console gives you much more of a 'cockpit' feel, and the controls are much better laid out and easier to hand. Even the gearshift is easier to hand. On startup and idle the 3.3 is noticeably quieter and smoother than the 200's V8 4.5, but that's not a very high bar to clear. When you pull away the differences continue; the 300 accelerates quicker off the mark thanks to its lower first gear with the 10-speed auto, wider torque band, more torque, and less weight. The 200 feels like it needs some revs to get going, whereas the 300 is more immediately off and running. Upshifts are smooth, and the engine is always kept in its best operating range so I'd say the auto is smarter, as it should be some 14 years on! The 200 did cop some flack for a high 6th gear, but the 300 fixes that with four extra ratios, and 10th is higher than 6th in the old box, as well as first being significantly lower than 1st gear in the old 'box.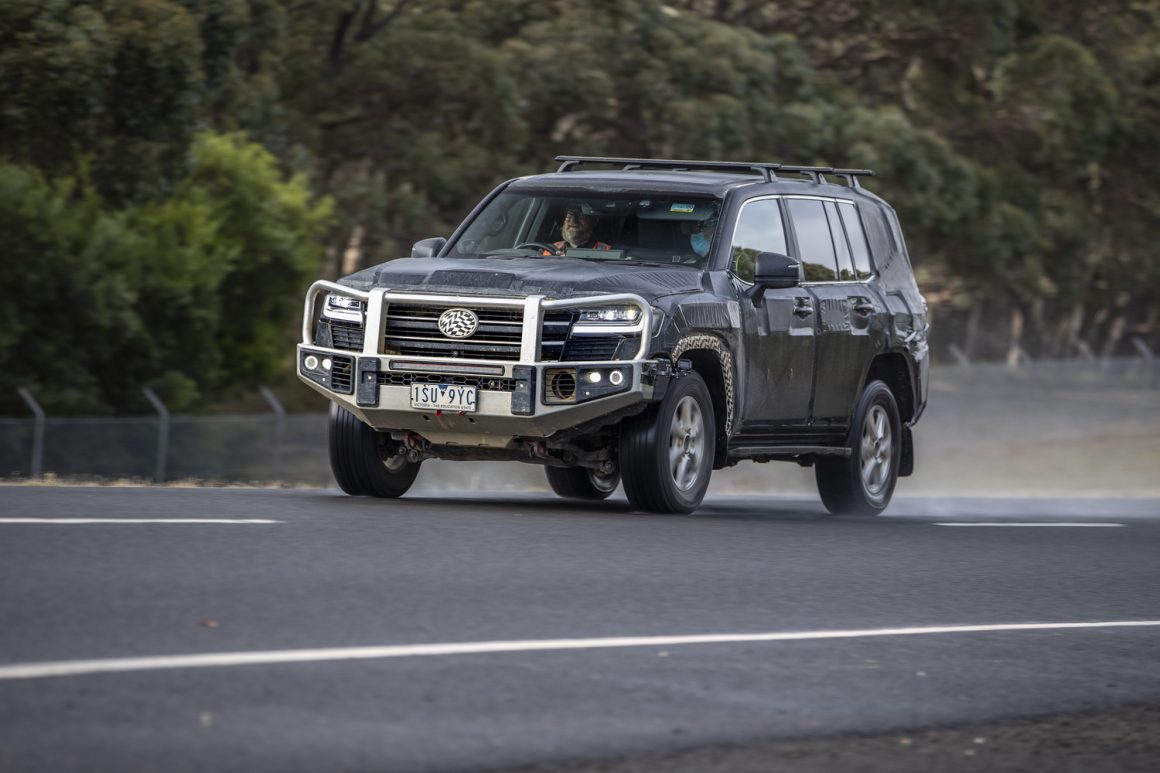 We drove a high-speed banked circuit at 120km/h, and the 300 was a slight improvement over the 200 for directional stability and high-speed direction changing, but not for ride. The 300 we drove was a very late handbuilt model, and it had a bullbar and winch fitted. I asked if the suspension had been tuned for the extra weight over the front, but the answer wasn't clear. Given the 300's ride, I'm going to assume the answer to that question was no, as there was undue pitching consistent with what I found when a standard 200 fitted with a bar and winch nearly pitched me into a tree in Cape York. I can say the 300 is quieter and more refined at speed, a lot of which is down to the engine and gearing. I did an emergency stop from 120km/h in both vehicles and can report the ABS works with no significant difference noted between the two.
Our next test was towing, and with a 3000kg trailer hitched up again the 300 pulled away far more cleanly, quicker and with less fuss than the 200. Once under way, there wasn't much difference and we were speed-limited to 80km/h around the corners. The 200 is a fantastic towcar, and I can only see the 300 being better in every way with the major difference power.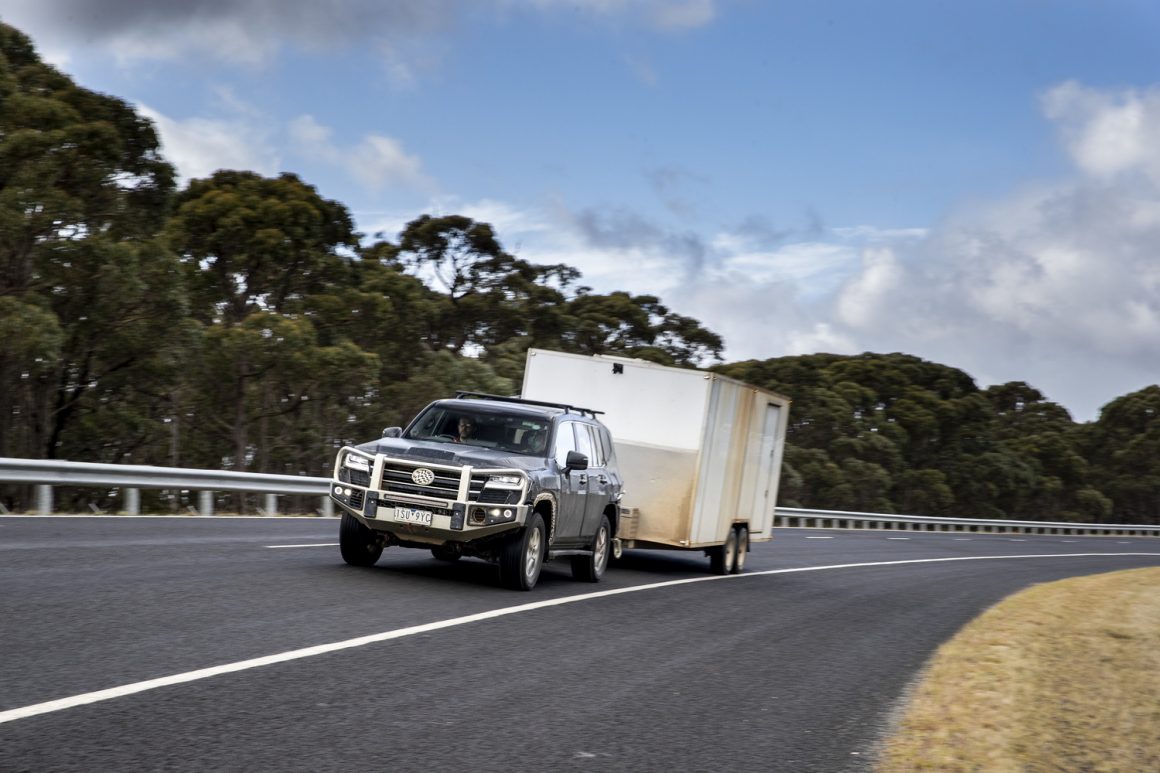 Handling was up next, both dirt road and twisty bitumen. The start was a corrugated dirt road with some undulations and corners which felt very much like the Victorian High Country one minute, and a rough Outback road the next. And on dirt I have to report the 200 definitely outperformed the 300 as a result of two key moments. First, a badly corrugated but cambered right hander which we were speed-limited to 80km/h on which the 200 took pretty much on the line I gave it, being the bush limo it is. The 300 on the other hand crabbed sideways to the outside of the curve. I made no attempt to correct either car to see what would happen. The second point was straight-line pitch stability, or lack of on the 300 which was far less controlled than the 200 with a subsequent loss of confidence. Now that said, I think the 300 had a bar/winch fitted without the correct suspension which would easily have explained the problems, and it was also a handbuilt prototype. I have no doubt production 300s won't have this issue, and many will fit aftermarket suspension anyway.
Then we were into a twisty bitumen section with some nice elevation changes – think of an Alpine road, but nobody coming the opposite direction! Here the 300 outperformed the 200; it was faster, the automatic made better decisions – I left it in Drive to see – and direction changes more assured. However, don't be thinking the 300 is in any way a competitor to the likes of a Range Rover, Q7, X5 or similar…it's not. But it can certainly be hustled along fast bitumen quickly and very enjoyably, more so than the 200, and never on any of my many 200 tests did I ever find myself holding up traffic.
Finally, we got to the offroad section and the first journalist helpfully drove the 300 up a rutted, cross-axle hill without realising the centre diff needed to be manually locked. This was an unexpected bonus for me as I could see the 300 behaved just like the 200 in that situation, biasing torque to the rear. We fixed that for the next driver, and the 300 did a little better on the hill, but still couldn't quite manage it. The 200 by contrast noticeably struggled more, something I'd put down to more weight, less suspension flex and inferior traction control. I am extremely pleased to report the 300 retains a centre locking diff, as I have yet to be convinced that any clever centre torque-biasing system is better than a pure lock. As with the 200, you can drive in low range without the centre diff locked.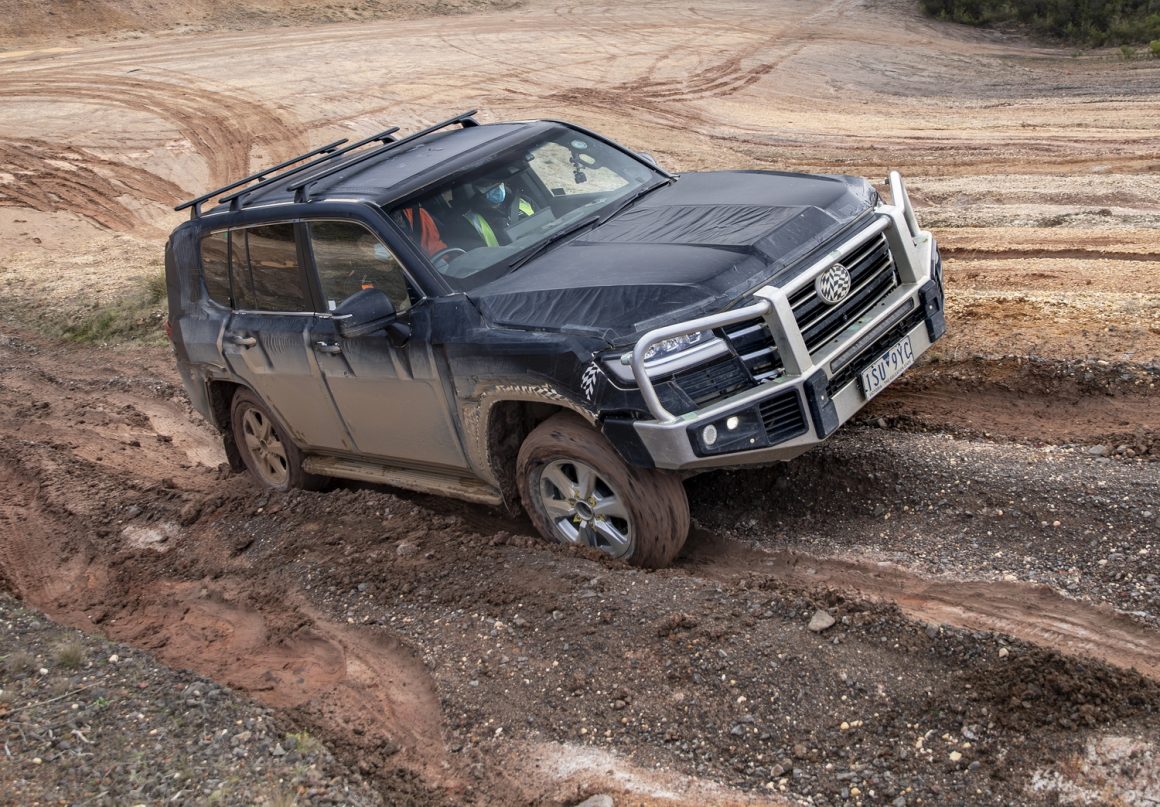 My turn behind the wheel arrived and I tried Crawl Control which is now silky smooth and actually usable in the lowest setting. The 300 just felt easier to operate than the 200, and I felt it did a better job of the ruts – I chose terrible lines to see how it'd go, and used too little momentum. The tyres scrabbled for grip, so I backed down and decided to let that magic finder of grip, Crawl Control, do its job. Dialled it up to 5, selected Rock Mode, and off the 300 went. We almost stopped, but the car kept scrabbling…and then it didn't, abruptly cancelling. Those watching thought that the car would actually make it at a crawl, and wondered why I'd stopped – I explained the car had stopped itself, nothing to do with me. The engineers stated this was not as designed and made a note to investigate. Again, late pre-production build.
I tried both cross-axle lockers and noted that they took a while to engage and disengage. Annoyingly, Toyota told me that brake traction control disengages on the axle not locked, but I didn't have a chance to observe this. Does the 300 need lockers? Well, arguably not as the 200 didn't, and the 300 is better. But, even with Toyota's market-leading traction control, there will be times when lockers are just the thing you need so I'm glad it's got them.
So, while early days, based on what I saw, and what I've researched, I'm confident in saying the 300 would outperform the 200 offroad in any given situation, and that is indeed a high bar to clear.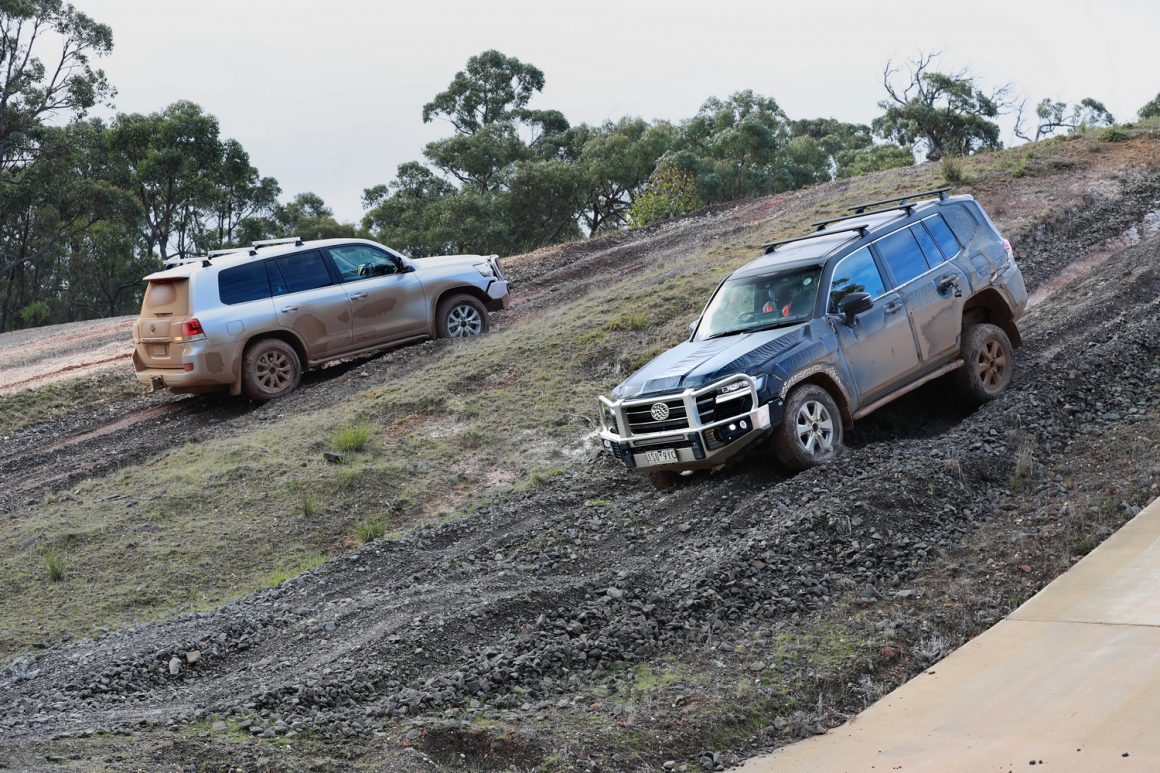 Summary
Based on that first drive and analysis, I cannot think of any significant way in which the 300 Series is not an improvement over the 200 Series. The one exception is range, as the 300 has 110L fuel tank compared to the 200's 138L, and the 300's improved efficiency isn't enough to compensate. Oh and some, perhaps most would say they prefer the split tailgate to the one-piece, but not everyone
That aside, 300 is lighter, more efficient, better offroad, handles better (allowing for notes on suspension as above), the interior is improved and it seems to have lost none of the practicality or robustness of its predecessors. So if you want a better 200 Series, well, here it is. As for competition, I feel the 300 Series occupies a class of its own. Toyota may in their less logical moments wish it to compete with Audi, Mercedes, and Range Rover but it cannot match them for style, features or handling. But, none of those luxury cars can come even close to "Landcrewness", the bushability we prize so highly and which is the ethos of Landcruiser.
One may look at the Defender and Discovery, but I feel both are now too urbanised to be true Landcruiser competitors – I don't see Land Rover taking engineers to talk to residents of Outback Australia, or talking about how they've designed their cars for bullbars. Perhaps the real rival to the 300 is Nissan's Y62 Patrol. The 300 is the more modern vehicle, available in diesel, but the Y62 has taller tyres and fully independent suspension which give it massive ground clearance the 300 cannot match and therefore quite possibly the edge offroad. And the Nissan has a big, old-school V8 which will endear it to buyers wary of the smaller engine in the 300. But for the Landcruiser faithful, the 300 represents a significant evolution of the 200 Series, improving on it in every way. Everyone who needs a big, capable reliable 4X4 for touring or work should be thankful the 300 Series exists as still king of its small, but important market niche.