Let's face it, many of us adventure with an off-road camper or trailer of sorts in tow. Some of you may even be towing something much heavier. Either way, understanding camper weights and terminology can be seriously confusing, especially if you're new to towing.
Despite this, it's really important to know your stuff when it comes to camper weights. Why? Because your insurance company won't cover you if they find out you've been towing even slightly beyond your recommended capacity. And trust me, they'll check to make sure in the event of a claim as well!
Also, just like the human body, too much weight (and even weight in the wrong spots) puts a strain on your running gear and chassis. Eventually, something is gonna give.
So now that we've established why it's important to understand camper weight, we're going to help you with all that terminology. Manufacturers plainly state the key weights that you mustn't go over but you have to know what to look for. These weight limits are found either in your owner's manual or on the vehicle and/or camper's compliance plate.
Here's what it all means:
Check out these limits before you even buy a camper
The first thing to consider before you lay down any money on a trailer is to ensure your vehicle can legally tow it. You need to make sure that your vehicle's Braked Towing Capacity is higher than your Gross Trailer Mass.
Braked Towing Capacity = The maximum your vehicle can legally tow if your trailer has its own brakes.
Gross Trailer Mass (GTM) = The maximum mass recommended by the manufacturer of your fully-loaded camper when it's hitched to your tow vehicle. The GTM is transmitted to the ground by the camper's tyres and does not include the mass distributed to your 4WD through the coupling.
If your braked towing capacity limit is lower than your GTM, you can forget about towing that particular camper. You either need to get a lighter camper or a beefier 4WD.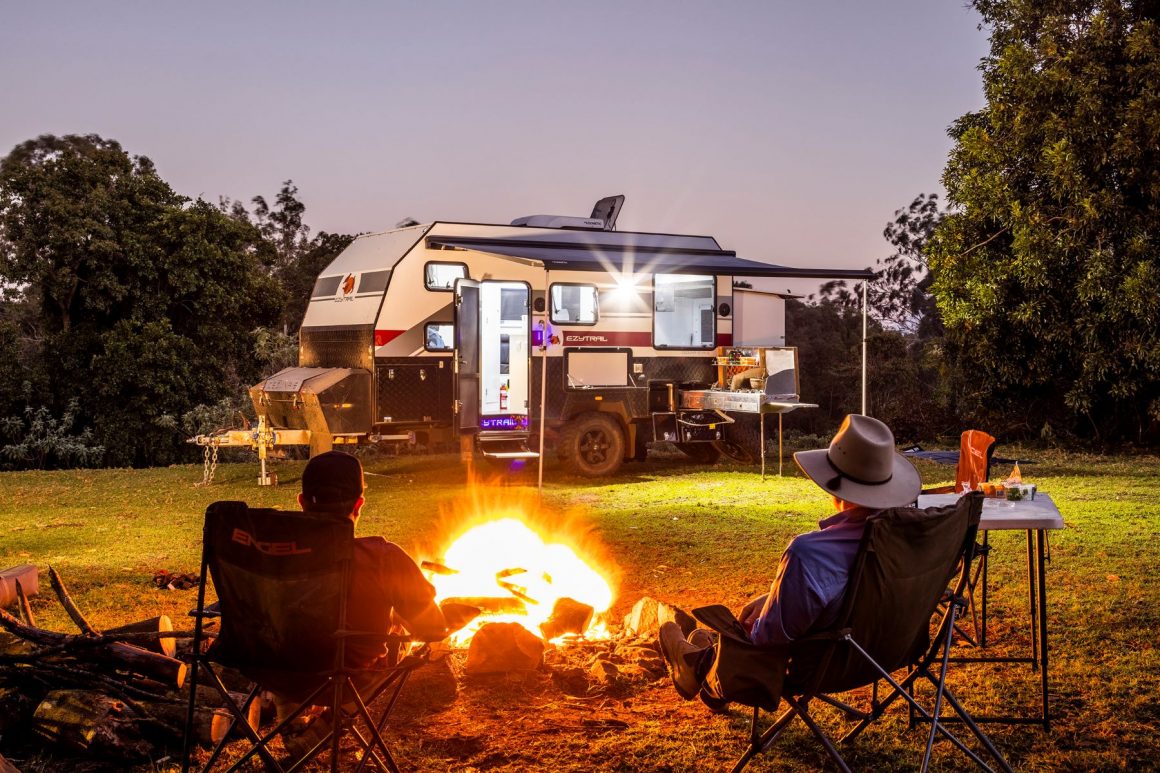 Four other important weight limits to understand
Once you've got that first one out of the way, there are four more important weight limits to understand.
Aggregate Trailer Mass (ATM) = The maximum total weight of the caravan or camper trailer. This is specified by the manufacturer and includes the tow ball weight. You'll find it printed on the trailer's compliance plate.
Tow Ball Weight (TBW) = This is sometimes also referred to as Tow Ball Mass. Either way, it's the weight pushing down on the tow ball by the coupling of the RV being towed.
Gross Vehicle Mass (GVM) = This is also specified by the manufacturer and refers to the maximum legally loaded mass of the vehicle. It includes the weight of the car as well as fuel, vehicle payload, all passengers and the tow ball weight if towing.
Gross Combined Vehicle Mass (GCM) = This is the total allowed weight of the loaded vehicle and caravan together and is specified by the manufacturer.
For more information on vehicle weights and distribution, check out the rvSafe website.