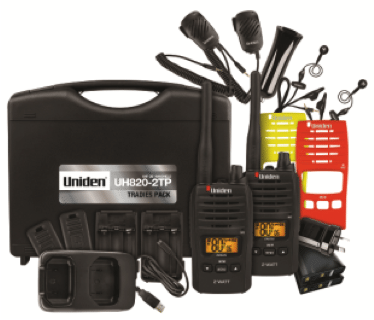 "…even if you're Captain Have-a-Chat, the chances of your 2-way running out of steam are slim."
When it comes to off-road adventures, a lot of people overlook the importance of a good handheld UHF. This is a mistake. They're actually an incredibly handy tool to have on board. Think about it for a sec, a lot of off-road driving is about getting to a destination, and once you're there, exploring it on foot, on a quad or even on a bike is a big part of the experience for a lot of us.
Even being able to spot a vehicle through a particularly hairy section of track becomes infinitely easier when the spotter and driver can communicate effectively. The spotter being able to give clear and concise directions through a handheld is vastly preferable to the yelling over the engine noise and frantic hand gestures that usually go with navigating off-road obstacles.
To make such bush communications that much easier, Uniden has recently released their Titanium range of handheld 2-way radios. These things are designed for use off the beaten track and in remote locations, which is where most of us like to spend as much time as we can. The 5 watt UH850S series has a range of over 17km, which is pretty impressive given its small size. They're also built rugged, with drop testing and water submersion (up to IPX7 standard) on the feature list. They're not only easy-to-use, they should also stand up to one hell of a beating.
For the tech-nerds among us, the Titanium series offer a new voice enhancer which offers four audio settings – normal, bass, midrange and high – which reportedly produce crystal clear conversations. There's also an interference eliminator and digital coded squelch to block out unwanted conversations intruding on you yelling terse instructions to the guy driving the completely wrong line up that hill. And for those that love pushing buttons, the smart key function lets users toggle between voice enhancer, instant channel, call tone or keypad lock as required. The Titanium series also features Uniden's innovative Master Scan™ technology for minimal disruptions and continuous conversations.
As we all know, nothing's worse than talking on a UHF and having your conversation interrupted by a flat battery, and Uniden have obviously felt this pain as they've squeezed an impressive 24 hours of talk time from the UH850S's rechargeable lithium-ion battery. So even if you're Captain Have-a-Chat, the chances of your 2-way running out of steam are slim.
So if you're looking to upgrade the old 40 channel brick that's currently lying unused in your glovebox with a top of the line, durable and easy to use 80 Channel unit, make sure you take a look at the Uniden UH850S, which retails for $279.95 or $549.95 for the Tradies Pack, which includes two radios, two rechargeable lithium-ion batteries with desktop charger cradle and AC adaptor, a USB charge cable and 12V socket adaptor, two earpiece microphones, two speaker microphones, two belt clips, and a robust carry case to safely store all accessories.
Find out more and check out their range at www.uniden.com.au