Thank you to everyone who took part in the Week 8 Facebook competition to share your campsite recipes and tips. Prizes for this week includes a case of Cabernet By Primo Estate 2015 wine thanks to United Cellars along with a one year digital subscription to Pat Callinan's 4X4 Adventures magazine, Season 9 DVD Boxed Set and $50 gift card to United Cellars with a total value of $385. Runners up receive a one year digital subscription and a $50 United Cellars Gift Card.
This weeks winner is…
Alison Burdon
" Campfire Lamb Casserole (this picture from our recent trip to Abercrombie NP)
This casserole has quickly become a favourite around our campfire. As the main cook, I love the simplicity of transporting tins and long-lasting veggies that go to make a fabulous meal – only the chops need to fit in the old Engel. Feeds 4. 

1 tablespoon olive oil
8 lamb forequarter chops, trimmed
2 brown onions, roughly chopped
400g can canellini beans, drained and rinsed
4 garlic cloves, peeled and crushed.
3 sprigs rosemary
2 tablespoons tomato paste
3/4 cup white wine
400g can peeled tomatoes
4 large potatoes, washed

This recipe works best when you get the campfire going in the afternoon, and use the slow-burning, glowing logs to cook the casserole in a Dutch oven. Spread oil over the base of the pot, then add all ingredients except the potatoes. Place the lid over the pot and slow cook for one to two hours, checking its progress every so often. When cooked, the meat should be tender. Toward the end of cooking, if the casserole is too watery, remove the lid while cooking to evaporate the liquid. This also gives it a delicious smoky taste.
Meanwhile, wrap potatoes in a few layers of foil, and add to the edge of the fire; cook for approx. half an hour, turning every so often or until cooked through.
Serve the potatoes with butter alongside the casserole. Season to taste."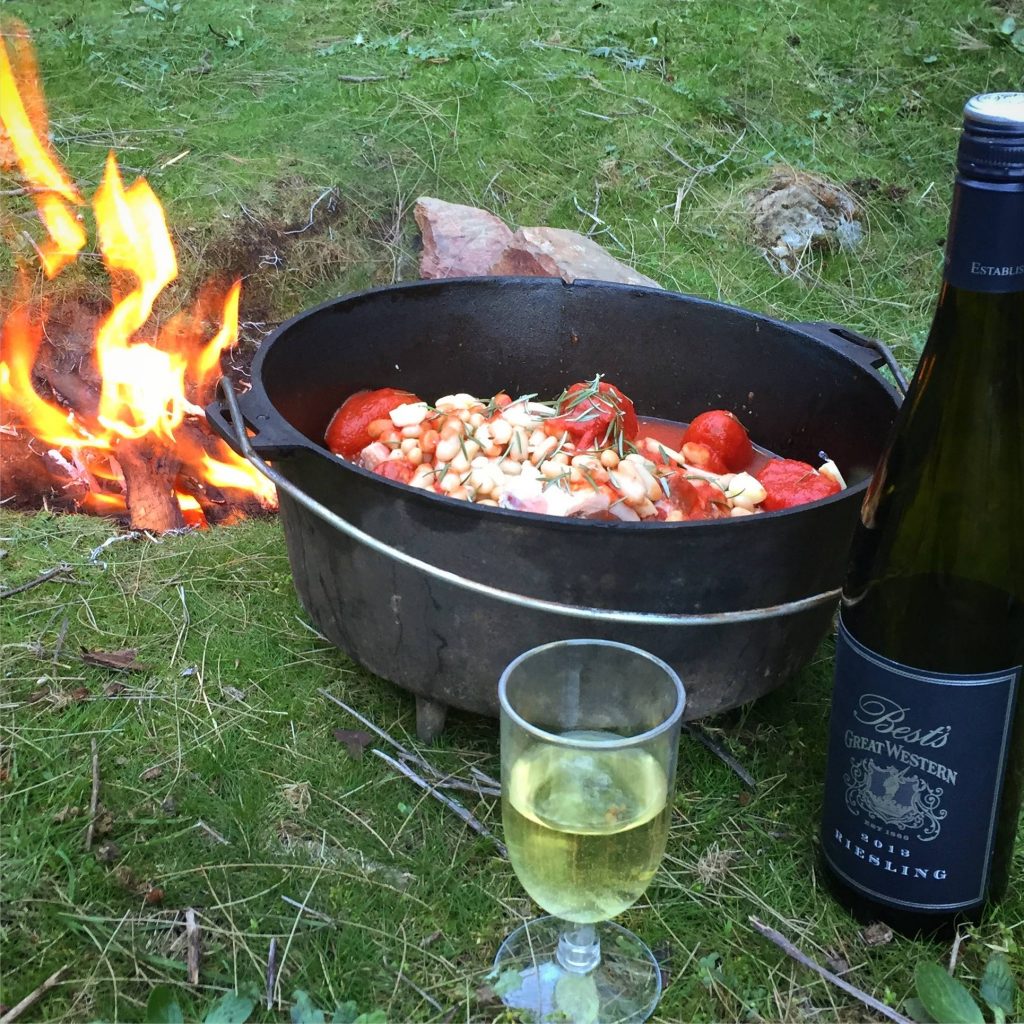 Runners up:
Janet Mulholland
"Nothing beats a roast in the camp oven. This is a picture of a rack of pork cooked a couple of weekends ago on the banks of the Murray River. To get a good crackle I dry the pork with paper towel, make sure it's well scored ( a Stanley knife is good for this) then rub it with salt and fresh lemon juice."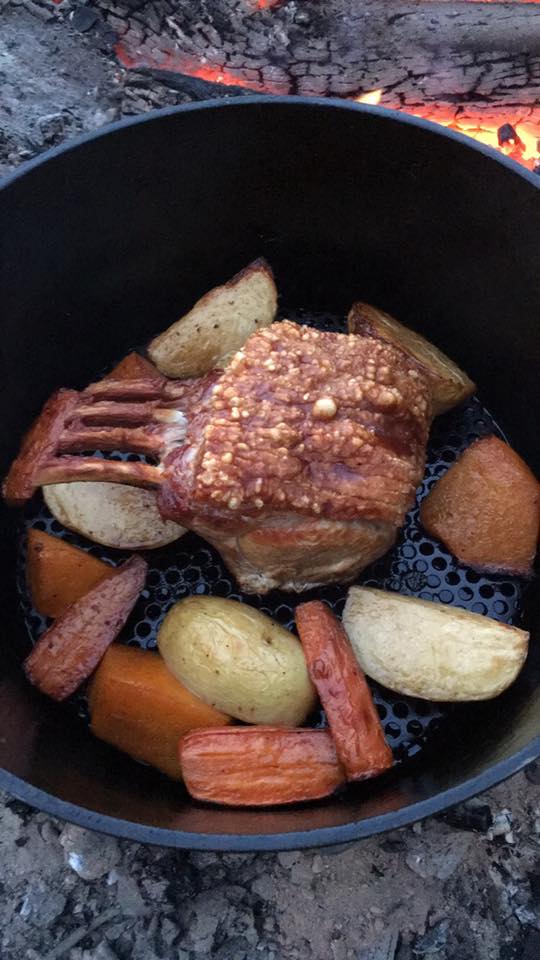 Kurt Perth WA
"Camp Oven Pizza….. no need for a separate oven or other equipment all you need is a supply of hear (gas stove, campfire etc…. ) loving the simple way of doing things I buy just flatbread or wraps.
The Oven:
You do not need anything special, You don't need an expensive oven… Just a footed dutch oven and a pair of locking pliers. A heat source.. Gas stove, open fire, etc anything you would normally cook on..
The Pizza:
Get 2 wraps of your choice. Put grated cheese between them as it acts as glue and thickens as well as liquid proofs the bases. 
Tomato paste. ( I like the ones with herbs etc already in them… saves mucking around), 
More cheese, more of everything. Usual fair.. a little olive oil on top. Then get the lid of the dutch oven and place that on the heat source, oil it and place premade pizza on top carefully, or even assemble the pizza on it. Anyhow place the bowl of the camp oven over it and bake the pizza. Now get a pair of vice grips and lock on to the leg of the camp oven and use that as the handle.
Best ever "baked- in- oven" pizza on the road. The pizza can be easily removed and the lid is ready to take another one… This recipe can be used to use up odds and ends on the pizza. 
PS don't move that lid until it has cooled down! Have another wine while waiting……."
Michael Kolmet
"We like travelling with dry chick peas, lentils and all sorts of beans. They can be presoaked in plastic containers with tied lids while travelling. They make tasty vegetarian dishes such as dhals or Mexican style. Add tinned tomatoes and corn, chili, garlic and onions, coriander from the tube and asian spices such as cinnamon, chili powder, paprica etc. For Mexican taste add lime juice, for Asian add ginger, dessicated coconut, Kaffir lime leave and curry tree leaves. We have added cubed beef or chorizo or any other meat from the Engels freezer."