Ford's Ranger Raptor is here, now without camouflage or speculation to hide behind. There's plenty to get through on this highly anticipated ute, which is the first of (probably a handful) a new series of off-road performance utes. Let's get into some details.
The Engine
That's right folks, the speculation ends here. No V6, no petrol. No 200+ kW outputs. Rather, it's the next generation of Ford's diesel engines. It's a four-cylinder, twin-turbo two-litre diesel, making an impressive 157kW and 500Nm. At what revs these figures come into play, we're not sure yet. But if that's important to you, it would be wise to consider the next point.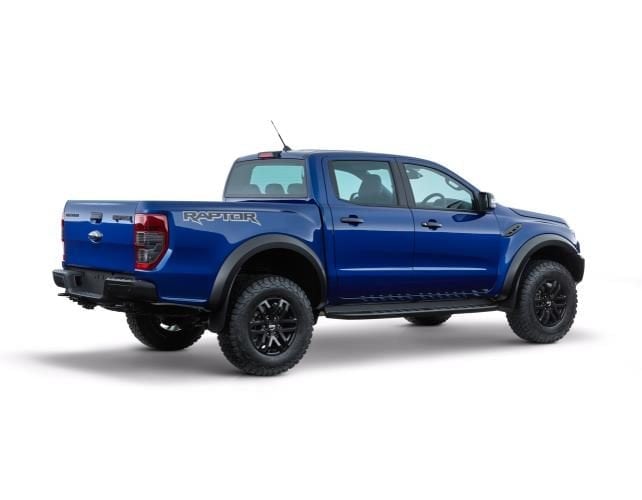 This engine is markedly similar to Land Rover's SD4 Ingenium engine in the Discovery, which uses up to 53psi to make it's 177kW and 500Nm. It truly performs like a 3-litre V6, and gives the Disco some solid straight-line mumbo (0-100km/h in a bit over 8 seconds). Again, we don't know what the Ranger Raptor does in this regard. It's also worth noting the Disco four-banger is also incredibly refined.
The Gearbox
Big power outputs from a small capacity diesel are only sourced through high revs and huge amounts of boost. But something massively overlooked in the whole deal of making good power useable is the gearbox. And this beast, using a whopping ten ratios, shows how important a new-generation gearbox is to performance.
This is (presumably) the same gearbox as Ford's F-150 Raptor, which was co-developed by Ford and GM. Having a tonne of ratios allows an engine to operate in its peak ranges of power and torque, so you go faster.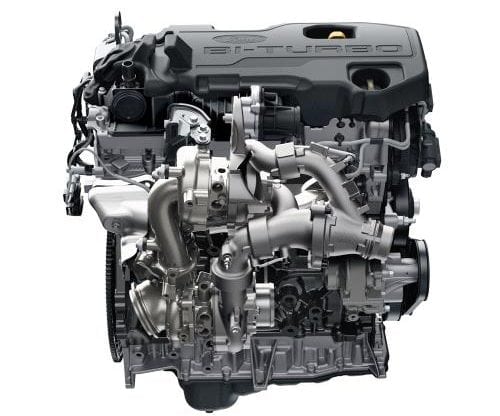 Suspension
For Ford, and for truly fast off-road performance, this is where the party's at. Compared to a 'normal' Ranger, there are plenty of points to cover here. Firstly, the leaf springs are gone. Coiled steel now connects live axle to chassis, with a Watts Linkage setup to control it all. Sound familiar? It's the same setup as the Everest, which does tighten the high-speed control in favour of maximum articulation.
At the front end, it's the same deal: IFS struts. But now, there are forged upper and cast lower aluminium control arms, which are also made for a wider track. It's worth noting here Ford simply hasn't slapped on some flares and offset wheels and called it good: suspension gear and geometry has all been changed, which has been accommodated by wider panel work new 17″ wheels and flares.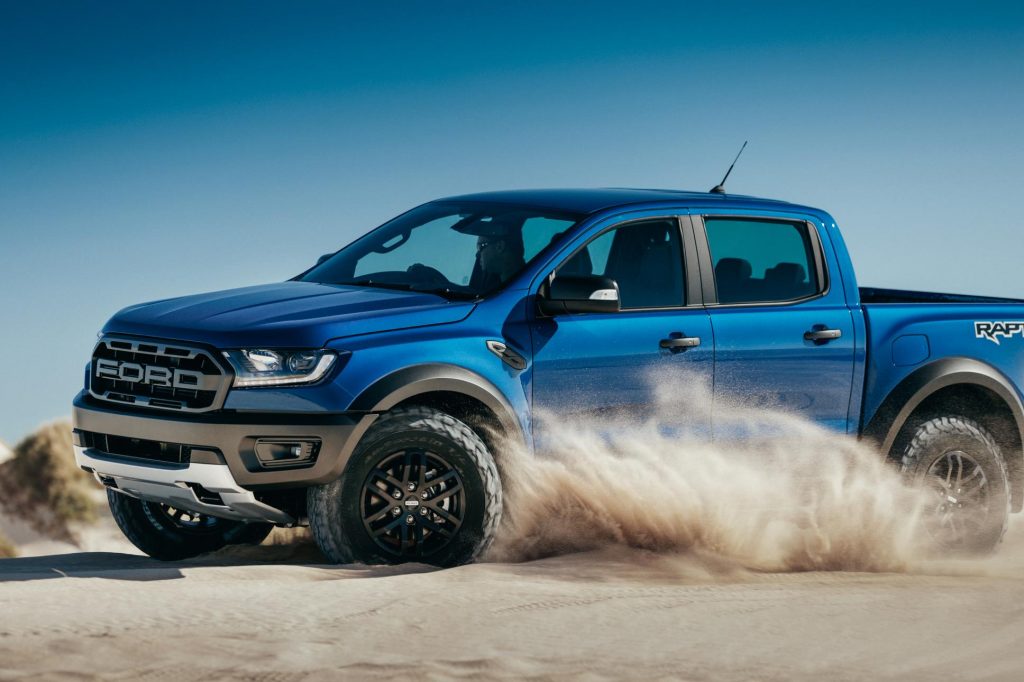 Don't worry, Ford haven't pulled a LandCruiser trick either: the rear track has been widened to match the front end. This means your centre of gravity is better, and your suspension control can be better tuned for high performance. Also, you've got the potential for better articulation.
Because the Ranger Raptor is all about off-road performance, you're looking at a reduction in towing capacity: 2,500kg. That's not too bad a number. And, well, thems the breaks when you're chasing the silky on-road and impressive off-road performance that the Ranger Raptor is gunning for. A high rear spring rate, which is needed for good towing and hauling, will never accommodate what the Ranger is looking for. See Nissan's current Navara for a case-in-point.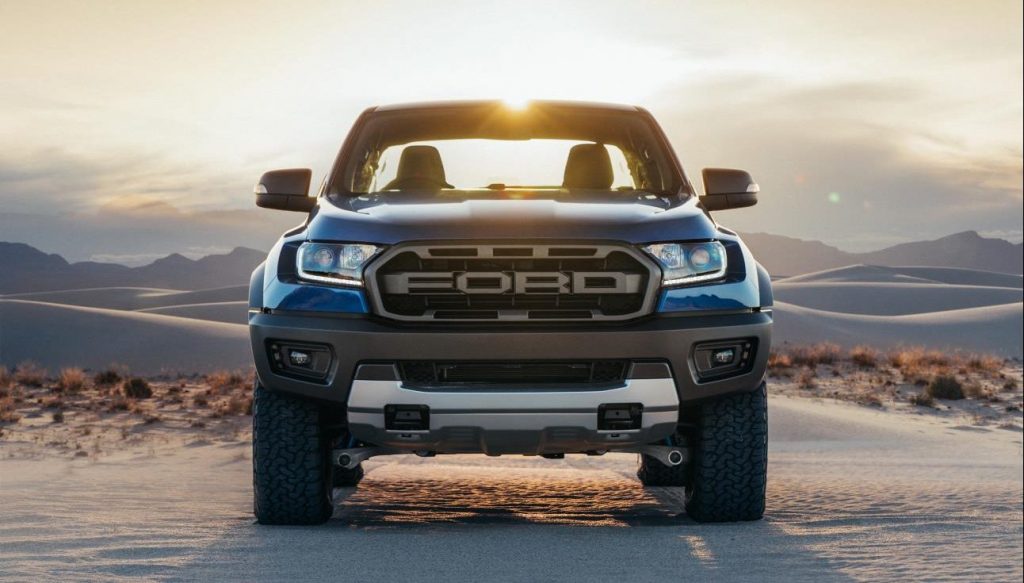 The Shocks
Arguably, one of the most important elements in a rig like this are the shock absorbers. They need to be long enough to suit the geometry, provide the right kind of damping to suit the control, along with giving enough resistance to the fade that comes from getting thrashed over bumps, jumps and corrugations. Also, they need to be mounted stoutly.
For this job, Ford has used respected and established company Fox to get it done. Fox is a top-end business that produces top-end gear. It has a pedigree not worth extrapolating in a short few words, so maybe google it in the meantime. The Ranger Raptor's shocks have a 46.6mm piston front and rear. We're going to go out on a limb and assume they are Fox's 2.0-inch units, with an internal floating piston. Monotube, nitrogen-charged, all of the good stuff.
One big deal with these shocks is called 'Position Sensitive Damping'. It means the shock absorber has adjustable damping rates through the full opened and closed rates of suspension travel. When you're cruising around through town or driving over softer bumps off-road, the shocks will give you fast-acting and forgiving damping. But, try and jump the thing or drive fast over really undulating terrain, and that damping will increase dramatically through the internal bypassing valves, making it firm up to the conditions. This is pretty serious off-road technology, trickling down into a dual-cab ute.
The Looks
After a couple of iterations of Ford's F-150 Raptor over in the USA, the lookbook of Ford's Ranger Raptor was always going to follow some basic tenants: wide track, big rubber, and a black "RAPTOR!" grille that runs into some underbody bash plates. The Ranger is already a pretty tough and rugged looking rig, so giving it the Raptor treatment is a no-brainer. But going beyond the looks, and genuinely developing the vehicle for off-road performance, deserves a big tip of the cap. There's plenty enough black-packs and sticker packs out there already, in my opinion.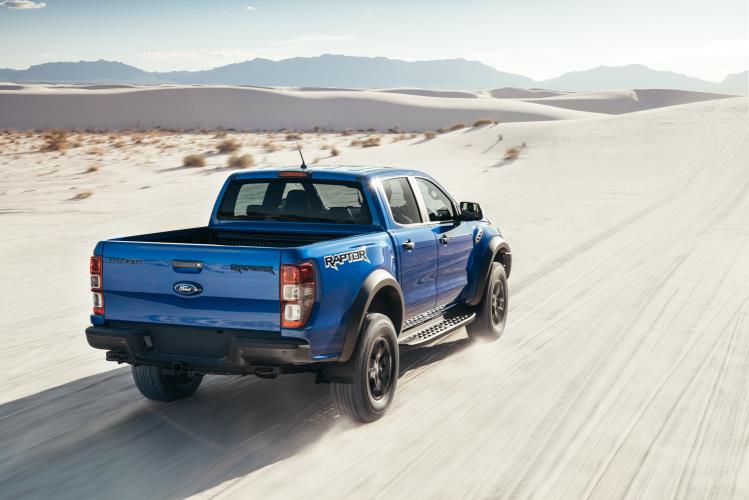 What rubber?
285/70 R17. That's just about bang-on of 33″ of rubber, which is pretty big for a factory vehicle. Press shots indicate a BF-Goodrich All-Terrain as the tyre of choice, something good for off-road driving straight off the bat. No lukewarm highway-terrains here. Praise the lord.
It's also good to note that braking performance of the Ranger Raptor has also been increased: front-end is up 9.5mm to 332mm, and rear drums are cast aside (yay) for equal diameter discs (with a single-piston caliper).
Combined with the new suspension setup, the big tyres on the Ranger Raptor give a total of 283mm of ground clearance. There is 32.5/24/24 of approach, ramp-over and departure angles, all big improvements over a Ranger Wildtrak.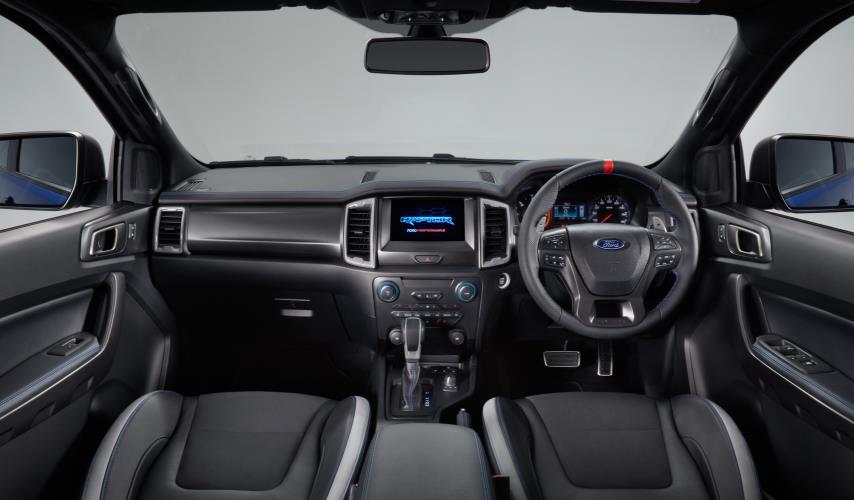 Of course, factory fitment of tyres are the baseline of fitment for your next set of tyres. So, those who want bigger rubber on their Ranger Raptors will have more room to move with. Legally run 35s, anyone?
Drive modes
Here is another point where the Ranger has been caught peeking at the Everest's exam answers. It's still part-time 4WD, but it now has the Terrain Management System (TMS) similar to the Everest and F-150 Raptor. This has six different options: 'Normal' and 'Sport', followed by their wholly off-road modes including Grass/Gravel/Snow, Mud/Sand, Rock and Baja. Maybe they should have change that last one to Finke?
Pricing hasn't been released yet, but you can expect the Ranger Raptor to be available by the end of the year.
Let's look into that crystal ball for a minute: How are people going to react to the 2018 Ford Ranger Raptor, Australia's first genuine off-road high-performance ute? Naturally, there's going to be a lot of folks out there who simply dismiss it for being only 2.0 litres, citing milk and juice bottles as their point of reference.
Let's hold that line of thought for a second: low-revving, the high capacity diesels of yesteryear engines are all going to take a lot of modification and maintenance to get within a bull's roar of the figures this 2.0 litre motor can make. But folk look at other things: longevity and simplicity. That simple soothing feeling you get when you know a half-million kilometres are within easy reach.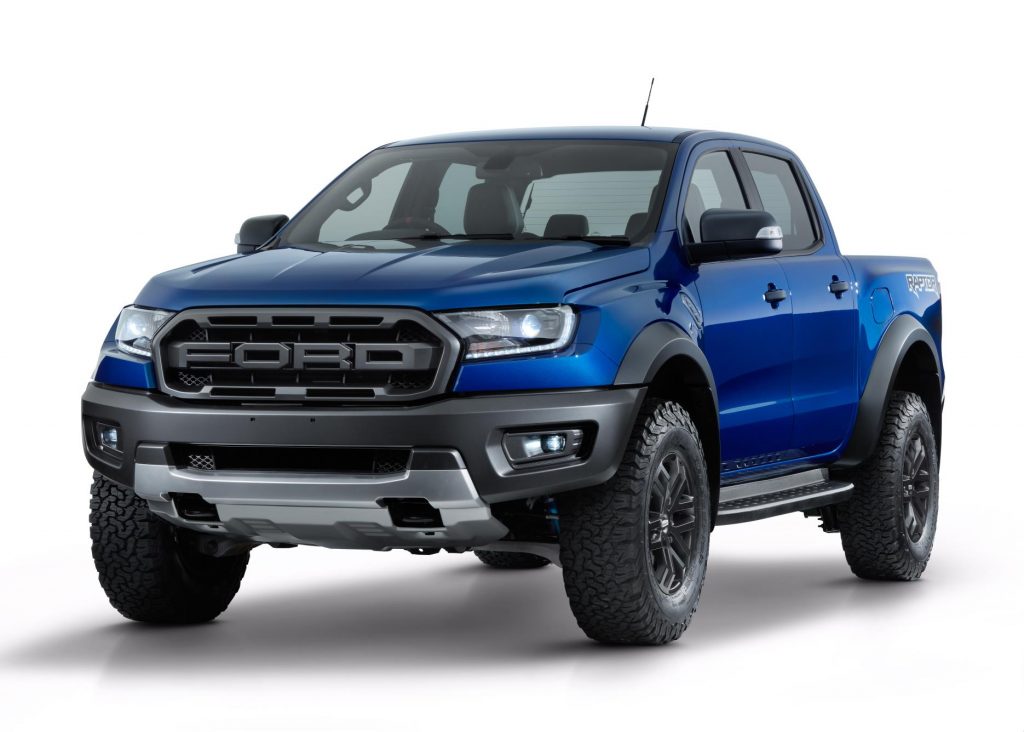 But, let's call out some simple facts: those two tenants of thought simply don't work with today's demands of efficiency and cleanliness. Those ideals of longevity don't seem to rate so high these days, either.  If you want something old, get something old. Personally, I love old vehicles. I've never owned anything even resembling new.
Time rolls on however, despite how good the good ol' days were. 2.0 litre engines are making big numbers. Combined with a slick gearbox with more ratios than I've had hot dinners, you're going to get some scintillating performance. It's not the kind of performance you're used to, but it's performance nonetheless. What do you like? What's going to make your neck flick around as you walk away from your precious rig? That, my friend, is only a question you can answer. And you will; with your hard-earned money. What would you decide?